PIREPs: 'Tis the season of giving
Did you know?
A pilot report or PIREPs is a report of actual weather conditions encountered by an aircraft in flight. This information is usually relayed by radio to the nearest ground station.
Don't become a victim of "get-there-itis."
Feeling overconfident? It's time to review the basics before your next proficiency check:
Are you using in-cockpit (datalink) weather? Do you know its limitations? Learn more here:
Do you know what you're heading into?
NOAA NWS and the Got Weather? Campaign
The National Oceanic and Atmospheric Administration (NOAA) National Weather Service (NWS) has joined the Got Weather campaign. NOAA's NWS delivers weather information. Aviation weather experts provide forecasts of aviation hazards such as icing, turbulence, and convection. Advisories, forecasts and other weather information is available through a wide-variety of sources, including the popular Aviation Digital Data Service (ADDS) website, one-stop shopping at the "Standard Briefing" webpage on ADDS links many of NOAA's aviation weather products. Learn more at /about/initiatives/got_weather/noaa/.
FAA Joins NOAA's Weather-Ready Nation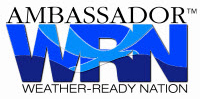 NOAA's Weather-Ready Nation is improving the nation's readiness against extreme weather, water, and climate events. Everyone, not just pilots, can be prepared for weather and help strengthen America's resilience against extreme weather. The devastating impacts of extreme events can be reduced through improved readiness.
NextGen is now for GA!
Here's what you need to know about technologies that can provide weather services to GA pilots.
Flight Information Service — Broadcast (FIS-B) is an FAA data link service that provides meteorological and aeronautical data to the cockpit for aircraft operating in the United States National Airspace System (NAS). FIS-B provides a suite of weather and aeronautical information products so pilots have timely information of regional weather & NAS status/changes that could impact flight. FIS-B is a continuous uplink broadcast over the UAT link from each of the 600+ ADS-B ground-based Radio Stations (RS). Many pilots are familiar with commercial subscription data link services that are provided via satellite. Let's compare the commercial satellite systems and the FAA's ground-based approach. With the satellite approach, a single broadcast transmitter is providing broadcast data to subscribing users for the entire service area (i.e. the NAS). With the FAA's ground-based approach, which is available subscription-free to pilots equipping with ADS-B In on the UAT link, each RS is broadcasting a specific subset of the FIS-B data centered on that RSs location. FIS-B is limited to line of sight to the RS being used. Consequently, coverage is limited at most GA airports on the airport surface. When airborne, the specific products a pilot receives is dependent on the aircraft's altitude and the FIS-B service volume. Pilots should be aware of FIS-B's capabilities and limitations and be particularly alert and understand the limitations associated with individual products.
Learn more about FIS-B service volumes and products:
Get Involved — explore more resources on weather topics and flight planning: Publications, Guides and Tools
InFO 14011, Electronic Submission of Pilot Weather Reports (PIREP) informs operators and pilots of the recently developed electronic PIREP submission tool located on the National Weather Service (NWS) Aviation Weather Center (AWC) Aviation Digital Data Service (ADDS) website.
FAA Safety Briefing and other articles
Videos
Online Courses, Quizzes and Webinar