Pre-flight weather: know before you go
Did you know?
The GA fatal accident rate has remained relatively flat over the past five years, despite FAA, NTSB, and industry efforts to improve safety. The FAA's goal is to reduce the GA fatal accident rate by 10% over a 10-year period (2009-2018).
Don't become a victim of "get-there-itis."
Feeling overconfident? It's time to review the basics before your next proficiency check:
Are you using in-cockpit (datalink) weather? Do you know its limitations? Learn more here:
Do you know what you're heading into?
NOAA NWS and the Got Weather? Campaign
The National Oceanic and Atmospheric Administration (NOAA) National Weather Service (NWS) has joined the Got Weather campaign. NOAA's NWS delivers weather information. Aviation weather experts provide forecasts of aviation hazards such as icing, turbulence, and convection. Advisories, forecasts and other weather information is available through a wide-variety of sources, including the popular Aviation Digital Data Service (ADDS) website, one-stop shopping at the "Standard Briefing" webpage on ADDS links many of NOAA's aviation weather products. Learn more at /about/initiatives/got_weather/noaa/.
FAA Joins NOAA's Weather-Ready Nation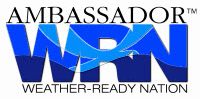 NOAA's Weather-Ready Nation is improving the nation's readiness against extreme weather, water, and climate events. Everyone, not just pilots, can be prepared for weather and help strengthen America's resilience against extreme weather. The devastating impacts of extreme events can be reduced through improved readiness.
Ceiling and Visibility in Alaska
Adverse ceiling and visibility (C&V) conditions impact the safety and efficiency of the National Airspace System (NAS), especially in Alaska where restricted C&V causes a disproportionately high number of fatal General Aviation (GA) accidents. These accidents often result from GA pilots operating under Visual Flight Rules (VFR) and unexpectedly enter an area of Instrument Meteorological Conditions (IMC). In Alaska, flying into unexpected IMC is common, and often deadly, because of the prevalence of remote, mountainous terrain where pilots must navigate through narrow corridors, or passes. The weather observed on either end is typically not representative of conditions in the pass (and information from inside the pass is limited to non-existent). While the FAA's recent introduction of weather cameras for the most heavily trafficked Alaskan passes and remote airfields has improved flight safety, more work is needed to integrate this visual information into flight planning, cockpit decision-making and the weather observation and forecast system.
The FAA's Aviation Weather Research Program (AWRP) is currently sponsoring research at the National Center for Atmospheric Research to create an advanced C&V algorithm for Alaska that, as a first step, will produce a rapidly updated Alaska C&V analysis. This research will assimilate weather sensors, satellite imagery, numerical forecast models, and weather cameras to provide an automated, rapidly updated C&V grid for the entire state. This analysis will more accurately depict C&V conditions over remote areas where no traditional weather observations exist. A new and exciting aspect of this research is the development of a capability to automatically analyze visual information from FAA weather cameras and obtain a quantifiable measure (or at least a flight category characterization) of the C&V conditions in the camera's visual field. FAA weather cameras may then yield new weather data points for use within the C&V algorithm to improve its accuracy over remote, data sparse areas where only camera data is available.
The FAA is also sponsoring research into improving icing and turbulence analyses and forecasts in Alaska.
NextGen is now for GA! Here's what you need to know about technologies that can provide weather services to GA pilots.
Flight Information Service – Broadcast (FIS-B) is an FAA data link service that provides meteorological and aeronautical data to the cockpit for aircraft operating in the United States National Airspace System (NAS). FIS-B provides a suite of weather and aeronautical information products so pilots have timely information of regional weather & NAS status/changes that could impact flight. FIS-B is a continuous uplink broadcast over the UAT link from each of the 600+ ADS-B ground-based Radio Stations (RS). Many pilots are familiar with commercial subscription data link services that are provided via satellite. Let's compare the commercial satellite systems and the FAA's ground-based approach. With the satellite approach, a single broadcast transmitter is providing broadcast data to subscribing users for the entire service area (i.e. the NAS). With the FAA's ground-based approach, which is available subscription-free to pilots equipping with ADS-B In on the UAT link, each RS is broadcasting a specific subset of the FIS-B data centered on that RSs location. FIS-B is limited to line of sight to the RS being used. Consequently, coverage is limited at most GA airports on the airport surface. When airborne, the specific products a pilot receives is dependent on the aircraft's altitude and the FIS-B service volume. Pilots should be aware of FIS-B's capabilities and limitations and be particularly alert and understand the limitations associated with individual products.
Learn more about FIS-B service volumes and products:
Get Involved – explore more resources on weather topics and flight planning: Publications, Guides and Tools
FAA Safety Briefing and other articles
Videos
Online Courses, Quizzes and Webinar