Polly Trottenberg
FAA Administrator (Acting)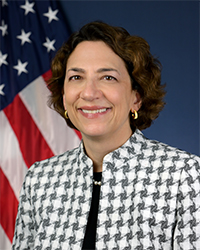 Polly Trottenberg is acting Administrator at the Federal Aviation Administration (FAA) and Deputy Secretary at the US Department of Transportation (USDOT). Polly was designated as acting Administrator in June 2023.  
She has an extensive 30+ year public sector career in all levels of government. Trottenberg served from 2014 to 2020 as New York City's Transportation Commissioner, where she was responsible for the safe, efficient, and equitable operations of New York City's transportation network.
Trottenberg served in the Obama Administration as the Assistant Secretary and Under Secretary for Policy at the U.S. Department of Transportation. During her previous five years at the Department, she developed and implemented transportation policies to address the needs of state and local transportation agencies on every type of project from roads and bridges, to transit and rail, to airports, ports, and pipelines. 
 
Trottenberg's additional policy and managerial experience includes her time in the U.S. Senate, where she served Senator Daniel Patrick Moynihan, Majority Leader Charles Schumer, and Senator Barbara Boxer. Earlier in her career, Trottenberg served at that Port Authority of New York and New Jersey. Trottenberg graduated from Barnard College and received her Master's in Public Policy from Harvard's Kennedy School of Government.
Last updated: Tuesday, June 27, 2023