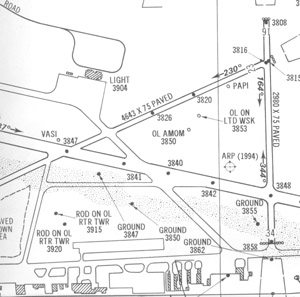 Airport Obstruction Charts (AOC) are 1:12,000-scale graphics (1:18,000-scan for Denver International DEN 9077) showing airport obstruction information, FAR Part 77 surfaces, runways, taxiways and apron areas, air navigation facilities, and selected planimetric details. The AOC provides data for computing maximum take-off and landing weights, for establishing instrument approach and departure procedures, for engineering studies relative to obstruction clearance and improvements in airport facilities.
An Aeronautical data Sheet (ADS)-NGS Form 292 is provided at no additional cost with each AOC. This document replaces the Obstruction Data Sheet (ODS), formerly distributed with the AOCs. The ADS includes all aeronautical data the NOAA National Geodetic Survey (NGS) acquires and maintains for airports and NAVAIDs under FAA/NGS Interagency Agreements. It contains all data from the ODS plus additional information for runways and NAVAIDS. The ADS is available for all AOCs published after December 1, 1997. AOCs published prior to that date will still include the ODS. For the listing of available AOCs and NOS Product IDs, consult the AOC Dates of Latest Editions
For AOCs published after October 1, 2000, the ADS will only be available through a hyperlink in the AOC DOLE.