Section 1. General
TYPES OF DATA ACCEPTABLE ON FAA DATA COMMUNICATIONS SYSTEMS
Distress messages.
Messages concerning safety to human life.
Flight movement/control/safety messages.
Aviation meteorological observations/
forecasts/warnings.
Administrative messages which pertain to FAA personnel, facilities, or property.
NOTAM data.
PRIORITY MESSAGES
TBL 13-1-1
Priority Messages
| Priority | Message Types | Action Required |
| --- | --- | --- |
| SS | Involves safety of life or property. Restricted to emergency situations. | Transmit immediately to all addressees and deliver to all internal/external offices you are responsible for. |
| DD | Priority operational and circuit control data. | Same as above. |
| FF on local agreements | Flight movement and control data relating safe/efficient operation of aircraft. Also for administrative data of a directive nature. | Transmit immediately, make internal/external delivery during next available administrative work day if office is closed. Delivery may be required to duty officer, dependent. |
| GG | Meteorological, NOTAM and routine administrative data. | Transmit immediately, make internal/external delivery by 10:30AM of the next business day. |
GROUP CODES
NADIN has established group codes to allow message originators to input a single address, which will result in dissemination to a selected number of facilities.
System-wide group codes have been established for the primary use of RWA/KRWAYAYX and the ATCSCC (KCFCZDZX). These codes are KDOMYFYX and KDOMYYYX respectively.
A group code has also been established for each regional office and ARTCC primarily for the issuance of regional office notices (RENOT) and all ARTCC instructions. They are as follows for Regional Offices in TBL TBL 13-1-2 and ARTCCs in TBL 13-1-3.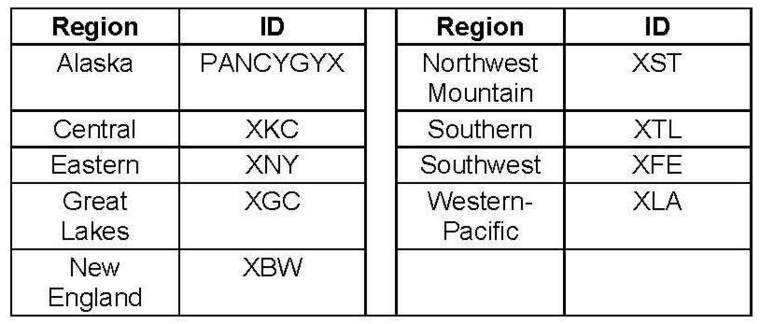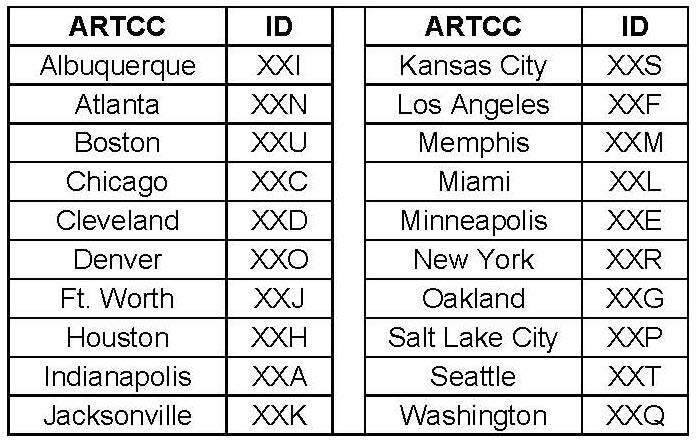 NOTE-
Except in Alaska, All of the group codes can be converted to a full eight-character address by placing a K in front of and YFYX following the three characters listed in TBL TBL 13-1-2 and TBL 13-1-3.
In addition, the following six group codes were established that include multiple states:
KFSSYFCE (CENTRAL AREA): 
AR-IN-IL-KY-MO-TN
KFSSYFEA (EAST COAST AREA):
MD-NC-NJ-VA-WV
KFSSYFNE (NORTHEAST AREA):
CT-ME-VT
KFSSYFNP (NORTHERN PLAINS AREA): ID-MT-ND-NE-SD-WY
KFSSYFSE (SOUTHEAST AREA):
AL-FL-GA
KFSSYFWC (WEST COAST AREA): 
AZ-CA-NV-OR
Using a group code, the operational system automatically transmits all VFR flight plans to the Drug Enforcement Administration in addition to the destination at the time of activation.
NOTE-
All filed flight plans, as well as all logged inflight, preflight and contact briefings, are transmitted to the Air and Marine Operations Center (AMOC) using the address KRIVYYYX. These transmissions are transparent.
The group code KSARYCYX has been established to assist in the processing of INREQs and ALNOTs.
MESSAGE FORMATS
Specialists should follow the transmit formats defined for the operational system in use. Failure to comply can result in the message being rejected by either NADIN or WMSCR. This may result in non-delivery to the intended recipients.
Full keyboard punctuation is allowed on all messages destined for internal FAA, DOD, and NWS dissemination. For international dissemination, punctuation should be limited to those characters identified in pertinent ICAO documents.
Contractions and abbreviations should be used to shorten data transmissions to the extent possible. In no case should one be used that is not documented in FAA Order JO 7340.2, Contractions. For international communications, be aware that the foreign correspondent may not understand all FAA contractions and may not have a full command of the English language. Care should be exercised in international communications to avoid slang phrases and non-ICAO approved abbreviations.
The operational system can obtain weather or aeronautical information, including WMO collectives, by request/reply for data not stored in the system. Specific examples can be found in each operational system user guide.
WMSCR NEGATIVE RESPONSE MESSAGES
WMSCR automatically generates a negative response to request/reply inputs for which it cannot deliver.
NO REPORT AVBL. This response means the current data has not been received by WMSCR.
NOT IN SYSTEM. This response means WMSCR does not receive and store the requested data.
INVALID FORMAT. This response means the computer cannot process the request because of an input error.
WMSCR will generate only one negative response message to a request/reply transmission that requests multiple reports and only when none of the data requested can be delivered.
Q SIGNALS