Spectrum Efficient National Surveillance Radar (SENSR)
Background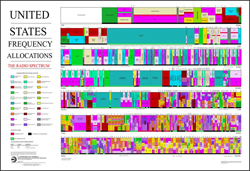 Demand for space on the radio spectrum is increasing due to technological innovations such as 4G mobile services and the rapid expansion of wireless internet services. A Presidential mandate calling on federal agencies to free portions of the spectrum led to the Spectrum Pipeline Act of 2015. This bi-partisan budget control act states the following:
The program must submit a plan to free a minimum of 30 MHz spectrum below 3.0 GHz for auction by 2024
Auction proceeds to cover 110% of relocation or spectrum sharing cost
$500M appropriated for research, development and planning
Completed Activities
As a result of the Spectrum Pipeline Act, the FAA, Department of Defense (DoD), and Department of Homeland Security (DHS) assessed the feasibility of making 50 MHz of the 1300 to 1350 MHz (i.e., L-Band) available for reallocation for shared federal and non-federal use. The aim of the feasibility study was to identify potential surveillance solutions and evaluate the capability to auction the spectrum.
Since August 2020, in accordance with the National Telecommunications and Information Administration (NTIA) and Policy Coordinating Committee (PCC) direction, the SENSR Joint Program Office (JPO) performed the following work to study the feasibility of retuning existing long-range radars out of 50 MHz of L-Band:
SENSR Market Analysis Report
SENSR Cost Rough Order of Magnitude
SENSR Feasibility Assessment Integrated Report
Long-Range Radar Retuning Report
Status
The SENSR JPO issued a final integrated report that combined the findings of the retuning assessment and the market analysis. All work authorized by the Spectrum Pipeline Act has been completed and the SENSR JPO has shut down.
Contact Information
Vendors:
Troy Teachey
202-267-0522
Troy.Teachey@faa.gov
Last updated: Wednesday, March 1, 2023