2019 Engine & Airframe-Engine Integration Safety Summit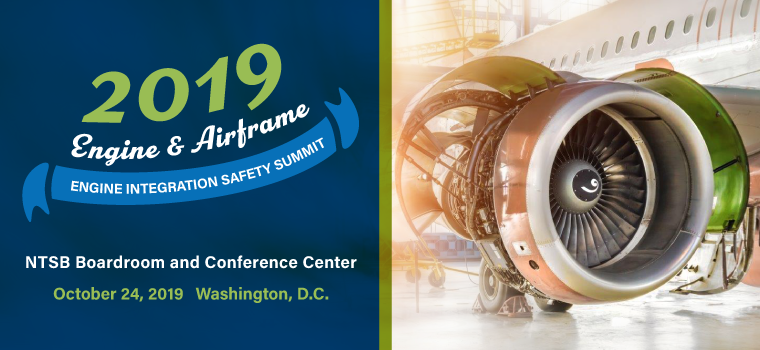 The 2019 Engine & Airframe-Engine Integration Safety Summit has concluded. This site is being maintained for reference purposes.
The FAA is planning a one-day Engine & Airframe-Engine Integration Safety Summit in Washington, D.C., on October 24, 2019. The intent of the summit is to:
Examine safety trends and causes of safety issues;
Discuss ways to work together to detect critical safety threats; and
Identify potential intervention strategies associated with regulations, guidance, and maintenance.
The discussion will be facilitated by the nation's top aviation safety leaders and will include several dynamic, interactive panels to stimulate feedback and dialogue. This one-day summit is part of a larger Call to Action around airframe-engine safety, which responds to a Congressional mandate in the FAA Reauthorization Act of 2018, H.R. 302 sec. 309.
Who is Invited
Airframe and engine manufacturers, maintenance providers, and operators of transport category aircraft with high bypass engines that operate under Title 14 Code of Federal Regulations 121 operations
Representatives from aviation industry associations
Government aviation standards, certification, operations, and maintenance experts
Labor representatives
Program
Download the Program (PDF) for the Engine & Airframe-Engine Integration Safety Summit.
Speakers
Keynote Speaker
Ali Bahrami, FAA
Speaker
Presenters
James Gray, FAA
Chris Parker, FAA
Tom Sciortino, FAA
Chad Shackford, FAA
Tom Stafford, FAA
Panelists
Cory Boese, Southwest Airlines
Stephen Clark, Boeing
Dave Hempe, FAA
Johann Hervault, Airbus
Dag Johnsen, United Airlines
Sarah Knife, General Electric
Todd Martin, Alaska Airlines
Keith Morgan, Pratt and Whitney
Jon Oberdick, American Airlines
Tim Shaver, FAA
Belinda Swain, Rolls-Royce
Questions?
For questions, please contact Tom Stafford, FAA's Engine Aircraft Integration Group Lead/Manager, at thomas.stafford@faa.gov.
Last updated: Thursday, June 23, 2022