Airports Climate Challenge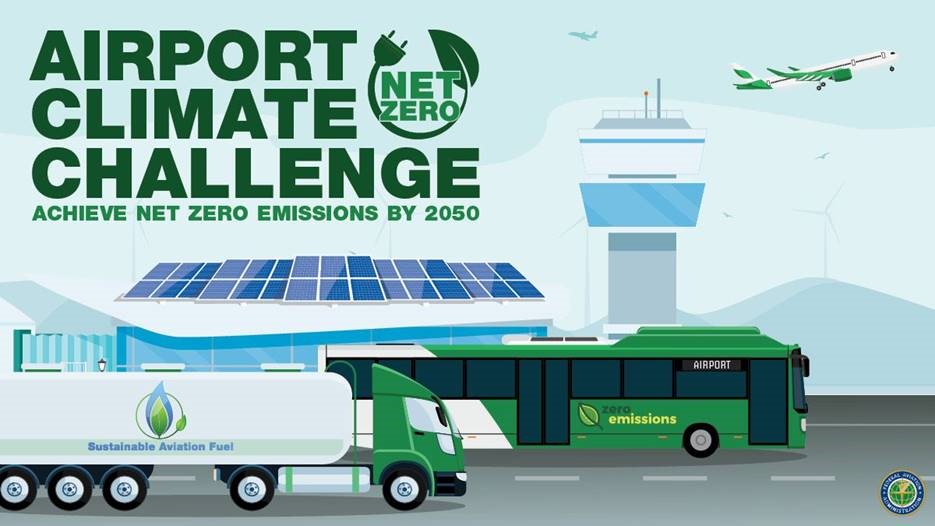 In April 2022, Federal Aviation Administration (FAA) and airport and environmental stakeholders in the aviation industry launched an Airports Climate Challenge to help achieve the administration's goals of net-zero emissions of Greenhouse Gases (GHG) economy-wide by 2050. Based on intensive outreach to aviation trade associations in 2022, FAA identified some industry best practices, obstacles and opportunities to optimize GHG emission reductions. These best practices help airport operators achieve their emission goals by various means, including low- or zero emission vehicles, renewable energy production, energy efficiency assessments, and other efforts. Also, these specific initiatives are eligible for Airport Improvement Program (AIP) grant funding.
In further support of the Airports Climate Challenge, the FAA is happy to announce additional, supplemental discretionary AIP funding opportunities for all AIP eligible projects, including for projects supporting the Airports Climate Challenge at AIP eligible airports. Specifically, FAA published a Notice of Funding Opportunity (NOFO) for fiscal year 2022 supplemental AIP discretionary funding in the Federal Register on December 29, 2022. The NOFO describes the application process, including specific instructions to apply for funding for AIP eligible Airports Climate Challenge supporting projects. These include some exciting projects that reduce airport emissions, promote planning for efficient and sustainable energy uses, increase resiliency and ultimately reduce GHGs emissions from airports.
Additional background materials, including a question and answer document, are linked below to assist sponsors considering applying for AIP funding, including that described in the NOFO. Please also refer to the Table of Relevant FAA Funding Programs available on this web page to explore more funding opportunities for Airports Climate Challenge supporting projects.
News
Related Programs
Last updated: Friday, January 20, 2023