Minority Serving Institutions (MSI) Intern Program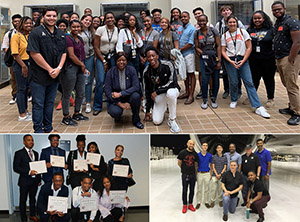 The MSI Internship Program is open to all eligible undergraduate and graduate college students attending an accredited college or university. 
An important focus of the program is providing opportunities to eligible students from groups that have been underrepresented in Aviation, Aeronautics and STEM such as,
African-Americans
Asian Americans and other Pacific Islanders
Hispanics
Native Americans
Native Hawaiian or Other Pacific Islander
Persons with Disabilities
Student Veterans
Women
Structure
1 Year Program beginning every June, with option to extend
Interns can remain in program for 2 terms (24 months total)
Flexible work schedules and hours
Structured 10-week summer session with cohort projects
Engagement activities year-round
Benefits
Students are provided an opportunity to capitalize on their academic studies and gain meaningful work experience and developmental activities. Additionally, students gain professional knowledge, expertise, and practical experience to chart their own career paths and make informed career choices. Students may earn academic credit for their internship.
Eligibility Requirements
U.S. Citizenship
Enrolled in an undergraduate or graduate degree program at an accredited institution
Be in good academic standing
Completed one year of college credits
Note: To apply students need to create a login on USAJobs.
Concentration Areas
The MSI application is categorized into two concentration areas.

Business/Social Science
Aviation/STEM

Business Admin/Mgmt
Finance/Economics/Acct.
Marketing
Human Resources
Public Admin/Political Science
Communications/Journalism
Criminal Science/Law
And Related Majors

Engineering
Computer Science
Information Technology
Aviation Science
Mathematics/Statistics
Life Science/Biology/Health
Physical Science
And Related Majors
All inquiries can be directed to studentprograms@faa.gov.
Frequently asked questions
Can I receive academic credit for my internship?

Yes, academic credit is offered for the internship.

Do I have the option to telework?

Yes, the MSI internship will continue to follow FAA return-to-work policies and procedures, including maximum telework during the different phases of reopening.

How many hours am I required to work a week?

The FAA MSI Internship Program offers both part time and full time availability. Please note that this varies per office. It is expected that students will be able to work full time during breaks from school. Schedules are to be determined between students and managers.

What kind of work are interns expected to do?

Work assignments and day to day responsibilities vary between staff office and line of business.

Can I still take part in the internship while in undergrad/grad school?

Yes. To participate in the program, students are required to be currently enrolled in an undergraduate or graduate program.

Do I have to have a background in aviation to qualify?

No, students are not required to have a background in aviation to qualify.

When are selections for the MSI Program made?

Selections for the program will be made in early spring. If selected, a representative will contact you with next steps.

If I'm selected, what is the next step in on-boarding?

If you're selected, the next step in the application process is a background check.
Last updated: Wednesday, March 23, 2022