Commercial Aviation Safety Team
Friday, September 3, 2021
Background
The commercial aviation system in the United States operates at an unprecedented level of safety. This safety record is due in part to the commitment of the Federal Aviation Administration (FAA) and aviation industry to share information to detect risks and address problems before accidents occur. 

Our data-driven approach began in 1997 with the creation of the Commercial Aviation Safety Team (CAST). Since CAST's inception, the fatality risk in commercial aviation has dropped 94 percent, resulting in the safest period in aviation history. CAST's work, along with new aircraft, regulations, and other activities, has virtually eliminated the traditional common causes of commercial accidents – controlled flight into terrain, weather, and wind shear.

In 2010, CAST set a new goal: to reduce the remaining U.S. commercial fatality risk by another 50 percent by 2025. CAST is committed to sharing its knowledge and experience with other transportation modes and industries, and with international aviation safety organizations.
How CAST Works
CAST has evolved beyond the historic approach of examining past accident data to a proactive approach that focuses on detecting risk and implementing mitigation strategies before accidents or serious incidents occur. 
CAST uses a disciplined, data driven approach to—
Analyze safety data/information.
Identify hazards and underlying contributing factors.
Develop specific safety enhancements to address risk.
Voluntarily implement safety enhancements that offer the most risk reduction and are cost effective.
Track implementation and continuously monitor the effectiveness of the safety mitigations.
Use knowledge gained to continually improve the aviation system.
Data Sharing
CAST's prognostic safety analysis requires acquiring, sharing, and analyzing massive amounts of safety data from across the aviation community to identify emerging and changing risks. CAST works closely with the Aviation Safety Information Analysis and Sharing (ASIAS) program to obtain this data.

ASIAS data comes from a number of programs that allow aviation operators and industry professionals to voluntarily report safety issues. These programs include the Aviation Safety Action Program (ASAP), Flight Operational Quality Assurance (FOQA) program, and Air Traffic Safety Action Program (ATSAP). 

The voluntarily reported safety data in ASIAS comes from operators that represent 99 percent of U.S. air carrier operations. It provides CAST and the General Aviation Joint Steering Committee with insight into millions of operations. 
Over the years, CAST had adopted more than 101 safety enhancements, with the last 22 based on information derived from ASIAS data.
CAST Is Focused
CAST's efforts focus resources on the following risk areas:
Takeoff misconfiguration,
Runway excursions,
Airplane state awareness,
Midair collisions,
Controlled flight into terrain,
Approach and landing accidents,
Loss of control,
Runway incursions,
Weather,
Turbulence,
Icing, and 
Uncontained engine failures.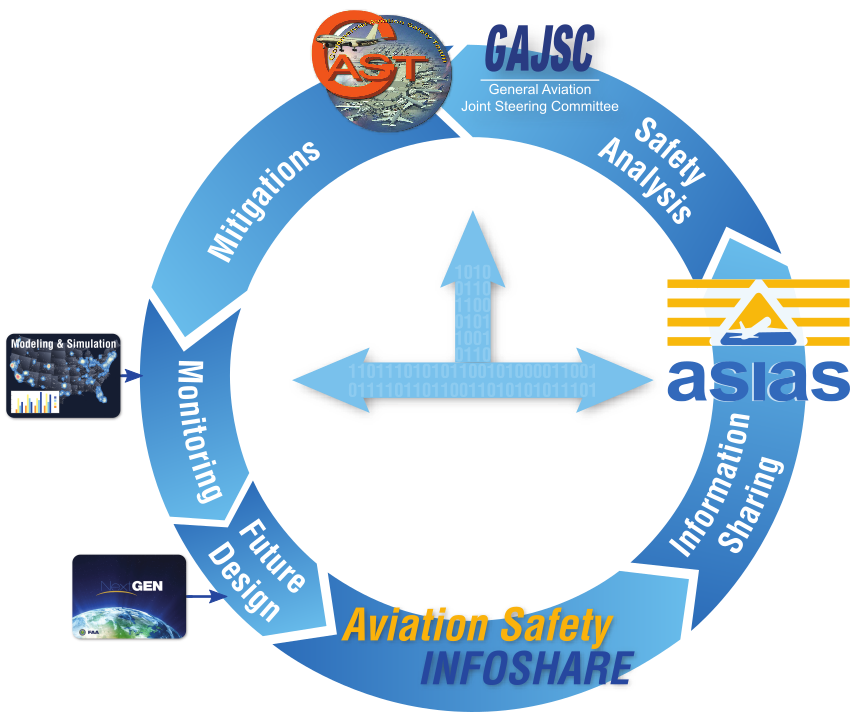 CAST Working Groups
CAST also charters joint government-industry working groups. Senior-level safety officials from CAST member organizations meet regularly to oversee the activities of the groups, which include:
Joint Implementation Measurement Data Analysis Team (JIMDAT) 
JIMDAT manages the CAST Safety Portfolio. It monitors the implementation and effectiveness of CAST safety enhancements, and recommends modifications and changes to CAST's safety portfolio. JIMDAT, in conjunction with ASIAS, also identifies emerging risks and additional areas of study.  

Joint Safety Analysis Teams (JSAT)
JSATs perform in-depth analysis of particular safety issues. A JSAT examines the sequence of events leading up to each studied event, and then identifies ways to mitigate potential precursors and contributing factors. The JSAT then evaluates the potential effectiveness of the mitigations.

Joint Safety Implementation Teams (JSIT)
JSITs determine the effectiveness and feasibility of the mitigations that JSATs identify. Each JSIT then develops and recommends a detailed action plan to implement the mitigations that have the highest effectiveness and feasibility.
Joint Safety Analysis and Implementation Teams (JSAIT)
JSAITs perform the work of both a JSAT and a JSIT, including in-depth analysis and evaluation, and developing action plans and recommendations.
Global Strategy
Although CAST focuses on operations in the U.S., it recognizes aviation is an international business and it encourages government and industry partnerships around the world.

CAST representatives help regional working groups adapt CAST mitigation strategies to address their particular risk areas. Safety teams around the world are emulating the CAST government industry partnership model and its analytical methodologies.

CAST coordinates with the International Civil Aviation Organization (ICAO), Flight Safety Foundation (FSF), International Air Transport Association (IATA), European Union Aviation Safety Agency (EASA), and other organizations. CAST engages with international initiatives, including:
ICAO Regional Aviation Safety Groups: Africa and Indian Ocean, Pan America, Asia Pacific, Europe and North Atlantic, and Middle East  
Regional Aviation Safety Teams: Asia Pacific, Middle East, and Pan America 
EASA Data4Safety (D4S) initiative.
CAST Membership
CAST is co-chaired by Chris Rocheleau, the FAA's Acting Associate Administrator for Aviation Safety, and Craig Hoskins, Vice President, Safety, Security & Technical Affairs, Airbus Americas, Inc. 

Government CAST Members
FAA
National Aeronautics and Space Administration 
Transport Canada Civil Aviation
U.S. Department of Defense
Employee Group CAST Members
Air Line Pilots Association, International 
Coalition of Airline Pilots Associations (representing Allied Pilots Association)
National Air Traffic Controllers Association 
Industry CAST Members
Aerospace Industries Association
Airbus
Airlines for America
The Boeing Company
Cargo Airline Association
Flight Safety Foundation
General Electric (representing all engine manufacturers)
National Air Carrier Association
North America – Airports Council International
Regional Airline Association
Awards
CAST, in conjunction with ASIAS, received the 2018 Aviation Week Laureate Award for Commercial Safety in recognition of its contributions in advancing commercial aviation safety.

CAST received the prestigious 2008 Robert J. Collier Trophy and a 2006 Laurel Award from Aviation Week & Space Technology magazine in recognition of its contributions in reducing the fatality risk for U.S. commercial aviation by 83 percent from 1998 to 2008.