The Air Up There Podcast

Building Better Futures
Season 4, Episode 7
Published:
What comes to mind when you think about air traffic control towers? Probably not how they can create opportunities for small businesses that make a positive impact in their communities. This episode of The Air Up There podcast examines how investments from The Bipartisan Infrastructure Law (BIL) keep flights moving safely, people employed, and small businesses thriving.
In this episode, we chat with Jeff Babbitt, a disabled veteran and owner of TJ&B Air Conditioning and Electric. His company recently received a contract funded by the BIL to replace the heating and cooling (HVAC) equipment at FAA's air traffic control tower in San Antonio, Texas. So, what's the big deal about HVAC replacement? Because temperature matters, and when critical radar equipment gets too hot, it shuts down.
So, the next time you think about air traffic control towers, remember that, in addition to supporting pilots, they also support the communities around them by creating opportunities for small businesses and the people they employ.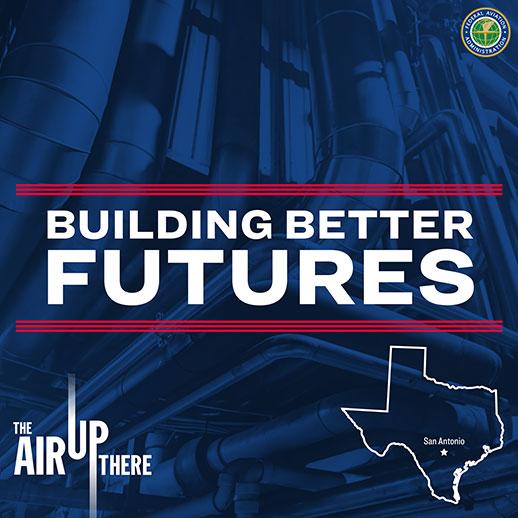 Transcript:
DaiJah 00:03
Welcome to The Air Up There, a podcast about the wide world of aerospace. I'm DaiJah Metoyer, today we're talking about the equipment air traffic controllers use to guide the more than 5000 planes in the sky at any given time. And we're talking about how a small business can make an impact and keep that equipment running. Jeff Babbitt is a disabled veteran and small business owner of TJ&B Air Conditioning and Electric.
He was recently awarded a contract to replace the heating and cooling equipment, or what a lot of people refer to as HVAC, at the FAA's air traffic control tower in San Antonio, Texas. Jeff's contract is funded by the bipartisan infrastructure law, a once in a generation investment in our nation's infrastructure. Our conversation with Jeff focuses on how small businesses, like his, are making significant contributions to air traffic control in ways you may not think about. When you think of infrastructure, you may think of roads, bridges, runways and terminals.
Little things like air conditioning may not automatically come to mind as quickly. But the systems and facilities that make up the national airspace system are just as critical. Radar equipment generates a lot of heat, and if that equipment gets too hot, it shuts down. And I could speak for a lot of the facilities that we're in with the FAA right now.
Jeff 01:28
We're in progress with I think it's 18 projects for the FAA all over the country. Some of the facilities need the infrastructure upgraded greatly, needs to be done. It's good and creates a lot of jobs.
DaiJah 01:42
Just like your project in San Antonio, right?
Jeff 01:46
The San Antonio Project, we've been involved in it with site visits and ordering equipment and submittal process and everything. We'll be doing some rooftop air conditioning systems, a lot of new ductwork, some asbestos abatement, some mold remediation, a fair amount of electrical work, exhaust, fan and louvers. That's the basic job, the nitty gritty of the job.
DaiJah 02:12
Because the Southwest can experience really high temperatures, it makes a lot of sense for our facility's air conditioning systems to be ready for upgrades, correct?
Jeff 02:21
Yes, it is. Yes, it is. Most people probably don't associate HVAC systems as a critical piece to aviation infrastructure. Can you tell us how it's an important piece of the puzzle in keeping planes in the sky?
Jeff 02:57
Like I was just saying, the temperature rises in these facilities so quickly when it goes down the radar equipment generates so much heat. And if the radar goes down, obviously you've got issues because you're not tracking the planes. It is important, legitimately important and crucial.
DaiJah 03:16
Another piece of the infrastructure effort is that small companies like yours are given the opportunity to make a difference in their communities by creating the jobs that you mentioned earlier, have you been able to hire any new employees because of the BIL award, and what does funding mean to you and your small business?
Jeff 03:35
I just hired one of my college students, two others are going to start in two weeks. We will be hiring four positions, three at the entry level and one mechanic. I would say we'll end up hiring probably eight people through this bill. Our subs on the projects, they will be hiring people too.
DaiJah 03:56
What have these jobs meant to people? How does it enrich their lives?
Jeff 03:58
You know, it's an opportunity of a lifetime. When I teach when I taught high school and now that I teach college part time, I always tell the guys, you know, as far as job security goes, you're in a heating and air conditioning refrigeration business. Everybody's going to want to be warm in the winter, cool in the summer, and they're going to want their beer cold. So once you've got a job and you learn what you're doing, you pay your dues, you will always have a job in this field.
DaiJah 04:24
We got to speak to one of Jeff's former students, Fernando, who is set to become a new employee thanks to the new contract work.
Fernando 04:34
Like many students after high school, I didn't know what to do. Me and my mom, we're looking at HVAC and yeah, it seemed like interesting. I, I thought it was pretty cool and jumped into this HVAC class. I didn't know anything about it, the way that Mr. Babbitt was teaching like he made it easy for me to understand. And I was like, I caught on really fast, so I'm like oh, I like this. I guess the teaching made it fun.
DaiJah 04:48
His employees have experienced firsthand the impact Jeff, his company and his teachings have had in helping others get good paying jobs that have become careers. We spoke with Tucker, as well as Jim, one of Jeff's former employees.
Tucker 05:13
For a generation, we get told that college is the only way to succeed. There's some new guys, you know, some young guys that are coming into it, being interested because it is a good career.
Jim 05:26
it is, it's a great career. It's a career and a job that's not going to go away. Whether it's HVAC, electrical, plumbing, carpentry, it's not going to go away, it's only going to get more technical. And the demand is going up all the time. And when you can teach people that train, and help them along, and bring them up along the way and give them opportunity, well, you're right, it is life changing.
DaiJah 05:53
Jeff, thank you for being part of our podcast and sharing your story. The next time you see an air traffic control tower, remember, it's people like Jeff, Tucker, Fernando, and Jim, for ensuring that the temperature is just right for the scopes, the radars and all the equipment controllers use 24/7, 365 days a year.
This is just one of the many stories we want to tell about people and small businesses who are contributing to the upgrade of our national airspace system. The Air Up There is a podcast from the Federal Aviation Administration. If you like, today's episode, remember to subscribe and share with someone else. You can find the FAA on social media or @FAA on Facebook, Instagram, and LinkedIn. And @FAAnews on Twitter and YouTube. Thanks for listening.