The Air Up There Podcast

Girls in Aviation
Season 4, Episode 6
Published:
On this special Girls in Aviation Day episode, we meet two young aviators who share their love for the flying community and give advice about how others can get involved.
Sahara is an instrument-rated pilot attending Embry-Riddle Aeronautical University. She's seen dramatic growth on campus since her first class a few years ago, when she was one of only two women in the lecture. And Mia is a high school glider pilot, who was raised in an aviation family.
Both reflect on their journeys and the women who inspired, mentored and trained them. They're now able to pay it forward and create opportunities for other young women to follow their aviation dreams.
Listen in and be inspired.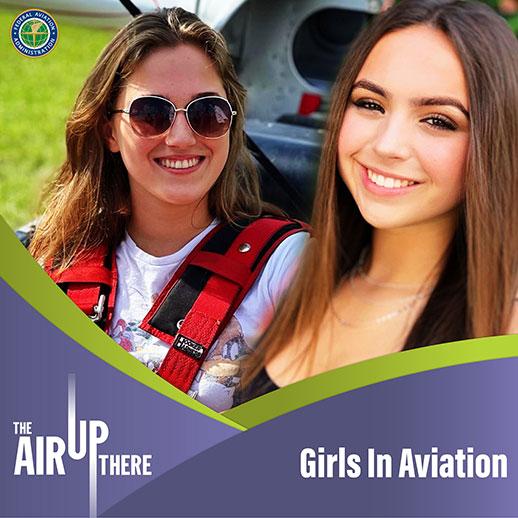 Transcript:
DaiJah 00:04:
Welcome to The Air Up There, a podcast about the wide world of aerospace. I'm DaiJah Metoyer. Today's special episode celebrates girls in aviation, and we will hear from two young aviators about their introduction to this field and some of the hurdles they face to get here. The FAA's Chris Sharp and Favi Garcia ask Sahara and Mia what advice they have for other young women who are interested in aviation.
Chris 00:32:
So, Sahara, let's start by getting to know you a little bit better. Can you please tell us a little bit about your background?
Sahara:
Definitely. So I'm originally from McKinney, Texas, but currently I'm attending Embry-Riddle Aeronautical University in Daytona Beach, Florida. I am a senior earning my Bachelor's Degree in Aeronautical Science with a minor in Space Studies. I completed my instrument rating in April 2021 at Embry-Riddle and completed my commercial license this past July. And now I'm working towards my multi-engine rating.
Favi:
Sahara, that's very impressive. I always enjoy hearing how the next generation is preparing to be tomorrow's industry leaders. And Mia, how about you? What can you tell us about your background and your family?
Mia:
I'm happy to share. I just started my junior year of high school. I'm 17 years old. I was pretty much raised in an aviation family from what I can remember, and all I ever really wanted to do was learn to fly. I was introduced to the possibility of glider training because, I was so young when I wanted to start flying that gliders gave me the opportunity to start flying young. I applied for and I received a scholarship from a local soaring club in Front Royal, Virginia, and I also received another scholarship from the Soaring Society of America. And it's definitely because of those scholarships that I've been able to kick off my glider training. And I just got my pilot's license at the beginning of August. And I was able to take my dad up as my very first passenger, which was a very special moment for us because my dad has flown since he was 17 years old. And it was definitely just a special moment for my family. And recently, I received the EAA's Ray Aviation Scholarship, which has started me on my power training.
Chris 02:29:
That's really great, Mia, very impressive, especially for somebody at your age. So it sounds like you were born into an aviation family. So I'd like to ask Sahara. Can you tell us a little bit about how you became interested and involved in aviation?
Sahara:
Yes, so my grandfather was a huge inspiration to me. He was a pilot and flew both commercially and corporate. I always enjoyed hearing his stories of travel and aviation in general. He would bring back knickknacks from all around the world, and I thought that was so neat growing up. Aviation wasn't just work for him, it was a passion, and I wanted to experience that same feeling. I unfortunately never got to fly with him because he passed when I was six, but I was determined to pursue aviation and especially do so in a hands-on learning environment. But one of the issues I ran into though was that my family and I were not financially able to do so. That's when I started looking for hands-on access to aviation. I came across the Tango 31 Aero Club. The Tango 31 Aero Club is an organization that I'm a part of. I'm a leading and one of the original members of it. It's been around since 2017, and it was created for underprivileged youth to have access to aviation through means of sweat equity. So in return through mechanic work and plane restoration projects that you do within the club, you get to learn how to fly for a discounted price. So that's how I got my start.
Chris:
So as a young woman who's passionate about aviation, do you find yourself in a unique position to inspire other young women to follow their aviation dreams as well?
Sahara:
Absolutely, I am in a unique position, but it's one that I am happy and very fortunate to be in. I'm still learning myself and progressing my career, but I'm able to talk about the path that I took and what I've learned myself as being a woman in aviation, and from other women in the industry as well. I'm very passionate about trying to inspire and help youth and women that are interested in aviation get to where they want to be because I was in the exact same position as they are. Women do not make up a large percentage in the aviation world. But it's amazing to see the number of women in aviation grow, and I like promoting this as much as possible. As a woman in aviation, I really didn't realize how few women there were in aviation until I went to a bigger program in universities such as Embry-Riddle. I remember my very first day of class, I was sitting in a lecture hall with probably 50 to 60 students and I was one of the only two girls in there. But it was really neat to be able to talk to the few women that I have met, and over the past two years that I've attended the University the number of women have grown on campus drastically, and it's amazing to see more women get involved into aviation.
Mia 05:00:
I was fortunate enough to have been surrounded by women in aviation. My very first flight behind the controls was given to me by a female pilot. My [EAA] Young Eagles pilot was also female, and my main glider instructor was also female. So looking back on how all of those great women have inspired me, I always want to do what they did. And I want to inspire other girls to find the passion that I've found, and truly embrace what they love to do.
Favi:
You both have accomplished so much, and you're truly inspirational. I can't wait to see what other inspiration you bring to young girls across America and the world in general. As we part now, what advice would you give to young people interested in aviation, and we'll start with Sahara.
Sahara:
My advice for young people interested in aviation is stick with your passion and pursue it. If there's a will, there's a way. You don't have to be actively flying to become a member in groups like Women in Aviation, the Ninety-nines, EAA, AOPA — you can attend these meetings and learn. I also suggest researching local programs that you can get involved in for flying or any part of aviation that you're interested in. If you're like me, in the sense that flying lessons are not financially realistic for you and your family to afford, that's okay. There's such thing as the free EAA Young Eagles flight. And that was one of my very first flights that I took, and it's an instructional discovery flight where you get to go up in a small airplane and feel what it's like to be behind the controls. You're not alone. And there's people and groups out there that want to help you through scholarships and other opportunities. And if you don't get any of the first scholarships you apply for it don't give up. It took me quite a few tries. But thankfully, I was fortunate enough to receive a few scholarships to get me to where I am today. Youth and women are the future of aviation, and there's definitely a place for us. So don't give up on your dreams.
Favi:
That's great advice. And Mia?
Mia:
Some advice that I would give to pretty much anybody interested in aviation — you know, some people find out they have a passion for aviation later in life than some people. And the advice that I would give is, get your name out there and start talking to people, and hanging around airports is a great way to start talking to people. And through that you can get rides, you can find instructors, learn about scholarships that you can apply for, and just find a way to talk about what you can do and how you can get started. It's great that there's programs out there like Young Eagles for those younger folks that find out that they want to fly. I was one of the young eagles, and I definitely found that I loved aviation from that.
Favi:
So that was really great advice, Sahara and Mia. It was really great to hear from you, and I look forward to seeing what both of you accomplish in the future. Our industry really needs inspirational young women like you to ensure that we have a diverse workforce that is well prepared to shape and guide what is to come. Thank you so much for being on with us today. It was truly our pleasure.
Mia:
Thank you so much, Favi and Chris. It was great to meet you all, and I really appreciate the opportunity to be here.
Sahara:
Yes, it was great to be able to connect with each of you, and I hope that we can continue bringing attention to the aviation industry and getting more young woman inspired.
Chris:
Well, that would be wonderful. To Sahara and Mia both, as Favi said, definitely looking forward to hearing more from both of you and to working with you all in the future. It is clear from the conversations that we've had that you all are indeed the future of aviation.
DaiJah 08:46:
Thanks, Chris, Favi, Mia and Sahara. For any listeners looking for additional resources to learn about the world of aviation, we encourage you to go to faa.gov/education.
The Air Up There is a podcast from the Federal Aviation Administration. If you liked today's episode, remember to subscribe and share it with someone else. You can find the FAA on social media. We're @FAA on Facebook, Instagram, and LinkedIn and @FAANews on Twitter and YouTube. Thanks for listening!