The Air Up There Podcast

Sustainable Aviation: Earth Day Edition
Season 4, Episode 3
Published:
The FAA is accountable for how aerospace impacts our planet. We join businesses, other governments, and citizens on a mission to "Invest In Our Planet," the theme for Earth Day 2022. We will continue to take bold actions, be innovative in our approaches, and implement solutions equitably.
Just last year, U.S. Transportation Secretary Pete Buttigieg released the U.S. Aviation Climate Action Plan, which aims to achieve net-zero greenhouse gas emissions from U.S. aviation by 2050. Transportation produces the most emissions, and FAA is committed to doing its part to build a cleaner, quieter and more sustainable aviation system.
In this special Earth Day episode of our podcast, we're talking to experts about sustainable fuels, new technologies, noise reduction and operational efficiency. You'll hear from Jim Hileman, the FAA's Chief Scientific and Technical Officer for the Environment; Greg McDougall, CEO, Harbour Air, Vancouver; and Dave Atwood, Structures and Propulsion Branch Manager, FAA William J. Hughes Technical Center.
Operation Invest In Our Planet is underway. Tune in to learn how we're doing our part.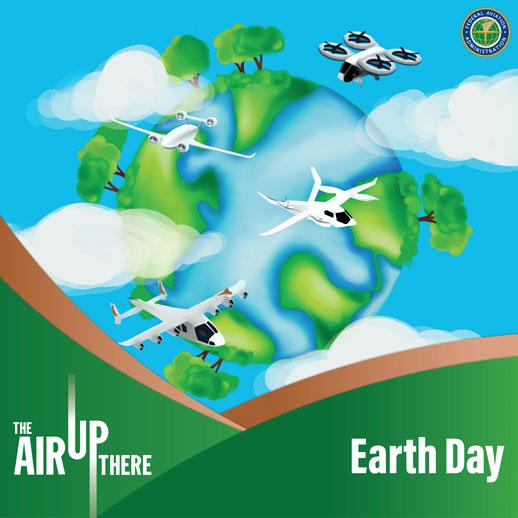 Sustainable Aviation: Earth Day Edition
Transcript:
00:00:04–00:00:29
Liz Cory:
Welcome to The Air Up There, a podcast about the wide world of aerospace. I'm Liz Cory. And today we're going to look at greener ways to fly.
DaiJah Metoyer:
And I'm DaiJah Metoyer. Liz, last year, the Department of Transportation announced the goal of net zero emissions by 2015. I think that shows the FAA is really committed to building a cleaner, quieter and more sustainable aviation system.
00:00:29–00:00:52
Liz Cory:
You're right. Alternative fuels are critical to this goal. Sustainable fuels can be used in today's fleet of planes that are produced from food, waste oils and other sources. But what about battery powered aircraft? You know, testing is going on right now.
DaiJah Metoyer:
Our first interview is with the FAA's Jim Hileman, whose job is to look at how we can fly in a more eco friendly way.
00:00:53–00:01:23
DaiJah Metoyer:
He tells our colleague Tony Molinaro why sustainable fuels are so important.
Jim Hileman:
If you look at aviation as a whole, including airports, including ground equipment, the general aviation fleet and then all of the commercial fleets are the civil fleet. We found that 97% of the emissions, CO2 emissions from aviation are attributable to jet fuel use. That's not to say that the emissions from airports aren't important.
00:01:23–00:01:43
Jim Hileman:
Absolutely are, or that we should be working on general aviation fuels. Absolutely we should. But if you really want to, you know, reduce aviation CO2 emissions, you really go to work the jet fuel. The other thing we looked at was we considered, you know, how fuel efficiency is the aircraft fleet itself. So we took a pretty deep look at that.
00:01:43–00:02:11
Jim Hileman:
And we actually found out that the average aircraft today is on a per passenger mile basis more efficient than a Toyota Prius hybrid. If there's only one person, the driver and the Prius So it's really fuel efficiency. And so then we also looked at, you know, what can we get from operational procedures? Talking to our colleagues at NextGen in the ATO to think about what could be done there.
00:02:12–00:02:47
Jim Hileman:
And we're seeing, you know, that the air space is pretty darn efficient on it and on a good weather day. So we took that into account and then we used the aerospace forecast to look out into the future all the way up to 2050 and considered, you know, that colorful chart that wedge chart we looked at you know the importance of new aircraft that the airlines are buying new aircraft such as the types of things that we're developing to our continuous lower energy emissions and noise program the CLEEN program work that NASA's doing that improvements with operational procedures.
00:02:47–00:03:12
Jim Hileman:
And it became very clear that if we want to bend that curve down to zero in 2050 we basically have to have 100% SAF use. We basically have to increase the use of these sustainable aviation fuels dramatically.
Tony Molinaro:
So we're talking about creating these new fuels who's doing the research and the testing or who's going to be creating them?
00:03:12–00:03:32
Jim Hileman:
They're certain companies are actually aren't doing research or producing fuel. So if you fly out of LAX on certain flights, you would actually have a certain amount of this type of fuel on the tank with you. And that's been the case since 2016 because there's an old asphalt refinery that was converted over to it to make half a fuel or as well as renewable diesel.
00:03:33–00:04:02
Jim Hileman:
There's a number of other facilities across the country that are coming online and these facilities are there because of investments that have been made. But beyond, you know, doing the, the physical process, the conversion process, there's a lot of other work involved in the supply chain understanding where the feedstock is. Understand where the conversion facilities are or understanding where the airports are, how the whole system is interconnected.
00:04:02–00:04:52
Jim Hileman:
What we've done through our center of excellence is we've asked universities from different parts of the country to work with people in their areas to develop these supply chains with an understanding of what are the local opportunities in terms of feedstocks, where the local opportunities in terms of, you know, petroleum refineries, corn ethanol facilities, paper and pulp mills, other industrial facilities that could be repurposed or leveraged or somehow used to help in SAF production and by distributing this work across the country, by coordinating it here at the FAA alongside our partners at Department of Energy and Ag we're able to get a better view of what's going on across the entire U.S..
00:04:53–00:05:17
Tony Molinaro:
What will the cost be when you get a final product, which is this cost for the sustainable aviation fuel going to be more than jet fuel today and less than jet fuel? What's in it for the consumer? What's in it for the airlines to make this transition? Jim Hileman: One of the challenges here is the price, because the price really drives a lot of things.
00:05:17–00:05:51
Jim Hileman:
But one of the things that we know is true is that not all of these sustainable aviation fuel say they have varying prices and that stands to reason when you start thinking about it. So you have some things that are created from waste. So a waste is something that really doesn't have much economic value. There's also the cost of upgrading this feedstock to a finished fuel and that upgrading process has a different, different, different cost depending on how, starting from a liquid, a gas, other things.
00:05:51–00:06:19
Jim Hileman:
So depending on the process, it could be marginally more expensive to actually being considerably more expensive. And part of our research is doing the supply chain research is doing is understanding what are the drivers making some things more expensive than others and identifying ways that price can come down and what are the key ways to bring price down, as I mentioned it earlier, is leveraging existing infrastructure.
00:06:20–00:06:49
Jim Hileman:
If you don't have to build something that's money you're not spending. And then also finding where the high value co-products or byproducts that can be created alongside the SAF. And so those are some of the things that we're thinking about deeply. And then we're also doing work. You know, there's a lot of policy discussion about potential policies to support safe production because at some times the price just will be more expensive than petroleum based fuel.
00:06:50–00:07:16
Jim Hileman:
And we're helping to inform those discussions
Tony Molinaro:
What needs to happen next? Is this five years away, ten years away? At least by 2050. That's a long time away. So when do you think we'll really see benefits?
Jim Hileman:
We had a lot of discussions around we need something more immediate in terms of something to shoot for because putting out a number for 2050, a lot of people retire by then.
00:07:16–00:07:39
Jim Hileman:
What's that even be? So we put 3 billion gallons and 20, 30 is our goal. That's our mark. 3 billion gallons of SAF. And this was announced at the White House Sustainable Aviation event in September of last year. And I was really happy because at that event Airlines for America, you know our domestic carriers they said yeah we're going to do it with you.
00:07:39–00:08:05
Jim Hileman:
We're going to shoot for 3 billion gallons of sapphire by 2030. And you might think, well 3 billion that's easy compared to 35 and 2050. I actually think it's harder because right now we're sitting at about 5 million gallons per year. And so what this means is we have to double production every single year between now and 20, 30 to hit that mark yes.
00:08:05–00:08:34
DaiJah Metoyer:
Yes to sustainability. Now let's hear about battery power.
Liz Cory:
Our next guest, Greg MacDougall, began his airline literally on a wing and a prayer. He founded Harbour Air during the global recession in the 1980s. Since then he's taken this British Columbia company to new heights. Our colleague Ryan Willis caught up with him and learned how Harbour Air is testing battery powered aircraft Greg McDougall: The environmental aspect for us is huge.
00:08:34–00:09:08
Greg McDougall:
I mean we're operating in and out of downtown locations that have traveled from being, you know, working dirty sort of harbors to neighborhoods. And so, you know, now we have residential neighborhood neighbors all around us where we operate. So the noise is an issue in terms of us trying to mitigate our noise footprint. Also, certain carbon and all the rest of those things, although there are, you know, major ships running in and out of there that do a pretty big job of that.
00:09:08–00:09:35
Greg McDougall:
But we're very conscious of our sort of environmental footprint in those neighborhoods, and we want to mitigate it to the greatest extent that we can with the technology available. So it was natural for us to kind of look at this and. And then also being in this as I mentioned before, a unique position of having these shorter stage legs and type of equipment that it will allow us to retrofit.
00:09:36–00:10:04
Greg McDougall:
The whole retrofit idea is kind of a I would call it a workaround or a shortcut to get to be able to have this certified because you're not building an aircraft from the ground up that's electric. You're taking one that already exists, an air frame that already exists and have already been proven and has already proven safety and everything else and just basically exchanging the propulsion system.
00:10:04–00:10:34
Greg McDougall:
So. So it's a much faster pathway to get to get this accomplished. I think in the longer run, you know, we will probably be using aircraft that will be built from the ground up for electric power by this kind of gets us there in a you know, in a quicker fashion.
Ryan Willis:
So, Greg, was this something where you as far as the technology that goes into retrofitting these planes, was it something that was already that had already existed?
00:10:34–00:10:56
Ryan Willis:
And you just basically found some parts, you know, on a shelf and plug them into a plane? You dropped out an engine and you just put a battery in there, that type of thing. Or did you have to do some R&D in this this type of endeavor?
Greg McDougall:
Well, it all kind of fell into place because we were making the call and making noises because that's kind of the antithesis of where we were.
00:10:56–00:11:25
Greg McDougall:
We were talking about trying to electrify aircraft. And I guess we talked about it enough that we were sort out by Magna Maniacs, which is a magnificent manufacturer of aviation electric propulsion systems. That's why they exist. That's there were startup stars originally out of Australia, and now they repositioned to walk to Washington State around the Seattle area.
00:11:26–00:11:48
Greg McDougall:
And they came and visited us and said, well, you know, it looks to us like you're the perfect candidate for us to align with because you want to get it. You want to be first a certified commercial aircraft or electric flight, or we want to be the ones to first certify an electric motor do it. So. So it was kind of like a, you know, 20 minute conversation where well, let's, let's get it done.
00:11:48–00:12:23
Greg McDougall:
And within about three months, we had the prototype sitting there ready to fly. And that's a really really fast pace. And when it comes to aerospace development, so we also got a lot of cooperation out of Transport Canada here in and in Canada. They certainly were excited about the project and have been very supportive. So, you know, we were able to get the attention that there was required to get permits and flight permits and all that to test it.
00:12:25–00:12:51
Greg McDougall:
So, yeah, it's been it's been a super positive project all the way along. You know, we've had the odd little glitch here and there as you're going to have whenever you're dealing with prototypes and new technology. But it's, it's, it's, you know, it's been certainly a positive thing to work with. And we definitely see it as being practical in the long run.
00:12:51–00:13:11
Greg McDougall:
We have a chance to actually be the first in the world to carry a electric you know, aviation passenger, which is a really big deal. And, you know, we may get beaten by somebody, but at the moment we don't see anybody close to us. So we have we have a chance of doing that. That's quite exciting.
00:13:12–00:13:50
Ryan Willis:
What's it like being in an electric plane? Like, if I'm going if I'm a passenger, am I going to notice a difference?
Greg McDougall:
Yes, you will notice the difference in our plans, especially because the traditional internal combustion engine is quite noisy. So. So definitely all of a sudden you're into wind noise only and some propeller noise depending on what it's doing, but definitely quieter and from the air outside for sure, people don't even notice it flying over anymore because it's basically almost silent.
00:13:51–00:14:13
Greg McDougall:
So there is there is that experience in terms of the sort of the you know, the quietness of it.
Ryan Willis:
So I'm sorry, when you when you when you say quieter, like if you could give me like a range of like, you know, something that I can kind of Greg McDougall: well, I can't say the actual decibels I should be able to, but they're not coming to mind at the moment.
00:14:13–00:14:37
Greg McDougall:
I do know them somewhere in the back of my brain there. But it's reduced by over 50% in terms of the noise and depending on what flight configuration we're in takeoff, you know, you do get a lot of propeller noise because I'm on, you know, traditional prop driven planes. The propellers tend to go supersonic and then so they do make some noise.
00:14:37–00:15:06
Greg McDougall:
There but in general, I could play configurations way quieter. The other thing is of course, is anybody that drives a Tesla or a high performance electric car knows that you get instant torque. So the takeoff performance is pretty dramatic and even with the weight of the batteries as they are now, which is pretty heavy, you know, you kind of get up and get going and climb a much, much faster.
00:15:06–00:15:28
Greg McDougall:
So up to altitude faster and quieter and in every way, it's a better experience for a passenger.
Ryan Willis:
What do you see as far as the future of electric planes? Do you ever think it'll get to the point where we'll see the bigger passenger planes going electric? I know that's probably a bit of a stretch, but what are your thoughts on that?
00:15:29–00:15:59
Greg McDougall:
I don't think it'll be that long before we see a hybrid for sure. And in that, you know, just about every major, you know, aerospace company that, you know, is producing engines. I mean, you know, GE, Rolls-Royce, all these people, they have they have hybrid programs going for sure right now and testing and everything else. And of course, NASA's involved in this whole lot of other people so definitely that that's going to happen.
00:16:00–00:16:26
Greg McDougall:
Then there's the whole hydrogen fuel cell development, which is really a game changer because the amount of density of energy and hydrogen fuel cell versus batteries is pretty drastic. And so it'll allow, you know, more range and more payload if they can get that technology sorted out, which they're well on their way to doing. There are some prototypes flying today with that as well.
00:16:26–00:17:00
Greg McDougall:
So if you think of the hydrogen fuel cell, it was basically being another battery, but it's a more efficient battery. So I believe, you know, I mean, the longer haul, obviously, it's going to take pretty drastic developments in different technologies. To make it practical. But hybrids certainly will, you know, I think be well within my lifetime for a longer haul and for shorter, you know, regional aircraft.
00:17:00–00:17:26
Greg McDougall:
It's it … we're right on the threshold of it. I mean, it'll be here within, you know, several years.
Ryan Willis:
Do you ever see just one or do you ever see, like somehow solar being able to be part of that type of system?
Greg McDougall:
Difficult, because solar, you know, the amount of solar panels required to get when you're when you're powering an aircraft, you need a lot of energy.
00:17:27–00:17:58
Greg McDougall:
It's a matter of drag and weight. So solar, you know, although, you know, solar farms on the ground can produce a lot of a lot of energy that they require a lot of real estate to do that. So the real estate available on an actual aircraft is pretty small. So you're not going to get a lot from doing that unless, you know, it's an extremely light aircraft like some of the prototypes and so on, you know, with almost pure solar energy.
00:17:58–00:18:34
Greg McDougall:
But they're not very practical for carrying people. What are the I guess range is the right word, which is in comparison like your vehicles now in comparison to like a gas powered plane.
Ryan Willis:
What is the difference in some of the range?
Greg McDougall:
Well, so, you know, that's a bit of a tricky question because of the fact that what we're using right now in terms of batteries in our 1.0 version, our batteries that were, you know, suitable for a prototype in an aerospace environment.
00:18:34–00:18:58
Greg McDougall:
And so what we had to do is basically get the safest, most reliable batteries available for that use, which were, you know, sort of built for space stations and that kind of old technology, basically. And so they're heavy. They're very heavy. In fact, the aircraft takes off basically a gross weight with just a pilot and the batteries in the back.
00:18:58–00:19:20
Greg McDougall:
So the range on that aircraft is around a half an hour with a half an hour reserve. But that's, you know, at full gross weight. And of course, you land at gross weight as well because you don't burn anything off like fuel where you're getting lighter so that gets the job done in terms of, you know, us being able to to test and out the technology.
00:19:20–00:19:47
Greg McDougall:
But where are you going to get into actual payloads is on our next version, which is the 2.0 version, which should have more range, more payload and basically be into the realm of being economically viable to actually make flights that you could charge money for and also, you know, pay for your direct operating expenses and everything else.
00:19:48–00:20:24
Greg McDougall:
So that's where we're going in in a short time, which I think is great because we're going to prove the economic viability of this along the same pathway as we are with the regulatory side on the safety side. So that's so that's a good thing. I strongly believe that that as we get through this regulatory process, the difference between today and a year or two down the road is going to be drastic in terms of what is available, in terms of that the energy per kilowatt, per kilogram of weight.
00:20:25–00:20:58
Ryan Willis:
So what do you see as maybe some future uses of, you know, electronic electric vehicles?
Greg McDougall:
Well, there's the whole EVTOL urban air mobility movement that I've described. I you know, it's everything from autonomous vehicles you know, flying around in the air and from 34 to 34 downtown, that that's kind of the vision of, you know, the Jetsons vision and that.
00:20:58–00:21:31
Greg McDougall:
And that's not very far away. In fact, there are companies that have vehicles right now that are capable of doing that. So there's a tremendous amount of interest and also, you know, sort of aspirational money going into the development of these vehicles. So it's going to happen. It's going to take some time, I believe, to prove it to the point where you're going to be able to, you know, have been flying on their own and landing in the middle of cities and doing all that.
00:21:31–00:21:56
Greg McDougall:
But it'll come, I think, a lot faster than people really probably know. Because of the sort of the, you know, the energy behind it, both financially and intellectually. The sky's the limit. I mean, not to, you know, it's an intentional pun, but the amount of uses and the way this will creep into people's daily lives, I think it's going to be pretty exciting.
00:21:56–00:22:24
Greg McDougall:
Over the next ten years to see to see how it evolves. The biggest hurdle to all of this is, is whether there's two hurdles. I mean, one is the technology involvement but, you know, as I alluded to earlier, it does exist today for us to be able to use it in an equitable, economical way. We're in a process of proving out the technology to the same safety level as currently exists and in internal combustion engines.
00:22:24–00:22:58
Greg McDougall:
And that's not hard to do. Electric engines are electric. Motors are incredibly reliable. I mean, when you when you think about the simplicity of them and the amount of heat that's generated in them, which is very little, they're just super simple and therefore very reliable. So that's something that's a game changer. And aviation to have propulsion systems that are, you know, not developing a lot of heat because they're not they're not and consuming a lot of fossil fuel and extremely reliable supply.
00:22:59–00:23:49
Greg McDougall:
So that's great. But I mean, we're having to prove all of that to the regulators and rightfully so, that it's that it's safe. And that is a process that has not really been done before. So we're kind of charting new waters here and everybody's learning as they go along. And of course, the possibility exists for goalposts getting moved down, down, down the field because we're not sure exactly which goalposts where we're supposed to be heading through so that, you know, the trick here is to is to establish a process where people are going to be able to follow in their footsteps and know what the process is because we're kind of pioneering that process in in conjunction with the regulatory authorities.
Liz Cory:
There's a lot that will go into regulating these aircraft. We spoke with a researcher at our propulsion branch at the FAA's William J. Hughes Technical Center in Atlantic City.
DaiJah Metoyer:
Dave Atwood tells our colleague Rick Breitenfeldt a little bit about how researchers ensure safety as companies bring these new technologies to market
Dave Atwood:
The fuels and energy section is one of three sections within the structure of the propulsion branch that I manage, and it addresses research in the areas of alternative fuels, electric propulsion, electrical systems.
00:24:34–00:25:03
Dave Atwood:
We have 11 employees that work in four different laboratories that conduct research on both alternative fuels and electric propulsion. The data that we generate in these labs directly supports the FAA certification service in their efforts to develop adequate means of compliance for different aircraft designs and operation policies for both existing aircraft and new aircraft or even new system designs.
00:25:03–00:25:28
Rick Breitenfeldt:
Can you tell us more about the Tech Center's work right now and sustainable fuels?
Dave Atwood:
Yeah, so in the fields and energy section, we are the alternative fuels work is directly supporting efforts to prove a suitable unleaded replacement for the current leaded aviation gasoline and that's under what's new initiative called the EAGLE Initiative. Ans Eagle stands for End Aviation Gasoline Led Emissions.
00:25:29–00:25:56
Dave Atwood:
So aviation gasoline is the sole remaining source of leaded fuel in The United States.
Rick Breitenfeldt:
What about electric aircraft? Dave, can you give us any insight into how the adoption of electric aircraft will occur? Some of the technical hurdles that you may need to overcome before this technology can be utilized?
Dave Atwood:
Yes. So one of the main issues and the door several issues, but I'm going to stick with the ones that relate to aircraft performance because that's what we do.
00:25:57–00:26:29
Dave Atwood:
One of the main issues regarding the aircraft performances is, is energy storage capability on a per weight basis of the energy source. Whenever the energy source is Weight is a very important concern for aviation. It's not so much for automobiles. You know, if you need if you need more energy in an automobile, you can add weight. And it's not as much of a penalty as it is an aircraft, traditional liquid hydrocarbon gasoline or jet fuels that are used to have a very high energy contemporary in the mass batteries on the other hand, of a much lower energy content per unit of mass.
00:26:30–00:26:55
Dave Atwood:
I will add that electric motors are much more efficient than internal combustion engines. So for smaller aircraft, electrification is a high probability in the very near future, especially for short of trips on the order of 100 miles or something like that. Of course, charging an aircraft is likely to take a lot longer than refueling an aircraft would for midsize aircraft or something like an air taxi application.
00:26:55–00:27:19
Dave Atwood:
Where there's frequent repeated use. The battery technology will need to advance considerably on a trip on an energy content basis, especially for any company to see this as financially feasible. There are some companies that are looking into hydrogen fuel cell electric power systems with hydrogen is not necessarily a weight issue because hydrogen's light, it's more of a volume issue.
00:27:19–00:27:49
Dave Atwood:
So you have to put large tanks to contain enough energy to be able to power propulsion system. Hydrogen's typically in a gaseous state. We can use it in a liquid state where you will get more energy content per volume. However, liquid hydrogen requires super cool temperatures or extremely high pressures or a combination of the two. So and yes, you could imagine that would require unique equipment on board an aircraft which could potentially do additional safety issues.
00:27:49–00:28:33
Rick Breitenfeldt:
How do you think this work or your work in an intersection is going to translate and translate into reality for people or even the aviation industry?
00:28:33–00:29:03
Dave Atwood:
Well, the work with the work that we do is obviously safety related research and we're ensuring that the new designs are not just functional but safe as well. In our data, like as I mentioned before, our data, you know, generated by our experts in our in our state of the art labs at the tech center, it directly informs the development of both performance standards and certification methods compliance for these new technologies One of the one of the primary uses of our data is for the FAA to understand the hazards and risks associated with these technologies. And how do you mitigate those risks. And I would add that the research that we do at the tech center is almost always cooperative where we bring the applicant together, where they or the designer of the hardware together with the FAA certification folks, with the researchers. And this way we, the FAA as a whole, learns about the technology, learns about the safety hazards and risks associated with the technology.
00:29:03–00:29:31
Dave Atwood:
At the same time, the certification folks are teaching the applicant or the designer about the certification process, because they're not always these companies aren't always familiar with FAA certification. So it's a very beneficial arrangement for both parties. But I really want to stress that we are not doing certification testing for applicants. It's merely safety related research. The companies do their own certification testing.
00:29:31–00:30:01
Dave Atwood:
You know, these are obviously very exciting times regarding, you know, sustainable managements in aviation and we are expecting very significant changes in the near future that will likely continue over decades and that that will lead to improved overall environmental health. But, you know, with all new technologies, there are new safety concerns. So our researchers and this is what we do, is we're performing the necessary research to support that that safe adoption of these new technologies in the marketplace.
00:30:01–00:30:03
Dave Atwood:
And to me, of course, that's very exciting.
00:30:08–00:30:36
Liz Cory:
The FAA will continue to work with industry to accelerate the development of more efficient aircraft and engine technology. Is the goal is a 30% improvement in fuel savings compared to today.
DaiJah Metoyer:
This work will also deliver reductions in noise and emissions, which adds to our work to improve air traffic procedures in all phases of flight. We're reducing fuel burn in taxiing takeoff and landing operations, and we're creating new direct routes in the sky.
00:30:37–00:30:59
Liz Cory:
And you know DaiJah. That's our show. I hate to say it, but that's it. Would you like to learn more? Please go to www.faa.gov/sustainability for much more on this important topic. The Air Up There is a podcast from the Federal Aviation Administration. If you like, today's episode, remember to subscribe. And please share it with someone else.
00:30:59–00:31:11
DaiJah Metoyer:
You can find the FAA on social media. We're @FAA on Facebook, Instagram, and LinkedIn, and @FAAnews on Twitter and YouTube. Thanks for listening. And happy Earth Day.