Working to Build a Net-Zero Sustainable Aviation System by 2050
The FAA is committed to making aviation cleaner, quieter, and more sustainable.  Here's how we are going to do it: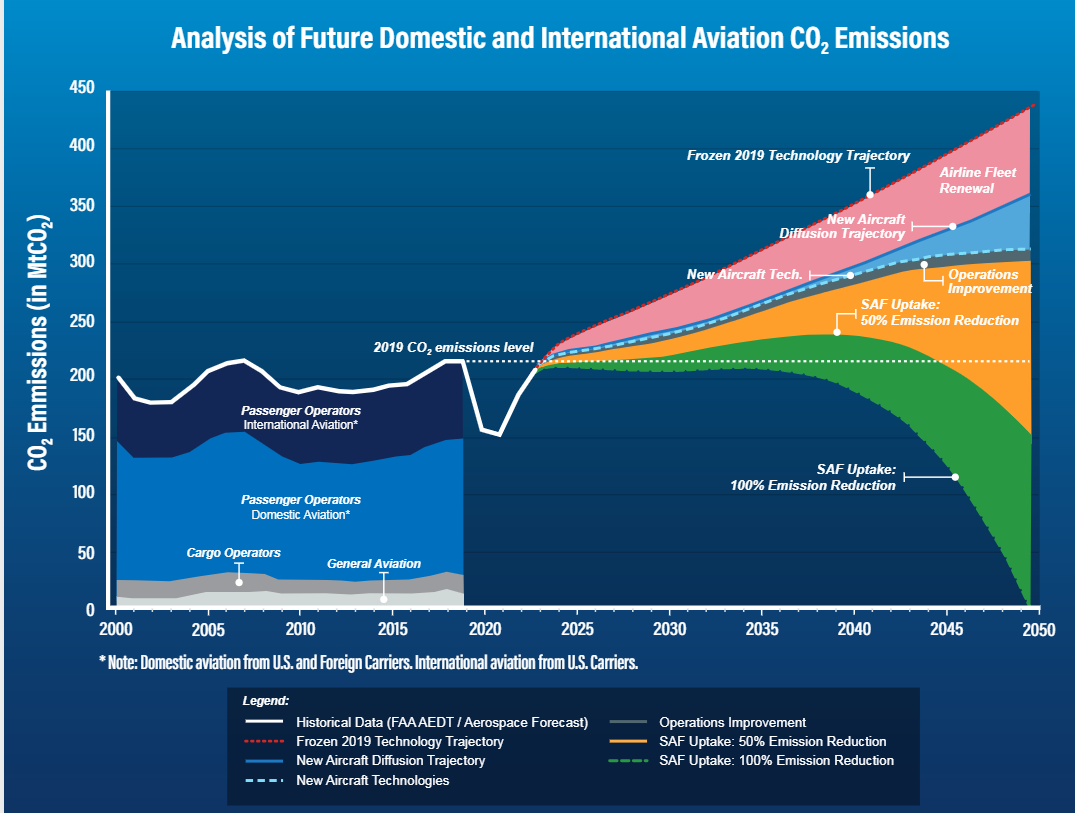 Commit to the U.S. Aviation Climate Action Plan and International Leadership
At the United Nations Climate Change Conference in Nov. 2021, U.S. Transportation Sec. Pete Buttigieg released the U.S. Aviation Climate Action Plan that sets out to achieve net-zero greenhouse gas emissions from the U.S. aviation sector by 2050. Because transportation produces the most emissions, the U.S. DOT and FAA need to be a large part of the solution. This ambitious, but achievable action plan, will create a sustainable aviation system that the United States is committed to. The U.S. also will work with international partners to maintain and strengthen the Carbon Offsetting and Reduction Scheme for International Aviation.

Increase the Production of Sustainable Aviation Fuels
Sustainable aviation fuels produced from renewable and waste feedstock can provide the greatest impact in our effort to reduce greenhouse gas emissions. [See chart above for details.] Such fuels will be critical to the aviation industry's ability to meet the net-zero emissions goal and they have the potential to slash emissions by up to 100 percent. Sustainable aviation fuels can be used in today's fleet of aircraft, without modification, and are produced from wastes, residues, biomass, sugar, oils and gaseous sources of carbon. The FAA also is supporting research for piston aircraft to operate safely without leaded gasoline and encouraging actions that minimize potential exposure to aircraft lead emissions.

Develop New Aircraft and Engine Technologies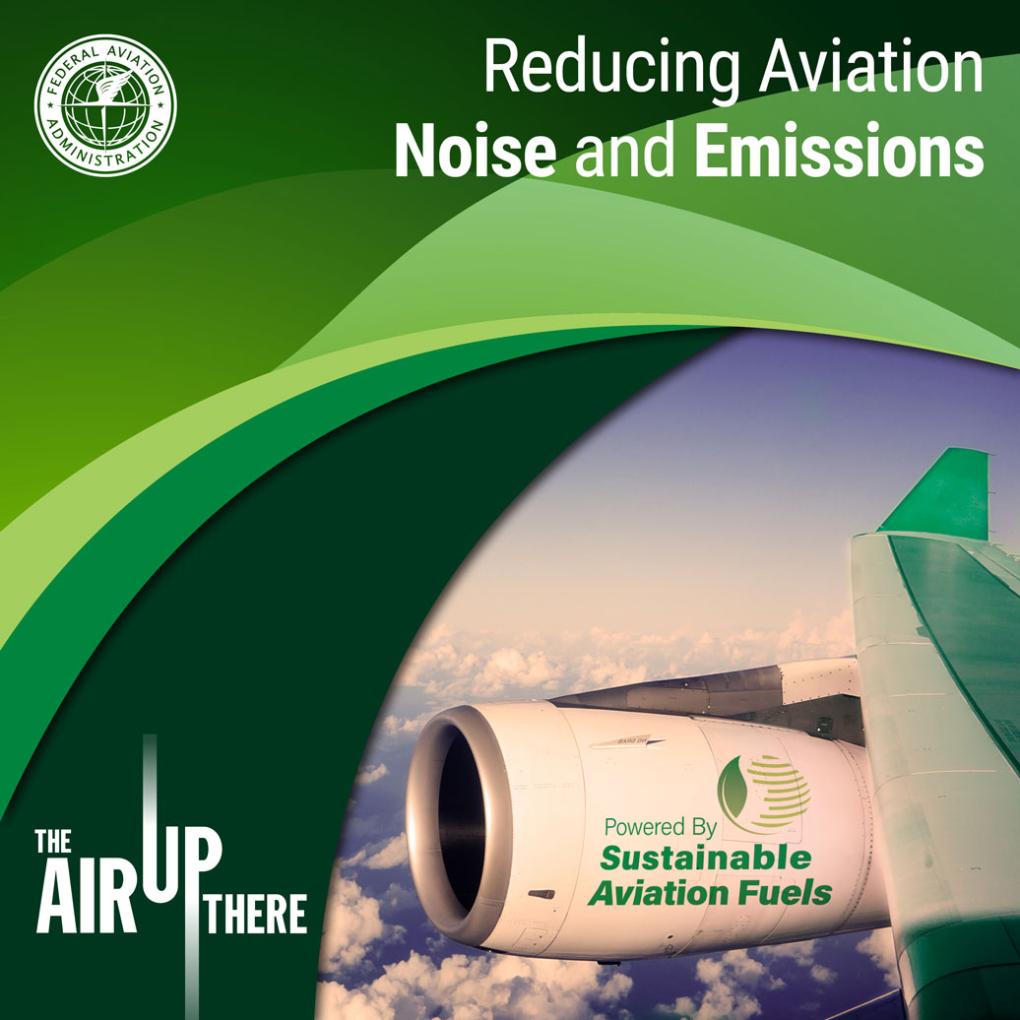 Through the Sustainable Flight National Partnership, NASA and the FAA are working with industry to accelerate the development of more efficient aircraft and engine technologies with a 30-percent improvement in fuel savings compared to today's planes, while also delivering substantial noise and emissions reduction benefits.
The FAA provides major support to the ASCENT program for university teams from across the country to research and demonstrate the viability of innovative airframe, engine and flight management technologies that reduce noise, emissions, and fuel burn. Recent funding includes $14.4 million in grants to teams at 13 universities. A detailed description of all 35 projects and their associated grant amounts can be found here. The Continuous Lower Energy, Emissions and Noise (CLEEN) Program also is a significant environmental effort by the FAA to accelerate the development of new aircraft and engine technologies. Recent news about the CLEEN cost-sharing partnership with industry can be found here.

Increase Operations Efficiency
While the U.S. National Airspace System is efficient, there are opportunities for improvements in all phases of flight to reduce fuel burn. This includes improvements during taxiing, takeoff and landing operations as well as airlines flying more optimal trajectories that reduce fuel usage. Research shows that aircraft operations also affect the climate through non-CO2 emissions, especially via contrails and aviation-induced cloudiness. The U.S. government is supporting research to cost-effectively reduce climate impacts of aviation by limiting contrail formation. The FAA's NextGen initiatives also support our environmental goals through innovative air traffic control procedures involving Performance Based Navigation and Optimized Profiles Descents.
        

Reduce Airport Emissions and Improve Energy Efficiency
The government provides incentives to reduce emissions from airports through funding and development of several grant programs. Among others, they include the Zero Emission Vehicle Program, which provides grants to replace or convert on-road vehicles for zero-emission vehicles. The Energy Efficiency Program provides funding to identify and implement energy reduction measures at airports.

Combine Noise Reduction Efforts with Community Involvement
While there are many benefits to air travel, aviation noise can be a concern for communities. The FAA is limited by the simple reality that aircraft make noise. Addressing this concern requires collaboration and community engagement among the FAA, air carriers, airports, aircraft manufacturers, research universities, other stakeholders and industry partners, local communities, and elected officials. Decisions about flight times, number of operations, and aircraft type are in the scope of private industry. Airport location is a function of local land use planning. Runway alignment is determined by the prevailing winds at that specific location. The FAA strives to reduce noise in ways within our purview, including conducting noise research and working with aviation stakeholders and local communities. Our Noise landing page offers basics about aviation noise, information about noise research, and tips about making a noise complaint.