Section 1. Airspace

…AIRSPACE CRYPT NORTH MOA AND REVEILLE MOA ACT 5000FT-16000FT…
NOTAM

s originated for Airspace items will be formatted following 4-2-1 b 1-2, including:
Keyword "AIRSPACE."
Description of activity, if needed.
Description of area impacted; for example, the name of a published area, an airport, a nautical mile radius of a latitude/longitude, NAVAID or fix-radial-distance from a VOR-type NAVAID, or an area defined by latitude/longitude or NAVAID. When applicable, preface the description with this standard phrase: "WI AN AREA DEFINED AS…"
Plain Language location, when using all latitude/longitude, except Central Altitude Reservation Function (CARF) and surveillance broadcast systems (SBS)-type

NOTAM

s. In parentheses, specify using nautical miles…direction…airport (5NM E IAD), or F/R/D from the nearest NAVAID.
Condition.
Lower limit/upper limit; for example, 5000FT-16000FT (as specified in 4-2-1).
Remarks (when needed). Other operational information.
When identifying the expected height of a balloon trajectory, express it in FT, 150000FT.
Identifying the frequency transmitting on is an acceptable remark.
Certificate of Authority, when requested by the proponent.
Follow 4-2-1 b 13-14 to complete the

NOTAM

.
A NOTAM must be entered through Special Use Airspace Management System to activate permanent or temporary special use airspace if activated by NOTAM only or at other than published times for those SAA that contain a NOTAM provision in their legal description, under the appropriate ARTCC(s):
A NOTAM must be in effect to activate

SAA

at other than published or charted times for those areas that contain a

NOTAM

provision ("BY NOTAM," "INTERMITTENT BY NOTAM," or "OTHER TIMES BY NOTAM") in their times of use legal description per FAA Order JO 7400.10, Special Use Airspace, Flight Information Publications, and related Government charting products, or if that

SAA

can only be activated by

NOTAM

. A NOTAM must not be used to make other changes to the charted lateral dimensions or which would exceed the lower or upper published altitude limits.

NOTAM

s for

SAA

activation and cancellation for uncharted and unpublished times must be originated by the appropriate controlling agency, with the overlying

ARTCC

as the location identifier, using the appropriate accountability of SUAE, SUAC and SUAW, corresponding to the FAA service areas, east, central and west, respectively.
Issue the

NOTAM

in the format described in 6-1-1 above using the following items:
Accountability = SUA (E, C, W) Location identifier =

ARTCC

Condition = "ACT" (active)
Lights Out/Night Vision Goggle Operations in

MOA

s. Upon notification of a lights out/ Night Vision Goggle operation in an authorized

MOA

(as listed in FAA exemption 7960 and FAA exemption 3946), issue a

NOTAM

containing the description of activity information.
SUA NOTAMs are originated by the controlling agency, utilizing the SUA Management System. The type of activity included does not restrict movement into or out of the airspace. TFRs restrict movement. This is an advisory about unusual activity within the airspace. Do not use this to report increased flight movement.
Central Altitude Reservation Function (CARF) airspace and altitude reservation

NOTAM

s must be transmitted by the USNOF, after receipt of the candidate

NOTAM

from the CARF office. The information will be stored in the NS database and available for request/reply. If the altitude reservation affects international airspace, it will be sent and stored as an international

NOTAM

.
NOTE-
Commercial space operations are examples of activity permitted in ALTRVs within oceanic and offshore airspace
Accountability = CARF Location identifier =

ARTCC

Description of Activity = STNR ALT RESERVATION
Airspace and Altitude reservation involving a single

ARTCC

.
Missile firing and offshore airspace reservations.

ARTCC

s must issue as a

NOTAM

missile firing exercises and offshore airspace reservations. These

NOTAM

s must be transmitted as an international

NOTAM

to the USNOF.
Where published tracks/anchors are inadequate for special mission/sortie, special track/anchor may be established. Special tracks/anchors must not be published in the DOD Flight Information Publications (

FLIP

) Planning document but may be described in Letters of Agreement.

NOTAM

Ds will be used for special refueling tracks/anchors outside Class A airspace so as to define the refueling area as specifically as mission security will allow.
Condition = "ACT"
REFERENCE-
FAA Order JO 7610.4, Special Operations, Para 10-6-6, Special Exercises, and Para 10-6-7, Issue NOTAM.
With the exception of hot air balloons and commercial space launches and reentries, FAA Authorization will consist of an approved waiver/authorization to 14 CFR Part 101.
NOTE-
14 CFR part 91 applies to hot air balloons
Location Identifier =
The nearest public use airport when the full activity is completely within a 5 NM Radius of the airport.
The nearest VOR when any of the activity is more than 5 NM from the nearest public use airport but completely within 25 NM Radius of a VOR
When the activity doesn't fall within either (a) or (b), use the

ARTCC

.
Description of activity = see

TBL 6-1-1

for general types of activity.
AIRSHOW ACFT

AEROBATIC AREA

PJE
(parachute jumping)

DEMONSTRATION ACFT

HOT AIR BALLOON

UNMANNED FREE
BALLOON

UNMANNED ROCKET

UAS
(unmanned aircraft system)

GLD

HANG GLD

LGT OUT TRG
(lights-out training)

BALLOON LDG

PYROTECHNIC
DEMONSTRATION
(fireworks)

BLASTING

CONTROLLED BURN

AEROBATIC ACFT

SPACE LAUNCH

SPACE REENTRY
NOTE-
Unmanned rocket activities that will require airspace management such as Temporary Flight Restrictions will require the issuance of an FDC NOTAM.
Controlled Firing Area (CFA) does not require a

NOTAM

as the activity is suspended immediately when a nonparticipating aircraft approaches the area.
REFERENCE-
FAA Order JO 7400.2, Procedures for Handling Airspace Matters.
For unmanned free balloons the forecasted trajectory and cruising altitude or UNL (unlimited). For operations above FL999/UNL, place expected altitude in remarks. Include a landing area

NOTAM

, if requested by proponent.
(Pointer

NOTAM

)
…SEE MTU 12/045 UNMANNED ROCKET…
Unmanned Aircraft Operations.
Parachute Jumping/Sky Diving
Originate an AIRSPACE NOTAM using the format described in 6-1-1a above.
A NOTAM D may be originated for permanent changes to part time surface area hours of operation only, under the following conditions:
The change in the surface area hours of operation is due to other than seasonal daylight time changes.
Only those surface areas identified as part time in the airspace section of the U.S. Chart Supplement as part time are subject to change by

NOTAM

. A continuous surface area "hours of operation" is changed only through rulemaking action.
The change in the surface area hours of operation will thereafter be continuously published in the U.S. Flight Information Publication U.S. Chart Supplement, Chart Supplement Alaska, or the Chart Supplement Pacific.
The graphs below depict the commonly used airspace areas.
Polygon. Points defining lateral limits of an area must be enumerated in clockwise order. The last and the first points of the list must be the same (TO POINT OF ORIGIN). Latitude/longitude must be followed by plain language location between parentheses.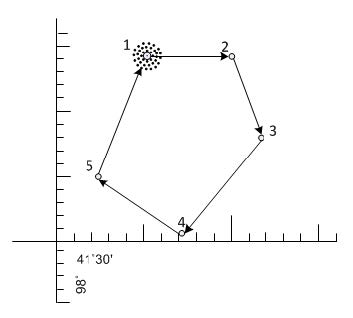 Circle. Define a circular shape as "WI AN AREA DEFINED AS XNM RADIUS" followed by the location of the center of the circle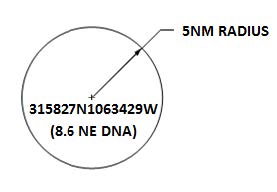 Corridor. A corridor is a type of polygon defined by a line between points and a lateral distance on either side of the line. The lateral limits are at the end points connected by arcs of circle.