Section 2. Data Recording
Operational system entries for:
Flight plans and related messages.
Logging pilot briefings and aircraft contacts.
Weather/Flight data messages.
Manual strip marking.
Locally-approved procedures may be used to manually record data during heavy traffic periods or system outages. Aircraft contact information should be logged in the operational system as soon as practical.
Use control/clearance symbols, abbreviations, location identifiers, and contractions for recording position reports, traffic clearances, and other data. When recording data either electronically or manually, you may use:
Plain language to supplement data when it will aid in understanding the recorded information.
Locally-approved contractions and identifiers for frequently used terms and local fixes not listed in either FAA Order JO 7340.2, Contractions, or FAA Order JO 7350.9, Location Identifiers. Use only within your facility, not on data or interphone circuits. All locally-approved contractions and identifiers must be placed in facility files for record and reference purposes.
When recording data manually, use the standard hand-printed characters shown in

FIG 3-2-1

to prevent misinterpretation.

NOTE-
A slant line crossing through the numeral zero and an underline of the letter "S" on handwritten portions of flight progress strips are required only when there is reason to believe the lack of these markings could lead to a misunderstanding. A slant line through the numeral zero is required on all weather data.
To correct or update data, draw a horizontal line through it and write the correct information adjacent to it.
Do not erase any item.
Use the operational system to record and file flight plans, flight plan modifications, cancellations, activations, and closures for appropriate distribution and processing. Detailed instructions are contained in the operational system manuals.
NOTE-
FSS operational systems contain an electronic equivalent of authorized FAA Flight Plan Forms.
When closing an active

VFR

flight plan, obtain departure point and destination, if not already known.
NOTE-
A canceled VFR flight plan is one that is removed from a proposed list and has not been activated. A closed VFR flight plan is one that has been activated and is then removed from an inbound list.
Flight plan information may initially be recorded on FAA Form 7233-1 or other paper prior to entry into the operational system.
When officially used to record inflight data, use flight progress strips to record:
Aircraft contacts.

ATC

clearances.
Pilot briefings on airborne aircraft.
Other operationally significant items.
Use a flight progress strip for each aircraft and record all contacts with that aircraft on the same strip. If supplemental strips are needed for additional writing space, keep the original and supplemental strips together.
NOTE-
Multiple flights by the same aircraft may be recorded on a single strip when situational awareness and strip bay efficiency are improved.
Flight progress strip. (See

FIG 3-2-2

.)


Flight progress strip Item and Information.
(See

TBL 3-2-1

.)
| Item | Information |
| --- | --- |
| 1 | Aircraft Identification (ACID) (To identify IFR aircraft piloted by solo USAF under-graduate pilot, the letter Z will be added to aircraft ID on the flight progress strip. Do not use the suffix in ground-to-air communications.) |
| 2 | Type of aircraft/special equipment. |
| 3 | True airspeed (TAS) and altitude (IFR). Altitude (VFR/DVFR, if known). |
| 4 | Departure point. |
| 5 | Route of flight. |
| 6 | Destination. |
| 7 | Actual departure time, or time VFR flight plan activated. |
| 8 | ETA at destination. |
| 9 | Estimated time of fuel exhaustion. |
| 10 | Type of flight. |
| 11 | Action time; for example, overdue time, fuel exhaustion time, LR contact time. |
| 12 | Time of contact with pilot. |
| 13 | Information received from pilot/another facility. |
| 14 | Data issued to the aircraft. |
Flight progress strip abbreviation.
(See

TBL 3-2-2

)
| Abbreviation | Meaning |
| --- | --- |
| Õ | Over Flight |
| ↓ | Inbound Flight |
| ↑ | Outbound Flight |
| A | AIRMET (WA) |
| AA | Airport Advisory |
| CWT | Caution Wake Turbulence |
| D | DVFR |
| DA | Decided Against Flight |
| DD | Decided to Delay Flight |
| DW | Downwind |
| FP | Filed Flight Plan |
| I | IFR |
| IC | Incomplete Briefing |
| PB | Pilot Brief |
| RY | Runway |
| S | SVFR |
| V | VFR |
| VNR | VFR Flight not recommended (Pilot Brief) |
| WS | SIGMET |
| WST | Convective SIGMET |
Record ATC instructions and clearances completely and exactly.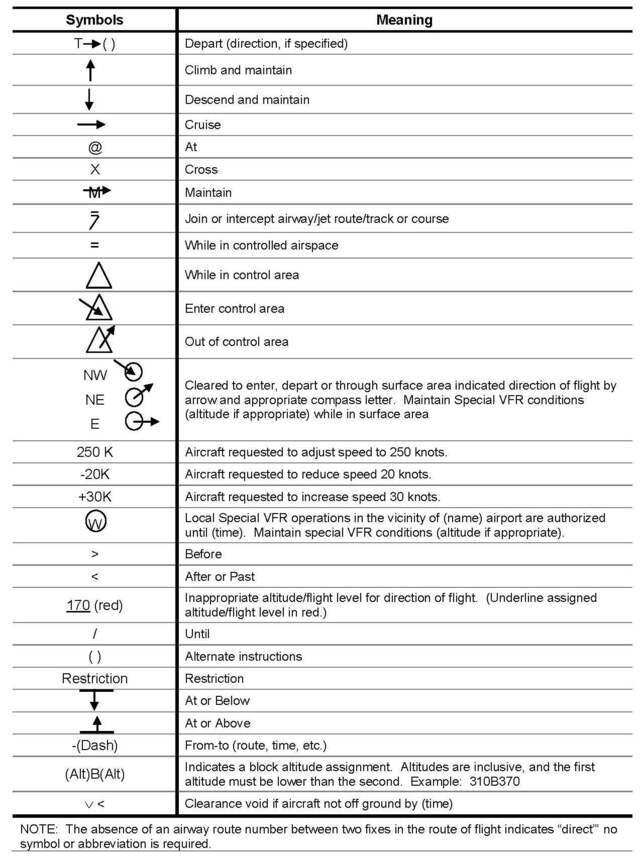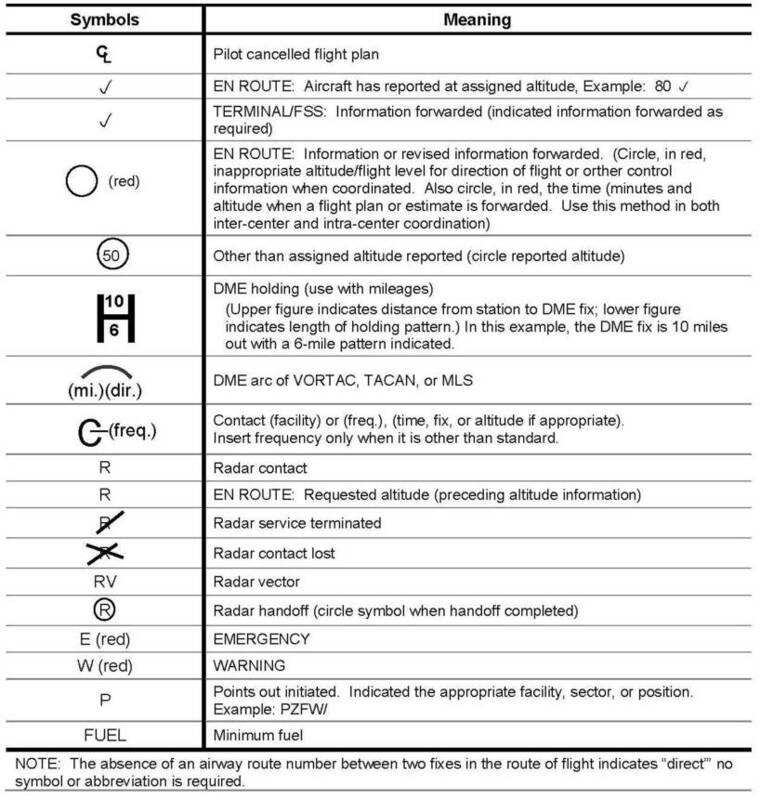 Do not record issuance of altimeter setting unless that is the only information provided during the contact.
Inflight contacts may be logged in the operational system, on flight progress strips, or on facility approved alternate forms.
When using flight progress strips, if the station has the aircraft's flight plan, enter "FP" in item 14 on the strip to show the flight plan is on file at the facility.
If there is no flight plan on file for the aircraft, the following must be obtained:
ACID.
Type of flight.
Time of contact.
Other items which are operationally significant.
If the inflight position is recorded, you may limit entries in the aircraft contact portion of the strip to those necessary for your use.
Type of Briefing
Standard
Abbreviated
Outlook
Type of Flight
VFR
Defense VFR (

DVFR

)
Category of Flight
Air Carrier
Air Taxi
Military
General Aviation
Aircraft ID
Type of Service
Airport advisory
Clearance(s); for example, IFR, special VFR (SVFR)
Remarks. Operating Position (if not automatically logged by operational system)
| Abbreviation | Meaning |
| --- | --- |
| A | Cleared to airport (point of intended landing). |
| B | Center clearance delivered |
| C | ATC clears (when clearance relayed through non-ATC facility). |
| CAF | Cleared as filed. |
| D | Cleared to depart from the fix. |
| F | Cleared to the fix. |
| H | Cleared to hold and instructions issued. |
| L | Cleared to land. |
| N | Clearance not delivered. |
| O | Cleared to the outer marker. |
| PD | Cleared to climb/descend at pilot's discretion. |
| Q | Cleared to fly specified sectors of a NAVAID defined in terms of courses, bearings, radials, or quadrants within a designated radius. |
| T | Cleared through (for landing and takeoff through intermediate point). |
| V | Cleared over the fix. |
| X | Cleared to cross (airway, route, radial) at (point). |
| Z | Tower jurisdiction. |
| Abbreviation | Meaning |
| --- | --- |
| BC | Back course approach. |
| CT | Contact approach. |
| FA | Final approach. |
| GPS | GPS approach. |
| I | Initial approach. |
| ILS | ILS approach. |
| MA | Missed approach. |
| MLS | MLS approach. |
| NDB | Nondirectional radio beacon approach. |
| OTP | VFR conditions-on-top. |
| PA | Precision approach. |
| PT | Procedure turn. |
| RH | Runway heading. |
| RP | Report immediately upon passing (fix/altitude). |
| RX | Report crossing. |
| SA | Surveillance approach. |
| SI | Straight-in approach. |
| TA | TACAN approach. |
| TL | Turn left. |
| TR | Turn right. |
| VA | Visual approach. |
| VR | VOR approach. |