Section 8. Radar Departures
Use standard departure routes and channelized altitudes whenever practical to reduce coordination. Do not, however, assign these routes solely to provide for possible radar or communication failure.
Before departure, assign the initial heading to be flown if a departing aircraft is to be vectored immediately after takeoff.
Issue an altitude to maintain with the initial heading when the heading will take the aircraft off a departure procedure that contains both a published lateral path to a waypoint and crossing restrictions.
When conducting simultaneous parallel runway departures utilizing RNAV SIDs, advise aircraft of the initial fix/waypoint on the RNAV route.
TERMINAL
Separate aircraft departing from the same airport/heliport or adjacent airports/heliports in accordance with the following minima provided radar identification with the aircraft will be established within 1 mile of the takeoff runway end/helipad and courses will diverge by at least the minimum required, as stated below.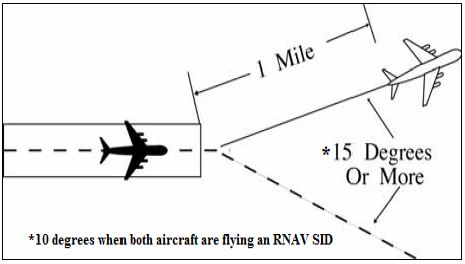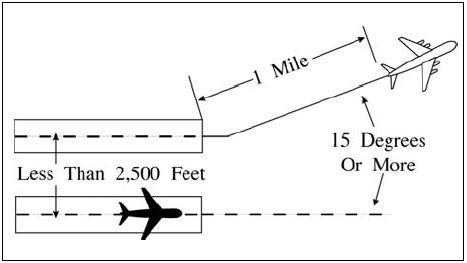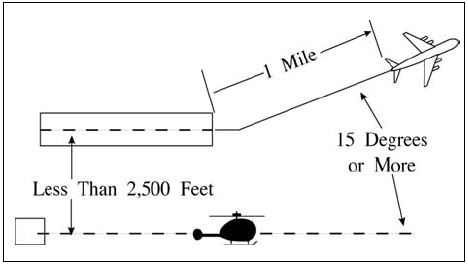 Between simultaneous departures departing in the same direction from parallel runways/helicopter takeoff courses, authorize simultaneous takeoffs if the centerlines/takeoff courses are separated by at least 2,500 feet and courses diverge by 15 degrees or more immediately after departure. (See

FIG 5-8-4

, and

FIG 5-8-5

.)
When both aircraft are flying an RNAV SID:
Between successive departures from the same runway– 1 mile if courses diverge by 10 degrees or more immediately after departure. (See

FIG 5-8-1

.)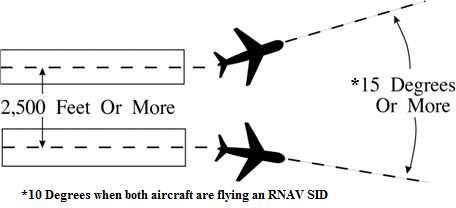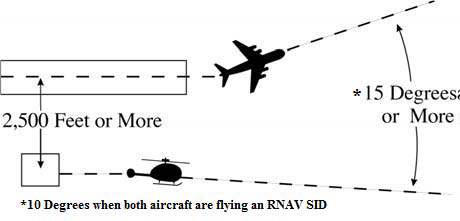 Between aircraft departing from diverging runways:
Nonintersecting runways. Authorize simultaneous takeoffs if runways diverge by 15 degrees or more. (See

FIG 5-8-6

.)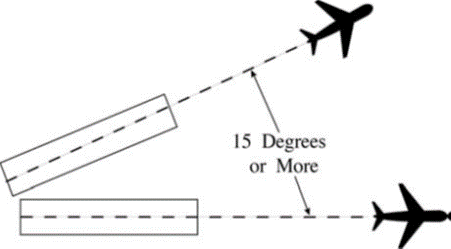 Intersecting runways and/or helicopter takeoff courses which diverge by 15 degrees or more. Authorize takeoff of a succeeding aircraft when the preceding aircraft has passed the point of runway and/or takeoff course intersection. When applicable, apply the procedure in paragraph 3-9-5, Anticipating Separation. (See

FIG 5-8-7

and

FIG 5-8-8

.)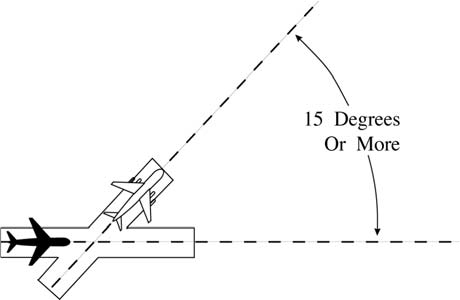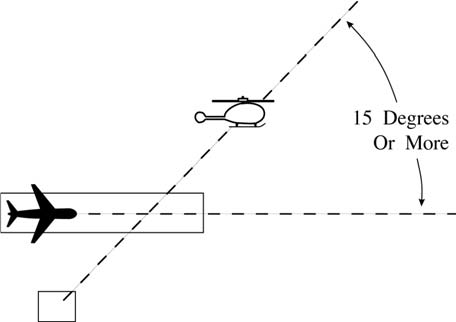 TERMINAL. Except as provided in paragraph 5-8-5, Departures and Arrivals on Parallel or Nonintersecting Diverging Runways, separate a departing aircraft from an arriving aircraft on final approach by a minimum of 2 miles if separation will increase to a minimum of 3 miles (5 miles when 40 miles or more from the antenna) within 1 minute after takeoff.
TERMINAL. Authorize simultaneous operations between an aircraft departing on a runway and an aircraft on final approach to another parallel or nonintersecting diverging runway if the departure course diverges immediately by at least 30 degrees from the missed approach course until separation is applied and provided one of the following conditions are met:
When parallel runway thresholds are even, the runway centerlines are at least 2,500 feet apart. (See

FIG 5-8-9

and

FIG 5-8-10

.)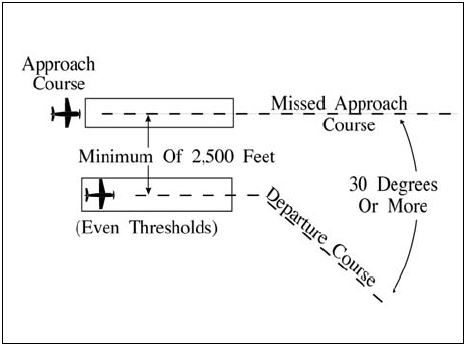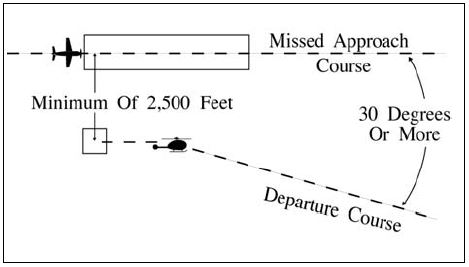 The arriving aircraft is approaching the nearer runway: the centerlines are at least 1,000 feet apart and the landing thresholds are staggered at least 500 feet for each 100 feet less than 2,500 the centerlines are separated. (See

FIG 5-8-11

and

FIG 5-8-12

.)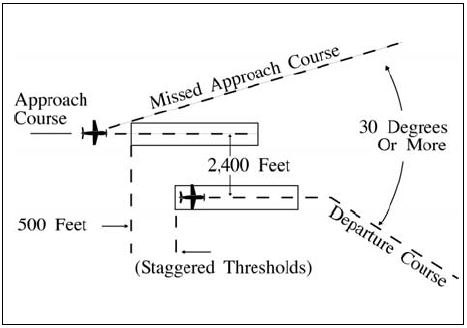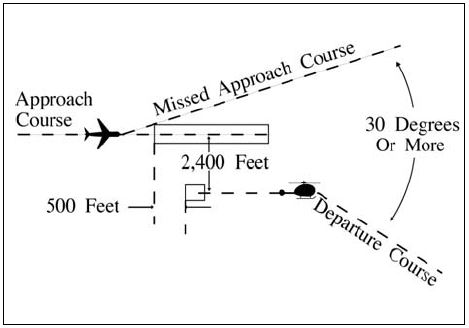 The arriving aircraft is approaching the farther runway: the runway centerlines separation exceeds 2,500 feet by at least 100 feet for each 500 feet the landing thresholds are staggered. (See

FIG 5-8-13

.)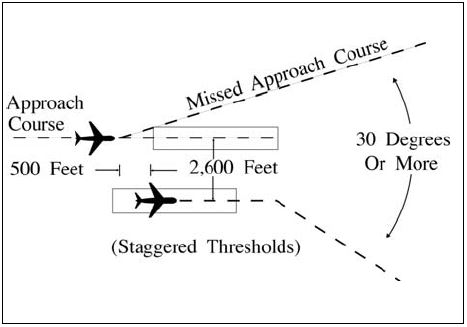 When nonintersecting runways diverge by 15 degrees or more and runway edges do not touch. (See

FIG 5-8-14

.)