5G and Aviation Safety
The FAA is working on measures to ensure that radio signals from newly activated wireless telecommunications systems can coexist safely with flight operations in the United States, with input from the aviation sector and telecommunications industry.
Check here for information and updates as this work continues. 
The Safety Issue
Safety is our mission, and it guides all of our decisions. In the United States, 5G services are planned for launch beginning January 19 using frequencies in a radio spectrum called the C-band. These frequencies can be close to those used by radar altimeters, an important piece of safety equipment in aircraft. To make sure that this does not lead to hazardous interference, the FAA requires that radar altimeters are accurate and reliable. 
Disruption Risk to Aviation from 5G
Because the proposed 5G deployment involves a new combination of power levels, frequencies, proximity to flight operations, and other factors, the FAA will need to impose restrictions on flight operations using certain types of radar altimeter equipment close to antennas in 5G networks. 
These safety restrictions could affect flight schedules and operations, affecting the aviation system. Before and after the 5G deployment begins, the FAA will continue to work every day to reduce effects of this disruption as we make progress to safely integrate 5G and aviation.  
Collaborative Work Underway to Reduce Delay, Cancellation Risk
Approved radio altimeters will allow commercial aircraft to continue low-visibility landings in the 5G C-Band deployment areas.
The agency has made progress during the last two weeks to safely reduce the risk of delays and cancellations as altimeter manufacturers evaluate data from the wireless companies to determine how robust each model is. This work has shown some altimeters are reliable and accurate in the 5G areas; others must be retrofitted or replaced. 
Progress during the two-week deployment delay
Delaying 5G deployment for two weeks allowed the FAA, the aviation community and wireless companies to reduce the risk of delays and cancellations. 
During that time, the FAA has: 
Received vital 5G transmitter location and power level information from the wireless companies
Facilitated data sharing between avionics manufacturers and wireless companies
Worked with airlines to help manage and minimize potential delays and cancellations in affected areas.
Determined that some GPS-guided approaches may be used at certain airports
Educated aviation stakeholders about what they can expect when 5G C-band is deployed on Jan. 19
Worked with airlines on how they can demonstrate altimeters are safe and reliable in the 5G C-band environment. This is known as the Alternative Method of Compliance (AMOC) process.
Airports with 5G buffers 
Telecommunications carriers have offered to voluntarily delay 5G deployment by two weeks and to restrict their own antenna operations in areas close to key airports where interference could lead to significant disruptions. The FAA, working with the aviation community and wireless companies, established buffer zones around 50 airports with wireless transmitters in close proximity to the runways.
Questions and Answers
I've heard about 5G already being deployed in other countries, such as France and Japan, with no issues. Why would the U.S. be different? 
The U.S. airspace is the most complex in the world, and the FAA holds ourselves and our aviation sector to the highest safety standards. Deployments of 5G technology in other countries often involve different conditions than those proposed for the U.S., including: 
Lower power levels 
Antennas tilted downward to reduce potential interference to flights 
Different placement of antennas relative to airfields 
Frequencies with a different proximity to frequencies used by aviation equipment 
The early stages of the 5G deployment in the U.S. will include mitigations that are partly similar to those used to help protect air travel in France. However, even these proposals have some significant differences.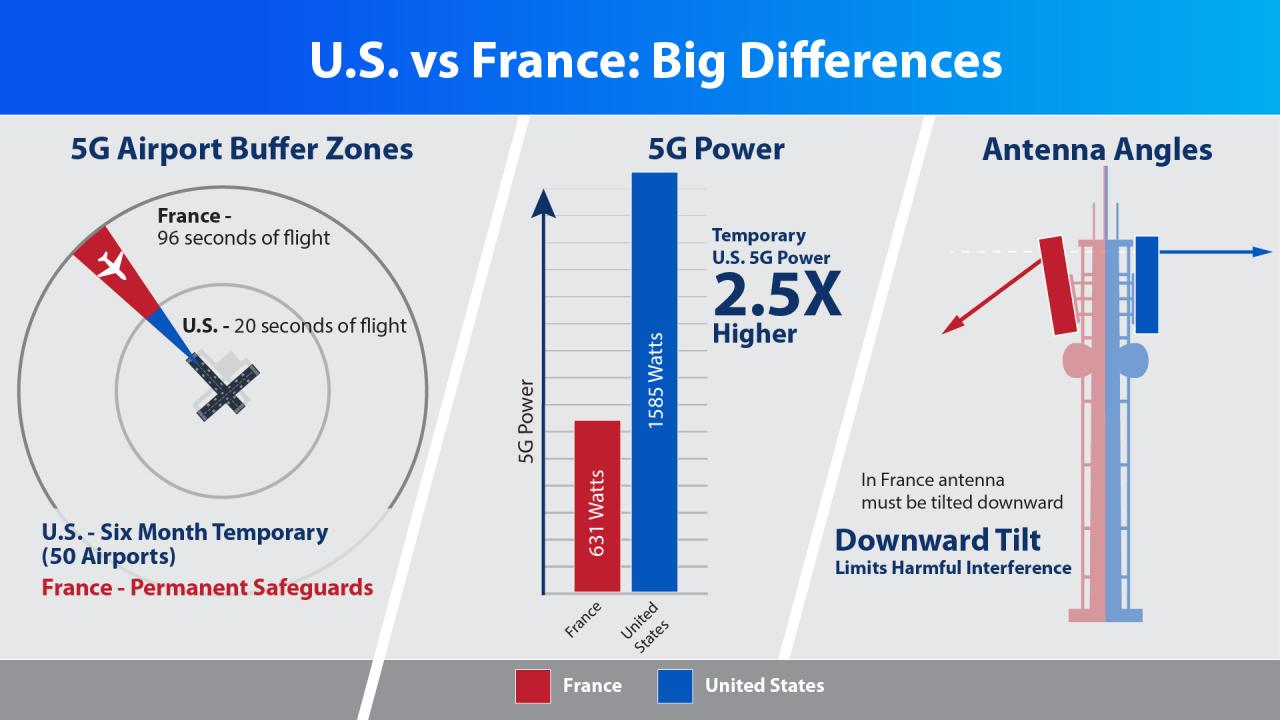 Planned buffer zones for U.S. airports only protect the last 20 seconds of flight, compared to a greater range in the French environment. 
5G power levels are lower in France. In the U.S., even the planned temporary nationwide lower power levels will be 2.5x higher than in France. 
In France, the government required that antenna must be tilted downward to limit harmful interference. Similar restrictions do not apply to the U.S. deployment.  
NOTAMs, AMOCs. The FAA uses many acronyms. Translate for me. 
NOTAMs stands for Notice to Air Missions. They provide information on restrictions or procedures that pilots and others need to follow.
AMOC stands for Alternative Means of Compliance. The AMOC process allows operators or manufacturers to demonstrate alternative ways to mitigate an unsafe situation. This process will be used to clear altimeters that have been proven to be reliable and accurate in the high-powered 5G environment. 
What are radio altimeters?
Radio altimeters provide highly accurate information about an aircraft's height above the ground. Data from these radio altimeters informs other safety equipment on the plane, including navigation instruments, terrain awareness, and collision-avoidance systems.
The FAA says 5G "may" cause interference. So how do you know there's a safety risk?  
Aviation in the U.S. is the safest in the world. That's because we rely on data to mitigate risk, and never assume that a piece of equipment or a given flight scenario is safe until this can be demonstrated. If there's the possibility of a risk to the flying public, we are obligated to restrict the relevant flight activity until we can prove it is safe.  
If any airport is not on the list, does that mean low-visibility flights cannot occur? 
Not necessarily. In many areas of the country with other airports, 5G C-band is not being deployed currently. Examples of these airports are Denver International Airport, Hartsfield-Jackson Airport in Atlanta and Ronald Reagan Washington National Airport. For other airports, 5G towers are far enough away that a natural buffer exists. 
What criteria did the FAA use to select the airports? 
In addition to asking for input from the aviation community, the FAA selected the airports based on their traffic volume, the number of low-visibility days and geographic location factored into the selection. 
Will aircraft at airports that have these buffers be able to perform low-visibility landings? 
Aircraft will be required to have an altimeter that has been proven to be accurate and reliable in the U.S. 5G C-band environment.
Why are we only hearing about this now?  
The FAA, the aviation industry, telecommunications companies, and their regulators, have been discussing and weighing these interference concerns for years, in the U.S. and internationally. Recent dialogue has helped to establish information sharing between aviation and telecommunications sectors and newly agreed measures to reduce the risk of disruption, but these issues are ongoing and will not be resolved overnight. 
 
Resources
FAA Statements on 5G
Last updated: Tuesday, January 18, 2022