Aviation gasoline (avgas) is the aviation fuel most commonly used in piston-engine aircraft. Avgas remains the only transportation fuel in the United States to contain lead. More than 222,600 registered piston-engine aircraft can operate on leaded avgas. The most common and reliable type of avgas is 100 octane Low Lead, also known as 100LL. This leaded fuel contains tetra-ethyl-lead (TEL), which is an additive used to prevent engine damage at higher power settings. Although the FAA does not have direct regulatory responsibility for aviation fuels, it provides the initial certification approval of the aircraft with the fuel it operates on, and it oversees aircraft operators to ensure use of the correct fuel.
Getting the Lead Out
The FAA is working with critical government and industry partners to develop a multi-layered strategy to reduce and ultimately eliminate lead and its potential harmful effects from fuel for piston-engine aircraft based on various recommendations in the National Academies of Sciences, Engineering, and Medicine (NASEM) report. This strategy includes continued FAA collaboration with industry through the Piston Aviation Fuels Initiative (PAFI).
The FAA also continues to support other fuel applicants who have decided to pursue engine and airframe approvals that would allow the use of their fuel formulations via traditional certification processes, through the supplemental type certificate (STC) process, as spelled out in Section 565(c) of the FAA Reauthorization Act of 2018.
On February 23, 2022, the FAA joined aviation and petroleum industry stakeholders to announce a comprehensive public-private partnership to transition to lead-free aviation fuels for piston-engine aircraft by the end of 2030. This initiative to Eliminate Aviation Gasoline Lead Emissions (EAGLE) will expand and accelerate government and industry actions and investments as well as establish the necessary policies and activities to permit both new and existing general aviation aircraft to operate lead-free, without compromising aviation safety and the economic and broader public benefits of general aviation.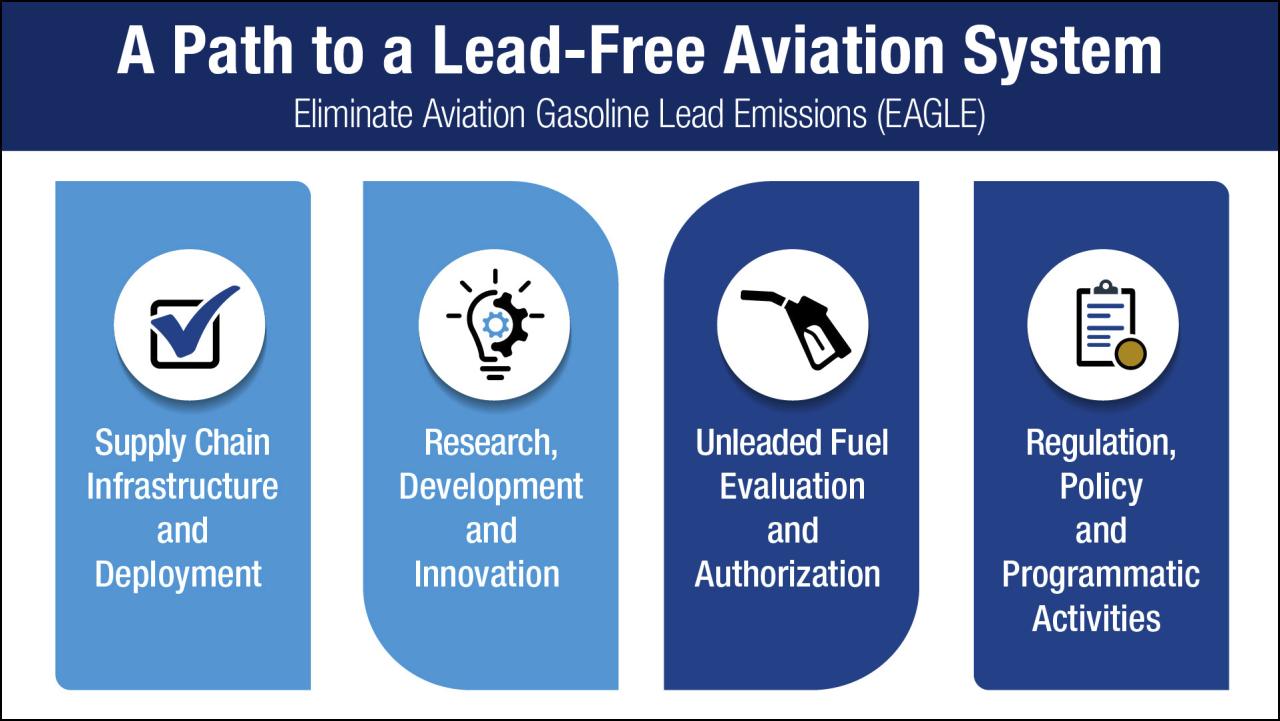 The EAGLE Initiative is based on four pillars of action (depicted in the graphic above) designed to foster the necessary regulatory, innovation, and infrastructure solution sets to enable the commercial viability needed to facilitate the transition.
On March 16-17, 2022, the inaugural EAGLE meeting was held in Washington, D.C.  This two-day EAGLE meeting was an industry-sponsored event that convened more than 120 U.S. and international stakeholders. At this and at subsequent meetings, EAGLE participants discuss:
Organizational framework
Details of each pillar
Activities and associated timelines
Commitments of time, resources, and expertise to support the four pillars
Individual feedback on potential outcomes and actions for each pillar 
An additional stakeholder meeting was held on June 23, 2022. The following documents were developed for the meetings: 
Path to a Lead-Free Aviation System
Fuel Development & Testing
Piston Engine Aviation Fuels Initiative (PAFI) 
FAA & EPA Collaboration
The FAA is also in close collaboration with the Environmental Protection Agency (EPA) on lead emissions associated with avgas.

Media Inquiries: Contact the FAA Press Office at pressoffice@faa.gov

Avgas Information and Resources
Reports 
Legislation and Policy
Advisory Information