Profile of an eFAST MOA
Holder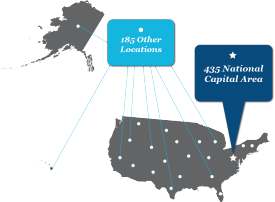 MOA Holders (MS Excel) are small businesses that have been pre-qualified to participate in the eFAST program. Currently, over 500 companies are eFAST MOA Holders, with locations throughout the United States.
eFAST supports a broad range of FAA requirements organized into eight (8) Functional Areas. MOA Holders are selected based on demonstrated experience in the Functional Area(s). MOA Holders meet the small business size standard for at least one of the Functional Area NAICS codes.
MOA Holder Diversity
8(a)
Small Businesses and Socially and Economically Disadvantage Businesses (SEDB)
Minority Owned Businesses (MOB)
Woman Owned Businesses (WOB)
Veteran Owned Businesses (VOB)
Service Disabled Veteran Owned Small Businesses (SDVOSB)
Indian Tribal Owned and Alaska Native Corporations (ANC)
---
Frequently Asked Questions
What is eFAST?
eFAST is a small business contracting vehicle. This multi-year Master Ordering Agreement (MOA) has a broad technical scope and a wide array of labor categories with approved ceiling rates.
Who can use eFAST?
Any FAA Program Management Office (PMO) and Contracting Officer (CO) can use eFAST. Small businesses may participate only after receiving an MOA award during an eFAST Open Season.
How many subcontractors can eFAST MOA Holders have?
Currently, there are no restrictions on partnering.
What is an MOA Holder?
MOA Holders are small businesses that have been pre-qualified and received an MOA award during an eFAST Open Season. Only MOA Holders are eligible to respond to eFAST task order opportunities.
What is Open Season?
Open Season is the process for small businesses to apply to become an eFAST MOA Holder.