New England Region Regional Administrator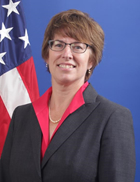 In August 2019, Ms. D'Alessandro was appointed as Regional Administrator. In this role, she serves as the senior agency official in the New England region providing cross-functional oversight and leadership for the FAA Administrator and coordination across lines of business to include Aviation Safety (AVS), Airports (ARP) and Air Traffic Organization (ATO). Ms. D'Alessandro is the principal FAA representative for the six New England states - Massachusetts, Maine, New Hampshire, Vermont, Rhode Island and Connecticut.
Prior to this role Ms. D'Alessandro served as the Director of the Organizational Performance Division in the FAA's Aircraft Certification Service (AIR). As Division Director, she provided leadership in the monitoring and assessment of AIR's organizational performance to reduce risk in the National Airspace System and integrate quality and safety into all aspects of AIR's operations.
Ms. D'Alessandro has held various leadership roles within AIR since joining the FAA in 2006. She was sworn into FAA's executive service in June 2015 as Manager of the Engine and Propeller Directorate (E&PD) with employees across the New England and Eastern Regions. In addition to her many years with the E&PD, she spent time at FAA Headquarters in Washington, DC working as the Technical Special Assistant to AIR's Director and Associate Administrator for Aviation Safety. Prior to joining the FAA Ms. D'Alessandro spent 18 years at General Electric, quickly progressing through a variety of engineering jobs of increasing responsibility. During that time, she gained extensive experience in engineering design, administration and leadership.
Ms. D'Alessandro brings together a strong knowledge base of the local New England aviation and political landscape, together with a broad FAA network in Headquarters and across the country, enabling her to provide strong FAA representation with local stakeholder groups.
Ms. D'Alessandro earned her Bachelor of Science degree in electrical engineering from Worcester Polytechnic Institute in Worcester, MA and a Master of Science degree in electrical engineering and control systems from Northeastern University in Boston, MA. Ms. D'Alessandro is Six Sigma Black Belt certified.