Western-Pacific Region Regional Administrator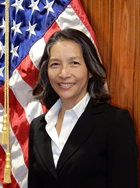 Raquel Girvin was appointed Regional Administrator for the Federal Aviation Administration (FAA), Western-Pacific Region in December 2018. Raquel serves as the principal executive representative of the FAA Administrator and the senior FAA official in the region. Western-Pacific Region encompasses the states of Arizona, California, Hawaii and Nevada and the U.S. territories of American Samoa, Guam and Commonwealth of Northern Mariana Islands. Raquel has thirty years of multi-disciplinary experience in aviation.
Raquel provides corporate leadership in cross-organizational matters and represents the FAA with industry, the public and governmental organizations. At the time of her appointment, she managed programs in the Office of Aviation Safety's Unmanned Aircraft Systems (UAS) Integration Pilot Program (IPP).
From 2013 to 2018, Raquel served as Deputy Director for Policy and Planning (APO) at FAA Headquarters in Washington, DC, where she advanced a wide-ranging portfolio of projects and crosscutting policy issues such as FAA Reauthorization, NextGen implementation, and integration of new users in the NAS. In 2016, she served as senior advisor to the Director of the FAA's Unmanned Aircraft Systems Integration Office on international issues. Raquel joined the FAA in 2007 as Manager of the FAA's Noise Division in the Office of Environment and Energy in Washington DC.
Prior to federal service, Raquel worked in the commercial aerospace industry as an advanced design aerodynamics and propulsion engineer at Boeing-Southern California, and McDonnell Douglas Corporation. She also performed airfoil research at NASA Langley Research Center.
Raquel holds a Ph.D. in the inter-disciplinary field of Transportation Science from the University of California, Irvine. She completed her dissertation on an economic analysis of aviation noise regulations. She holds a Bachelor of Engineering degree in mechanical engineering from The Cooper Union for the Advancement of Science and Art in New York City and a Master's of Science degree in aeronautics from George Washington University.