Acting Regional Administrator, Eastern Region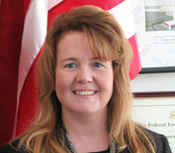 Marie Kennington-Gardiner became the Regional Administrator for the Eastern Region in August of 2021. Previously, she served as the Acting Regional Administrator beginning in May 2021 and in 2017.
The Eastern Region encompasses the geographical area that includes Delaware, Maryland, New Jersey, New York, Pennsylvania, Virginia, West Virginia and the District of Columbia. The Region oversees operations at some of the world's busiest airports including, JFK International Airport, LaGuardia Airport, Washington Dulles International Airport, Newark International Airport, Ronald Reagan Washington National Airport and Baltimore/Washington International Airport.
Kennington-Gardiner also served as the Director of the New York Area Program Integration Office for the Federal Aviation Administration (FAA). As Director, she coordinated, integrated and monitored regional airspace issues, projects and initiatives to address congestion and delays in New York.
Prior to this position, she served as Director of the Lower Manhattan Recovery Office to coordinate federal emergency transit investments following the 9-11 terror attacks. She was responsible for providing oversight of $4.5 billion in support of post 9/11 infrastructure establishment or replacement activities.
Kennington-Gardiner has over twenty years of experience working for the FAA. She started with the agency in 1991 as an electronics engineer leading implementation efforts for numerous surveillance and weather radar installations throughout the FAA's Eastern Region. The blend of academic and practical skills she secured while in the field provided an opportunity for her to progress to General Engineer for larger Agency Projects and Programs prior to her stint with the Federal Transit Administration where she served as an Account Manager for the East Coast defining and prioritizing major federal infrastructure investments. These experiences led her to the most challenging positions of her FAA tenure. In her current position she provides corporate oversight for all projects and initiatives associated with delay reduction for the largest airports in the New York Metro Area.
As a graduate of Manhattan College in Riverdale, NY, Kennington-Gardiner holds a Bachelor of Electrical Engineering degree. She is also the recipient of a Master of Science, Management of Technology from NYU Polytechnic University.
Last updated: Friday, December 23, 2022