Consumers
If you decide that chartering an aircraft is right for you, do your research. Illegal air charter operations pose serious safety hazards, and the FAA works aggressively to identify and shut down rogue operators. Legal/licensed air charter operators (MS Excel) incur relatively high overhead costs to maintain the aircraft, train and test crew members, and stay compliant with FAA and TSA regulations. If the deal sounds too good to be true, it probably is.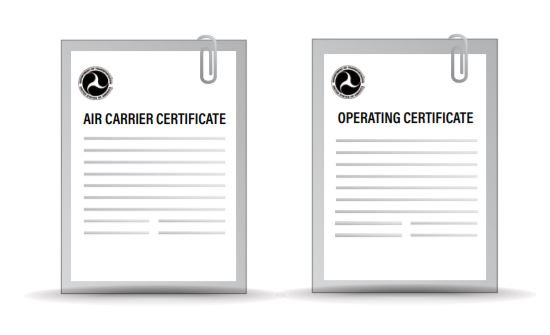 It's important to verify the legitimacy of the charter operator before you book your flight. When paying for an Air Charter, ask to see the Operator's Air Carrier or Operating Certificate to validate that the aircraft has authorization for charter use. If the operator refuses to allow you to see the required authorization, look for a charter operator willing to provide you with that information. Before entering into an aircraft lease, ensure you understand and are willing to accept your responsibilities for compliance with air safety regulations.
Learn more about Chartering an Aircraft, A Consumer Guide to Help You Fly Smarter (PDF). Look up your aircraft with the FAA's Aircraft Inquiry Registry.
Red Flags that Indicate a Company May Not Be a Legitimate Operator
If the company provides the aircraft and at least one crewmember, yet attempts to transfer operational control to a consumer via any document.
A lack of Federal Excise Tax charged to the consumer. Legitimate operators have to charge this. If the price is too good to be true, it probably is.
A lack of a safety briefing or passenger briefing cards.
Any evasiveness to questions or concerns. Legitimate operators should be transparent and helpful.
If the pilot or someone associated with the company coaches passengers on what to say or do if an FAA aviation inspector meets the aircraft at its destination.