The Air Up There Podcast

Give Thanks This Holiday Season
Season 3, Episode 8
Published:
Our holiday wish — give flight attendants chocolate, not problems. In this episode, we provide tips on how to get to your destination safely and on time for the holidays. Maximize your travel experience and enjoy the magic of flight. Get the inside story on why it's so important to follow cabin crew instructions, how to deal with disruptive passengers, and how to prepare for flying with children, and more. Also, learn about what FAA is doing to prepare for major traffic changes during the holiday season and beyond.
You'll hear from: Sara Nelson, the International President of the Association of Flight Attendants, and LaKisha Price, the Air Traffic Manager at FAA's Command Center.
Remember, flight attendants are trained professionals who are on board for your safety. Thank them for their service with good behavior, kind words, and chocolate (as you'll hear in this episode)!
To learn more about safe holiday travel, listen to our previous podcast episode, Travel Safe this Holiday Season.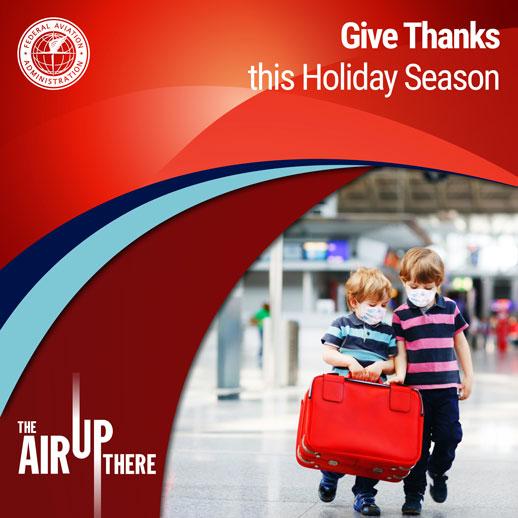 Give Thanks This Holiday Season
Transcript:
Kenya:
Welcome to The Air Up There, a podcast about the wide world of aerospace. I'm Kenya Williams, and today we're talking about the holiday season. What can air travelers expect? And how's the FAA help you go home — or wherever — safely this holiday season?
Talisa:
And I'm Talisa White. Kenya, the FAA, airlines, and their partners really have developed a tried and true process to plan for an uptick in air traffic for the holidays and beyond. And to be ready for winter weather. When it comes down to it, it's all about traveling safely and minimizing flight delays.
Kenya:
Exactly, Talisa. While we ramp up for the season's traffic spike, we're working through some new challenges altogether, like dangerous and unruly passengers.
Talisa:
Definitely, it's been a challenging couple of years for everyone, including those who manage and use our aviation system. Our colleague, Allison LePage, interviewed Sara Nelson, the International President of the Association of Flight Attendants, to discuss what it's been like to deal with this massive surge of unruly passengers, and why it's so important to listen to your flight crew. Let's get into it.
Allison:
Welcome, Sara, I'm Alison LePage with the FAA and I wanted to have a conversation with you regarding unruly passengers and air travel right now. The good news is, is that air travel is up; more and more people are vaccinated and following the CDC's guidelines so that they can fly safely. Thank you for joining us.
Sara:
Thank you so much. And yes, we're glad that people are coming back to the skies as those vaccinations get to be more and more, and welcome to travelers from Europe as well.
Allison:
The bad news is that we are still hearing about people who have been behaving very badly on flights. What's going on up there, Sara?
Sara:
Yeah, I think that first of all, we need to stop using the word unruly because this is not a classroom and it's not some kids acting out. This is really disruptive, and in many cases, violent behavior. Flight attendants have never seen it like this before. I'm a 25-year flight attendant and used to be a really bad day at work if you dealt with a disruptive passenger or dealt with air rage on your flight — not sort of the norm every day when you're going to work. And so what flight attendants are experiencing is people having violent behavior in response to any kind of safety instructions, whether that's hitting the back of a seat, we've been spit at, much of the talk back, or very pushy and disruptive behavior also includes racial, gender, and homophobic slurs. And then we have the really violent offenders who are actually punching flight attendants and other passengers. Oftentimes it's the group. Crew are wearing a uniform and we've had conflicting information coming from leadership including cable news personalities who've called flight attendants Nazis, so people are coming to the door of the aircraft thinking that we're at odds with each other rather than in the spirit that we're all in this together, and that flight attendants are there to bring people together, not tear them apart, and to keep everyone safe in the process.
Allison:
I think a lot of times people just think that flight attendants are there to serve beverages and snacks. But you know, they're really are first responders and what would you like to say directly to our listeners today to really get that message to solidify in their brains?
Sara:
Well, look, there are FAA regulations that say that there have to be a minimum number of flight attendants on a plane depending upon how many passengers there are and what the configuration of that plane is. And so what that should tell everyone is that our first and primary role is one of safety. And that's to safely evacuate in the event of an emergency. But as for fighting fires and responding to medical crises, and it's also since September 11th, we've served as aviation's last line of defense and aviation security. As these events happen on board and they're happening more frequently, albeit from a small group of people, a small but persistent group of people, they're creating distractions of the cabin from the other safety duties that we have. So in turbulence, people can get very hurt and we go through and check for seatbelts and distracting from that can mean that people can get thrown around the cabin and when they come down, they're gonna hurt someone else too. Staying on our toes and making sure that there is not a fire or and that could include a lithium battery with all of the devices that people carry on board today. If we don't get to that soon, a little fire in the cabin can become a big problem really fast and put everyone at risk on board.
And we have people who have gone into labor. We've delivered babies. Whenever people who have had heart attacks and become unconscious and flight attendants have revived people and also breathed life into people. There are people who are traveling for a lot of different reasons. And the federal mask mandate, for example, that we're charged with enforcing recognizes the fact that in this aircraft — in this metal tube — is enclosed, where we're flying miles above the Earth, that we have some people who don't have access to the vaccines still. Children, and also people who are traveling for medical reasons, and for those same medical reasons cannot get the vaccine.
So we have to enforce the rules to keep everyone safe, because in that confined space, everyone is at risk when we can't.
Now finally, what I would say is that since September 11th, we also have been the eyes to make sure that after all the checks that happen before anyone even gets on board, that last possible disruption if someone has slipped through, and there's a coordinated attack planned, if we allow this to become the new norm, that people are acting out on planes, those people who wish to do us harm and want to look for a scenario where they can pull off a coordinated attack, we're giving them one more tool in their toolkit. We cannot allow that to happen, and we won't. And that's why we won't accept this as the new norm. And that's why we're so glad that the FAA is taking this so seriously and put it on the radar of all the other agencies, and the President of the United States who has instructed the DOJ to get this under control.
Allison:
Just after you brought up the 9-11 piece is that why do you think that people who are on planes flying that our brother in laws, our best friends, our sisters, our next door neighbors, why do you think that they — who lived through 9-11 — why do you think that they feel that it is okay to act this way, and to have this type of dangerous behavior?
Sara:
I lived through 9-11. Flight 175 was crewed with all my friends. I worked that flight quite often. And I think about the intelligence that we got from the flight attendants who were facing something that we had never faced before, and was the exact opposite of the training that we were given for in the event of a hijack scenario. And they got that information to the ground. And then that made its way to Flight 93 that was only an hour behind them. And there was a totally different response on Flight 93. There were Democrats and Republicans and independents, a pregnant woman, a gay rugby player, who at the time was fighting for marriage equality, people with very different views on that plane, but in a moment's notice, they were just Americans. And they acted together to try to save their own lives, they definitely saved the rest of ours on the ground. And, and today, instead of facing this crisis together, and doing what we have done throughout history, so well together, operating in the spirit of solidarity, putting everything else aside and helping each other and marshaling an incredible response against this crisis.
The people who are leaders in this country, elected leaders in this country have been telling us very different versions of what's going on — whether or not we are even in a crisis — and they've politicized everything. And that mixed and disinformation campaign that has gone on, that has been driven to pitting politics to the most divisive and polarized that we have ever seen, is putting people in a state of real anxiety, because they don't know what to believe. And so if we can have clear, calm instructions, consistent instructions, if we can at least do that from the airport door, or to when we leave again, through all of our communications through that process, and enforcing all of the rules that we have to have in place, it's much more likely that we are going to have — that we're going to cut down on these incidents, and that people are going to understand what the rules are, what happens, and why they're there. What happens if you fail to comply. It's much more likely we're going to get back to smoother skies and conditions where we understand that we're going to do better when we act together to do these great things like the magic of flight.
Allison:
I so much appreciate your commitment to this, Sara, and I can hear the emotion in your voice. I really think that when you're sitting around and you're talking with your friends or your family with upcoming holidays that we have around the corner, that we do need to band together. It's not about politics. It's not about what you personally may or may not believe in. It's about being safe. It's about protecting and respecting the crew's instructions. And that if we could do that, after times that our family — that our country has faced as a family after things like 9-11 and events that have taken place after that we can do that now.
Sara:
And I think there's a couple tips for people too, to just make it a better experience for themselves because travel can be a little rough. So first and foremost when you go to travel, understand that you will have to have a mask on from the airport door to when you leave it on the other side on the other side of your flights. And so temperatures can change, you want to bring two or three masks for everyone on the family or ask for flight attendants for replacement one, if yours gets a little wet, from condensation from breathing in and out of these different temperature changes.
Pack your bags — start from an empty bag. Remind yourself of the TSA prohibited items list that you can find very easily on tsa.gov. And pack from an empty bag so you know exactly what's in your bag and you don't inadvertently have a prohibited item there. Get to the airport early. The lines are going to be a little bit longer. Most people who are traveling are traveling on a rare basis, so they're not typically getting through the security line faster. And so those lines are a little longer. Don't get yourself all worked up, because you think you're getting late for your flight.
Think about whether or not you want to have that alcoholic beverage in the airport before your flight. Because when you get up in the air, you're pressurized at 8,000 feet and it may affect you differently. Know also that if you are inebriated, you are going to be refused the ability to board that flight. That's federal regulations.
And be patient with other passengers and airline workers. Think about being a helper if you see something that's wrong, get the attention of an airport worker or a flight attendant so that we can try to get to that issue, de-escalate the problem before it becomes too great. And with your helping eyes on that and thinking about helping the staff, that's going to make it better for everybody.
And finally, we just like to tell people, you know, sit back, relax, wear a mask, get vaccinated, and enjoy your flight, it can be a great experience. Remember that the flight attendants want to take you to Des Moines and to New Orleans and to Fort Lauderdale and to Seattle. We don't want to take you to jail.
Allison:
So just a couple other quick things I wanted to talk to you about that I often get asked by my friends for you know, working at the FAA as long as I have, what are some of the advice or topics that you would like parents to know when it comes to flying with children? Now with the mask mandate, especially parents that do have special needs children, you know, they do get very stressed.They want to take their kids on vacation. They want to be able to travel to see their family. But when it comes to the mask mandate, what would you like to tell parents?
Sara:
There's a few pieces of advice. So first of all, you have the ability to alert the airline, if you have a special needs child or special needs passenger who's traveling. It's really great if the airline knows that ahead of time, so that they can prepare for that, brief the crew, let them know. And then make sure that that message actually got through. So when you get to the gate, let the agents know. Let the crew know when you get on board so that they know that you may have some additional needs. And you know, you got to do everything that you can to try to comply with that. But we understand; flight attendants understand. And this is one of the reasons that we tried very hard to enforce the mask regulations throughout the rest of the plane, because we want to keep your child safe as well. So and then I would say really take a look at the assignment of seats, you don't want to be in a situation where you're getting to the airport and you're getting assigned a seat at the last minute. And it's very difficult to get seated together and slows everything down, makes it stressful on you, makes it stressful on everyone else, and maybe creates delays. So really think about when you're buying that ticket, making sure that you know exactly where you're seated and you're seated together. Getting that information to the airline early is going to help us prepare and help make it easier flight for you.
Allison:
That's very helpful. So the last part is just a quick rapid fire Q & A. I have three questions for you, if you want to answer them in 10 seconds or less. The first one is: what if you're sitting near someone who is saying threatening things about the flight or passengers or is just strictly harassing you and you feel very unsafe? How can you get the flight attendants' attention to be able to help you out or to move seats?
Sara:
Yeah, sure. So the first thing you should do is try to get up and go tell a flight attendant somewhere else because you don't want to be in a position of calling for help and having the seconds where you're waiting for that help to get to you to be even more threatening or even more dangerous. But in a situation where you can't get up, that flight attendant call button is directly above your seat. Look for the little icon of the person, press it, and ask for that help or call out to some people around you that you may need some help. So get some helpers from other passengers to help you out with that as well. If you can, pass a note to someone in front of you to ask them to get up and alert the flight attendants.
Allison:
My second question is: in the event that there's a medical emergency on a flight, what do you want passengers to know to be helpful, but also to get out of the way?
Sara:
Yes, it's best if people can stand back. Don't crowd around. We're gonna have to get medical equipment to those people. We may have to try to be moving a communication device so that we can actually speak to doctors on the ground and we will be calling for assistance. So if you are someone who is a first responder and your other life or a doctor or nurse, we're probably going to be calling on you. Everyone else, we really need them to step back, get out of the way, and listen to instructions from flight attendants.
Allison:
And my last question does make me a little emotional to be able to read it. But Sara, how can passengers throughout the holiday season thank their crew?
Sara:
Oh, wow! You know what, kind words go a really long way. So if you remember to do that, when you step on the plane, take a minute to look up from your phone and say hello. Greet the flight attendants. And on your way out, thank them and just be thoughtful about that. Look around and see if you can help in any way. But also what I would say is, you know, flight attendants love chocolate.
Allison:
I love that. Well, thank you, Sara, so much for talking with me today. We really appreciate our partnership with you, and the Association of Flight Attendants. Remember, if you're planning to fly this holiday season, always listen to your crew members. And make sure that you tell them thank you, either while you're boarding the plane or getting off the plane. Getting to your loved ones this holiday season is a gift and those crew members are making sure that that happens.
Sara:
Thank you. We couldn't do any of it without you. So appreciate everyone at the Federal Aviation Administration as well. Happy Thanksgiving.
Talisa:
I think it's safe to say that everyone loves chocolate. And Sarah really hit home how important the safety professionals are to every flight. For our next interview, our colleague, Chris Troxell, speaks with LaKisha Price, the Air Traffic Manager at the FAA's command center, where specialists work to keep flights flowing nationwide amid a variety of constraints to include congestion, weather, and more. And this team really prepares for major traffic changes well past the holiday season — all year long.
Kenya:
Wow, that must really take an orchestra to keep up with such a dynamic aviation system. Let's hear it.
Chris:
Outstanding. So other things that I've done a little bit different during the pandemic. Can you tell us a little bit about what the command center is doing this year to prepare for a holiday traffic spike? And is there anything different? Is less traffic expected? Is your planning going to be different in any way? Or is it going to be the same?
LaKisha:
So every year we plan for holiday traffic and associated travel for travelers and the American public. So every year we coordinate with our FAA facilities, our industry partners, even our U.S. military to open up some additional airspace in an already congested area to provide more route options for air travel. So we have what is called the holiday airspace release program when the military using special-use airspace, they let us borrow it for a while. So we can open up some more airspace for air travel. And again, it kind of reduces that congestion and provides route options for us to utilize.
We video conference with these folks on our processes to ensure that we have a safe and expeditious holiday traffic season, and also to ensure some equitable access to the air traffic — to our airspace. So again, we have certain things that we set in place, we have our Snowbird routing, again, it is as it sounds — everybody flies south for the winter.
So our northeastern areas fly through Florida down to the Caribbean. We actually are anticipating an uptick in traffic from 2019 numbers where we were from our northeast down to Florida, we're just going 111% of 2019 number. So we — that is an increase in traffic for us. We also have what is known as ski country for those regions that are going to have increased traffic for folks who like to ski and visit our Colorado airports, Aspen and Eagle. Again, that plan is to lay out for the stakeholders where we expect the high volume days to be. We try to project that out for them so they can plan in advance the routing that they want to fly. And the times that we're just beginning to be heavy with air traffic and they can kind of work their schedules around that.
Chris:
Outstanding and when do you expect this traffic spike to start and then when does it usually start tailing off?
LaKisha:
We anticipate right the month of November — really mid-November — as people start to travel for Thanksgiving and all the way through January/February timeframe for people going on winter break. Then we start the effect of normal flow. It comes up again for Easter break or spring break.
But for winter off or holiday traffic, right around February timeframe, but again, you have different parts of the country who do take their winter break. So we actually plan all the way out through March. So from the middle of November, all the way out from March, we plan for holiday traffic.
Chris:
Wow, wow. Are there any new tools and technology that you're using to manage traffic? And this year, that means more modern than years before?
LaKisha:
So I wouldn't say new tools; we have been using time-based metering to get a time and space for the airport. When we know it's going to be busy arrival push into an airport, we don't have to put so much miles-in-trail out. We can actually have the specialist control traffic and more metered fashion where we're, you know, trying to hit times to the airport. So we are utilizing that a little bit more. Additionally, we have the implementation of the Florida metroplex, that should help aircraft transition into that space down to Florida. That's a lot of congestion and congested airspace with the addition of the Heart program, putting up some of that additional military airspace to utilize that. So one thing, necessarily new procedures, we have made upgrades and improvements when it comes to trying to reach an airspace to reduce the congestion and improve efficiencies in our routing. So we have done that. And again, it's about coordination and collaboration with our users to ensure the safest travel possible.
Chris:
Excellent, excellent. Do you, the traffic management specialist for the command center, use faa.gov as a tool?
LaKisha:
We do — we call it our operational information page. It has been redesigned, and sometime in over 20 years actually much more user friendly then it has been in past. So is our external-facing page, which is the slide that faa.gov redesigned for the public. And it has presented them with more functionality, really cool aesthetics. So that's what the public is seeing right now. Internally, we're still using the legacy version, so it's a lot to coordinate throughout the entire NAS, throughout all of our facilities in the NAS to switch the version over. But we will do that here in the next few years. So we can also see the same thing that the airlines and our public users are seeing right now. But internally, we will redesign just haven't yet. But it's still the same information. So it's transparent to the users on this. And the public has seen something more aesthetically pleasing, more user friendly, but same information. So we're also working off the same information in order to communicate and collaborate on the same level.
Chris:
Excellent, excellent. Yeah, I've heard great reviews about the redesign of the site.
LaKisha:
Yes, it's pretty cool looking, I think.
Chris:
Oh, good, good. Has COVID-19 at all changed the way that you manage traffic?
LaKisha:
I wouldn't say that it's changed the way we manage traffic. Again, we are born into collaboration with our users and our mission partners. I think it has given us an opportunity to work on improving our efficiencies. As I mentioned before, trying to reduce our miles-in-trail, being able to slow down the problems because you know, traffic wasn't as predominant as it is coming back to being, right? So being able to slow down the problem to see where we can improve on inefficiencies, like extra amount of knowledge on the system VM to reduce that. And being able to increase our use of TBFM, our time based management system, has helped again, with the implementation of the Florida metroplex — having our pilots on better routing, more efficient routing, and being able to use the optimized descent profiles and aircraft capabilities more efficiently. That's helped. We've been able to implement some things and some of these new procedures or processes to help us manage your traffic. And I want to say it was different than the way we manage, but we have been able to realize a more efficient way to manage our airspace now.
Chris:
Excellent, excellent. You might have answered my next follow-up question: that what kind of challenges have you faced and then how have you adapted and sort of remained agile, while faced with those challenges presented by the pandemic?
LaKisha:
I cannot say enough about the coordination and collaboration of our mission partners. I think everyone has seen the toll that this pandemic has taken on the workforce, you know, just mentally and physically being able to work together and work these issues together has helped tremendously. Our number one priority has always been the safety of our personnel. So at the beginning, you know, we separated the crews and made sure we maintained that social distancing that was necessary. But as traffic came back up, you know, we came back to work, and we're here 24/7. In order to do that, we have to communicate with each other; we have to work as a team. And our folks have come up with how to manage that — manage their time at home, and stay focused on the mission. It gave us an opportunity to — and strategically — on how we want to be moving forward how to work for sure, moving forward. And again, we've had to adapt and think that's made us better, a stronger force, a stronger team — more of a family-oriented thing. So I think the communication and the teamwork that has been shown help with that — help with us being agile — working shifts that we normally wouldn't work and covering for each other has helped us be more agile, and respond to the increase of traffic that we have now. You know, I think it's important that we stress the fact that we could not have done that without the help from our industry partners, again, military RFA facilities all coming together, and realizing that, you know, we are public servants, and we have a job to do. So now it's time to traffic increases, we have to be here to manage traffic.
Chris:
That's outstanding. That's great. And the work that the team was able to accomplish with the JCAT was just amazing. Responding to those COVID-positive cases all around the country and keeping the traffic flowing. That was incredible and in my understanding I heard that the JCAT had just been reactivated not long ago.
LaKisha:
Right. So we have been on a downward curve or so we thought, right, and back in I want to say they were reactivated. Late June, early July, with the spike course. In response to the spike, we reactivated the JCAT. Again, this is a testament to the people we have working for us. While some people have the option of being able to stay home, our workforce comes in and you know, does a job again, 24 hours, seven days a week and was concerned for our fellow employees are — probably: this is the true definition of public service here.
So they come in, they do the job, and they do a fantastic job of it, and ensuring that we can keep operational facilities open and not have to close down and be here as a support system for those out in the field and answer those questions. Because once you have an issue, I don't think it should when something happens in your facility, and it's COVID-related, and you don't know if it has impacted other people; just to have a calming voice on the other end allows them to maintain their calm in this session — take the proper precautions that they need to inside of their facility.
And we can be there to answer their questions and walk them through it. So again, this is public service at its finest, the reactivation of the JCAT. Hopefully right now cases are back on the downward trend. So hopefully they can be deactivated soon. But you know, we're here for as long as the mission causes us to be here.
Chris:
Outstanding. I appreciate that. Talking about winter weather, and I think you touched on this earlier: how do snow and ice storms affect the air traffic system? And what kind of planning are you doing for us coming winter season?
LaKisha:
It's wrestling because you think oh, it's a winter storm is winter weather. But folks who are used to working in winter weather do it so well that as long as we plan for it because we do get a kind of you see the formation of the storm. It's more stable, it's more predictable. So it's kind of a little bit less problematic for us then, say, a hurricane would be or tornadoes touching down or really, really severe thunderstorms that you weren't anticipating being as worse as it is. Once the weather gives us the advantage of communicating early, it becomes routine for the facilities that routinely work winter weather and they're very well prepared for it. They prepare for this, these events at the local level, at the airport and state level. So they're well-versed in snow plow operations, de-icing operations, and ground floor operations on the airfield to ensure that air travelers are safe when they're flying in winter weather and that they land without any issues. Where it becomes a little bit of an issue is when we have unexpected things like the ice storms in Texas. Who knew right?
Chris:
Yeah.
LaKisha:
If you're not used to it, it can become — right — it can become significant and it can increase your delays. Homes that are not used to the de-icing procedures and plowing: you have to plow a runway in Texas? Really? So again, we prepare by communicating early and often — getting our plans together, ensuring that the safety of our personnel and just formulating the plan early, so everyone is on the same page and muster through it.
Chris:
Excellent, excellent. And the last thing. I don't know if I asked the question earlier or not, I think you might have touched on a little bit: for the holiday traffic spike coming up, is there any kind of special collaboration with airlines that you think is worth noting?
LaKisha:
Again, I mentioned the Heart programs, or holiday airspace release program that's in conjunction with our U.S. military to free up some of that special use airspace that the military uses for their training, and their operations. They let us kind of borrow that for a time. So we can increase route options for air travel. We coordinate with the industry every day, all the time. So just an event planning and you know, that foreshadowing of our predictions for volumes in certain days and let them know when we think days are going to be high in volume in those peak hours. So they can plan accordingly and adjust their plans as they need to for their business case. So again, it's mainly coordinate early and often so they can tell us what their plans are. And we can tell them what we think is going to be the traffic projections, and then we can come up with a plan together. So it is about collaboration with all our mission partners as we move through the holiday travel season.
Chris:
Great, great. And I think I may have mentioned this earlier, but I was just wondering: how long has that Heart program been in effect?
LaKisha:
Oh, I don't know the exact time, but it's been years. I remember working the Heart routing when I was a young controller [laughs] back in 2010. So at least ten years.
Chris:
Alright.
LaKisha:
I can get that information for you if you need it, though.
Chris:
Oh, no problem. Yeah, if you do have it, that's great. Maybe we can incorporate it into the script. But it's not imperative to have that stat, I was just curious.
LaKisha:
Yep, it's all for the good of our customers. We take pride in what we do; we want to ensure that everyone gets to their destination safely, and they can enjoy their vacations and time with their family. I mean, in light of the pandemic, it's been a rough 18 months. So you know, we want to ensure that our passengers get there safely and on time and be able to enjoy their time away.
Chris:
Yeah, so thank you so much, what you said. This has been a really great interview. I really appreciate you explaining in such great detail all of the work that you and your team do at the command center to get ready for holiday travel, winter weather. I know that you've been very busy and it sounds like your team will be quite busy coming up here in the next month or so.
LaKisha:
I appreciate it. Thank you for your time. Thanks for letting me be on the podcast and letting us talk stories. Really appreciate it.
Chris:
Thank you so much, LaKisha. I really appreciate your time — always a pleasure to talk with you. And I know you're busy, so I'll let you go.
Kenya:
Remember, traveling this holiday season is a gift. And so many people are working tirelessly to get you to your destination safely.
Talisa:
That's right Kenya. So if you're traveling by plane, don't forget to wear your mask and thank your flight attendants. Psst! We hear chocolate doesn't hurt either.
Kenya:
And that's our show for today. The Air Up There is a podcast from the Federal Aviation Administration. If you liked today's episode, remember to subscribe and share it with someone else. You can find the FAA on social media: we're @FAA on Facebook, Instagram, and LinkedIn and @FAANews on Twitter and YouTube.