The Air Up There Podcast

Iditarod from the Air
Season 4, Episode 1
Published:
We've got the inside scoop for one of Alaska's most iconic events — the Iditarod Trail Sled Dog Race! The Iditarod race is celebrating 50 years, and FAA's podcast team jumped on the opportunity to join the celebration. The FAA is well connected with Iditarod officials who are passionate about all things aviation, and FAA is full of dog lovers, thus making the 50th Iditarod race the perfect topic for an epic episode of The Air Up There podcast.
Are you wondering what the connection is between aviation and Iditarod? Tune in to this episode to find out! We're going behind the scenes with Iditarod Air Force Chief Pilot Ed Kornfield; Musher Richie Diehl, a pilot who has multiple top 10 finishes in the Iditarod; and our very own Mike Holey and Sam McQuillin, members of an FAA Flight Service team who keep flights safe before, during, and after the last team has finished the race in Nome, Alaska.
The Iditarod temperatures are cold, but the topics about all things Iditarod in this episode are hot! Want to learn more after listening to this episode? Check out our blog post "Iditarod from the Air … Up There."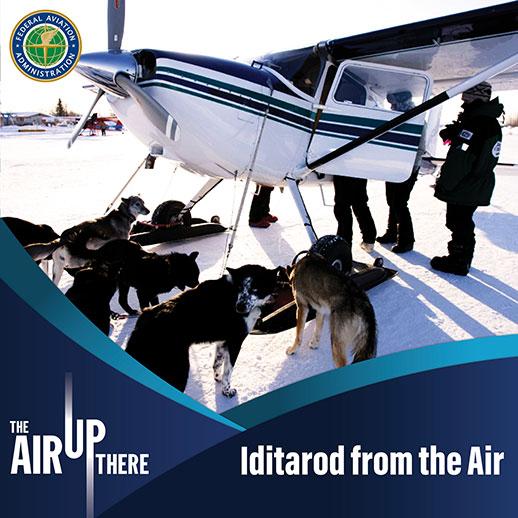 Transcript:
Richie 00:00
I don't think people get to know much about how important aviation is to mushers in rural Alaska, but also how important the Iditarod Air Force is to the Iditarod. They kind of quietly go about their business, but, yet, it makes the race happen.
Jeannie 00:20
Welcome to The Air Up There, a podcast about the wide world aerospace. I'm Jeannie Shiffer. And let me tell you today's episode is going to the dogs, not the Georgia Bulldogs, but sled dogs.
Alison 00:33
I'm Alison Duquette. And this year marks the 50th anniversary of the world-famous Iditarod race in Alaska. We're going behind the scenes with Iditarod Air Force chief pilot Ed Kornfield, musher Richie Diehl, and our own Mike Holey and Sam McQuillin. Now they're part of an FAA team that keeps flights safe before, during and even after the very last team has finished the race in Nome.
Jeannie 00:59
The Iditarod is a roughly 1000-mile, mile race — easy for me to say — over land, so some people may wonder, what's the aviation connection? The Iditarod Trail is one of the earliest U.S. national historic trails, and it runs from Seward through Anchorage, and all the way northwest to Nome. And back in 1925, the trail was the life-saving highway for the diphtheria-stricken Nome. Air travel was impossible due to the harsh winter, so 20 mushers and their heroic dogs carried antitoxin serum in a 674-mile relay from Fairbanks to Nome. And, today, the all-volunteer Iditarod Air Force has 28 pilots who have 300,000 plus total flight hours. They transport judges, veterinarians, checkpoint volunteers and others, and they move food and fuel and even airlift dogs. Not every dog can finish the race. Some dogs may be injured or they just don't feel well, so they're picked up and flown back to Anchorage.
Alison 02:09
Well, now that's impressive. The Iditarod Air Force, or IAF, likes to say that they're the real deal, and they sure are. Flying in Alaska has so many weather challenges. Our podcast regular Chris Troxell spoke with IAF chief pilot Ed Kornfield about how they coordinate with FAA Flight Service about keeping everyone safe in Alaska's crazy weather.
Chris 02:34
Can you tell me a little bit about how you got involved as a volunteer pilot for that organization?
Ed
Interestingly enough, I happened to have a 180, a Cessna 180. Cessna 180/185 are the airplanes of choice for the Iditarod Air Force. I didn't use it very often. Friend of mine named John Norris, who was the chief pilot at the time for the Iditarod, right. He was actually one of my customers at my repair station, said, why don't you come to one of our meetings, see if you like the group? And so I went to the meeting and he called me over, and the very first thing he said was, I want you to meet our newest pilot. So I got kind of drafted into the, into the Iditarod Air Force. And I've never regretted it ever. It's been a great experience, wonderful people. It's basically a second family. They started with just a handful of pilots in the early 70s, and it's grown to be what it is now. Our level of safety is equivalent to a 135 operation.
Chris
How do you get started, and how do you get prepared with these other pilots?
Ed
So, we'll start loading out. We fill the airplanes up with straw or hay depending on where we're going, stakes, or lath, that they use to mark the trails, tents and propane and lots of other things, everything they need minus the people will start going out on the loadouts. Once the race starts, we'll be positioned in places like Anchorage in the McGrath. And then we'll start even a couple days before we're going to start hauling the volunteers out. We'll start hauling the veterinarians out. We'll start hauling comms people, people and other volunteers, dog handlers, whatever, checkers, judges, race judges. So all those people, we'll take those people out and more supplies as they need them. And so we're constantly shuttling back and forth. We'll haul the dogs back to our bases, which in this case would be either Anchorage, McGrath, or Unalakleet and from there a bigger airplane would come and pick them up and bring them back to Anchorage for their own handlers to take them back to their home.
Chris
How difficult would it be for you to provide these services and supplies to the mushers and without Flight Service?
Ed
First thing, every morning, we have a pilot briefing. You get the weather updates, if it's snowing and that sort of thing. And we call Flight Service in McGrath and they're right on site. We call them and put them on speakerphone, we get an excellent and thorough briefing from the specialists there. Our pilots can ask questions. Plus they know what we need. You know, the weather in Alaska, especially in the interior, can be unpredictable at times. So you may start out with a day that looks like it's going to be OK and the next thing you know, you got a big snow squall that moves in and the weather goes down. Flight Service is a huge help, which helps us stay safe in the air.
Chris
For this year's event, what are you looking forward to?
Ed
You know, obviously, the challenges always are weather related. And in this year, obviously COVID-19 is a big one. We do have a person that's in charge. She's actually a doctor that works with the CDC. And she's very good. She was with us last year and basically kept us safe the whole time.
Chris
What do you love most about flying and flying for the Iditarod?
Ed
It's such a beautiful state, beautiful country. And those of us that have been up here for a long time and flown throughout Alaska really appreciate the beauty, the solitude. When you go out to some of these checkpoints and you're the only one there, especially during the loadout when there's nobody there yet, you just land and drop off your supplies, it's just breathtaking and quiet and serene, and you just kind of stand there in awe. But also what I like about it is the camaraderie of all the Iditarod Air Force people and really all the volunteers that are part of the Iditarod total, not just the Air Force. They come from all over the world, you know. They've taken time off from their lives, from their work, from their jobs, taking vacation to do this. They're putting a lot into this, but they come with smiles and happiness. And it's really a pleasure to work with those people and to be part of the Iditarod Air Force, which is basically a group of brothers and sisters that would give you the shirt off their back.
Jeannie 06:28
So, FAA Flight Service gets important weather and other information to the IAF pilots, which in turn keeps everybody safe. Flight Service specialists Mike Holey and Sam McQuillin volunteered to work the race this year, and they talked to Chris about how the FAA supports the race, as well as what it's like to work for the FAA in Alaska. Burr. Burr.
Mike 06:55
I've been up here since 2015. I initially got hired by the National Weather Service. I got hired for that job because I used to be a meteorologist for the Air Force. So I spent three years with the National Weather Service, and now I'm in my third year with the FAA up in Alaska, and I absolutely love it.
Sam 07:13
I'm a lifelong Alaskan. I remember growing up and my dad he did a career with Anchorage Center. Mike and I actually went to the academy together, graduated together.
Chris 07:22
Can you guys tell me a little bit about how you prepare for working the Iditarod? Is there any special training or preparation for this?
Sam 07:29
There is special training and preparation always required. And obviously, we're not going to send somebody out there that doesn't know the area or hasn't rotated before. The job is extremely different from what you do here in Kenai. Honestly, we started getting this thing ready to go November, December started working on it. And it's a continuing process. So we're only out there for a week and a half, but there's a lot of steps behind the scenes. Our main job out there is going to be airport advisory, which essentially is where you're going to give a traffic advisory to each aircraft as they enter. You're going to tell them the current wind, the favored runway, any pertinent NOTAMs. And you're also going to tell them that there's anyone else in the traffic pattern. And being able to keep up with the aircraft types and tail numbers, that's just something that's a skill that you have to learn. We're going to have familiarization; you're going to learn the runway orientation; you're going to get to know some of the tail numbers, some of the landmarks that are called, because they'll come up with some funny names of different spots, and you have to know where those spots are. When I worked in Iliamna, I had a bunch of people reporting Bunny Island. And I was like, I have to be hearing this wrong. I pulled out a map. And sure enough, there's Rabbit Island; it's an actual point and certain miles from the airport. And the thing is we have to convert those little geographic locations to miles from the airport and direction from the airport. And by doing that you have a nice, clean, safe, classical surface area. Everyone knows where everyone is. You have people coordinating with each other. And that's the most important part, being able to make sure that everybody knows where everyone is. And everyone's playing by the same rules essentially,
Chris 09:05
Can you tell me a little bit about the Flight Service/Iditarod Air Force pilot relationship?
Sam 09:10
Essentially, you know, we've done this race for many, many years. And we've supported it. I talked to Ed yesterday, and he relayed to me what he needs and how we can help him. And I told him what we need from him. So out there, our terminal area forecast is based in and a lot of our area forecasts are based on the information they provide to us as well as what we're seeing on the models. And so I was like, we need your PIREPs. I need to know where your ceilings are. I need to know your visibility. So just a lot of information sharing and then being able to know that your opinions and the briefings are so valued as well because I would say something about the weather and how it was going to be IFR and the Iditarod Air Force they would ground stop their pilots based on that and you know, it's like, oh, wow, I got to make sure I'm right. And it was pretty neat to know that they cared and valued your opinion so much. It was an awesome experience. I'm really excited to go back actually and get to see it again.
Mike 10:06
To touch on something that Sam was talking about a little bit more … the weather folks that are forecasting the weather and us here at Flight Service need to be more skilled at interpreting the weather so we can give the pilots better information and understand what's truly out there. You go hundreds of miles with no, no information, and that's where the IAF comes in so important to us and the National Weather Service folks during the Iditarod with their PIREPs, getting that real-time data of what's going on in the atmosphere. It cannot be understated how important that is for them, for the mushers, for the forecasters, for everybody involved, safety wise.
Sam 10:44
It's important. There's parts of it where you go, like this is what I do for work. They say, find something you love and then do it. I definitely did. It's pretty cool.
Mike
I did, too.
Alison 10:56
Well, you can really tell that Sam and Mike love their jobs. Now mushers are the human portion of a sled dog racing team. And to get that perspective, Liz Cory talk to musher Richie Diehl.
Richie 11:10
I grew up with dogs as a little kid. My old man, he had dogs and he raced a little bit. He did the Kuskokwim 300. But he was a full-time teacher out here and Aniak. But I don't see myself in the city. I like I like being an Aniak. And I just want to start racing dogs. And so I did one race and then it started building off of there.
Liz
Well, tell me about the dogs.
Richie
The Alaskan husky is a very unique dog in what they can do; it's very cool to watch them perform. One thing I look for is really smooth, gaited or moving dogs that have nice coats on them for the cold weather, they eat well because they're burning a lot of food daily on the Iditarod Trail. So they got to consistently keep eating and having fatty foods to maintain. And then watching every pup's characteristic as they grow, it's really exciting. And then to see them flourish, as you know, maybe if they lead the team, or if they're just in the middle of the team, but yet they're a hardworking dog that's cheering the rest of the team on; it's pretty fun and exciting. We treat them like Olympic athletes in a lot of ways.
Liz
Are they good little fliers?
Richie
They're used to it too. They've done it so many times. I've got these huge dog boxes that hold four dogs apiece, and they have their own little cubby-hole with grass and stuff in it. And they're comfortable as can be. And you know, they're in there for a couple hours.
Liz 12:37
So during the race, aviation is still playing a role. I mean, they're dropping food and bringing you supplies, right?
Richie 12:44
Yeah, it's huge, you know, the Iditarod Air Force. And all the places along the Iditarod Trail are rural. There's no roads into them. And so everything's flown in. And a lot of times they're flown in with airplanes on skis. And a lot of times they have to land on the lake, places that lack a runway. So they have to get all this dog food and dogs in and out of these checkpoints. And you're dealing with Alaska's weather, which changes by the hour. It's really interesting. And it's amazing how the Iditarod Air Force organizes and puts this all together to where a lot of times the race goes really smoothly.
Liz
You're doing yearlong prep, aren't you?
Richie
We start training in the first week of September. You start out with a couple-mile runs, and you slowly build them back up. About December we start doing 50-mile runs and we start going out camping with them and doing a lot of fun stuff. This last week, we did a 300 mile race to Kuskokwim 300. And then now we're kind of giving them a few days off here, let them recover and recoup. I can't remember my, the exact amount of Iditarods that I've run so far, I think it's nine or 10. But I've had two top-10 finishes, I think sixth and eighth. I definitely feel it in my body over time, you know on as you're doing an Iditarod, just doing one, the sleep deprivation definitely gets to you. I always look at like the first day or two of Iditarod as the toughest because you're trying to get your body to adjust to everything. Seems like after that you're kind of in a robot mode. You know what your routine is once you pull into a checkpoint or arrest place. First thing you do is take care of the dogs, get them fed, get them straw, taken care of, and then feed yourself, and it's just getting to that routine where you do that over and over again. And sleep comes last after everything's taken care of. So …
Jeannie 14:37
I love dogs. I'd love to have that job. Sounds awesome. And I love the Georgia Bulldogs. And I love my three rescue dogs. That's our show for today. The Air Up There is a podcast from the Federal Aviation Administration. And if you liked today's episode, remember to subscribe and share it with someone else. You can find the FAA on social media. We're @FAA on Facebook, Instagram, and LinkedIn and @FAAnews on Twitter and YouTube.
Alison 15:07
Thanks for listening.