Adopt-a-School Signature Program

I Am Aviation!
The Adopt-a-School Signature Program will amplify our commitment to bringing STEM education to every student, by creating opportunities for students of all backgrounds to learn about and pursue aerospace careers.
Adopt-a-School Mission
The Adopt-a-School program aims to attract underrepresented and underserved communities to introduce aerospace concepts to the classroom while establishing positive community relationships.
It's really fun...I like it because we get to interact and talk to the people. I learn a lot from it, and I'm sure everybody else does, too. 
– Student from Atoka Elementary School in Atoka, OK
Program Goals
The goal of the Adopt-a-School program is to attract the next generation of diverse talent to the aviation and aerospace industry while establishing positive community relationships with educators, students, and parents connecting schools with the resources to raise awareness of Aviation and Aerospace industries such as Girls in Aviation Day, Airport fly-ins, and Civil Air Patrol educator flights.
Program Details
The Adopt-a-School Program will:
Foster relationships between FAA experts, teachers, and students
Generate professional connections for students while promoting community benefits of aerospace.
Provide in-person, virtual, or hybrid lessons and activities about aviation and aerospace careers to 4th-grade students in selected schools.
Focus lessons and activities on advancing aerospace career awareness and supporting STEM literacy skills, like creativity, critical thinking, problem-solving, collaboration, and inquiry.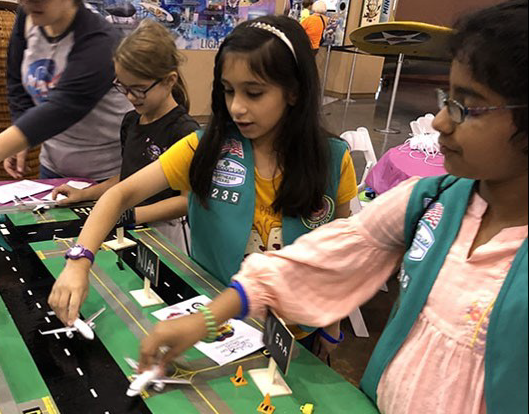 Program Benefits

Students
Engage in hands-on learning
Widen horizons for the future
Demonstrate STEM literacy
Identify role models in their community
Increase awareness of aviation and aerospace career opportunities

Teachers
Encourage STEM literacy
Build connections with industry and national partners
Increase library of educational resources
Support career awareness

Schools
Collaborate with FAA and other partner entities
Enhance reputation for advancing students' STEM skills
Provide unique learning opportunities
Lesson Plan Topics
The pilot lesson was wonderful! We loved the movement part of the lesson. The kids also enjoyed learning the different terminology. My kids have been saying "cleared for take-off" all week!
– Ashley Tarver, 4th-grade teacher at Spring Hill Elementary School
Click the icons below to view learning materials on each topic. Additional downloadable activities for teachers and students can be found here.
---
How Schools are Selected
Schools will be selected by the FAA Headquarters team. This program is targeted at fourth-grade students and educators from underrepresented, underserved diverse populations, proximity to FAA facilities and/or the location of potential partners will also be taken into consideration. Additional factors to consider include:
Regional community involvement needs
Executive Order 13895, On Advancing Racial Equity and Support for Underserved Communities through the Federal Government 
We have identified 16 schools that currently meet our criteria. We plan to expand while maintaining the integrity and quality of experiences for students each year.
Adopted Schools
Alaska
Airport Heights Elementary Anchorage, AK
California
Michelle Obama Elementary, Panorama City, CA
Georgia
Cleveland Elementary, Fayetteville, GA
Spring Hill Elementary, Fayetteville, GA
Kansas
Franklin Elementary, Anchorage, AK
Maine
Gerald E. Talbot Elementary, Portland, ME
Maryland
Indian Head Elementary, Indian Head, MD
Michigan
Pace Academy, Southfield, MI
New York
P.S.232, Queens, NY
Oklahoma
Atoka Elementary, Atoka, OK
Texas
Jack Lowe Sr Elementary, Dallas, TX
Mount Auburn STEM Academy, Dallas, TX
Martha Turner Reilly Elementary, Dallas, TX
L.O. Donald Elementary 1, Dallas, TX
Jack Lowe Sr. Elementary, Dallas, TX
Thomas L Marsalis, Dallas, TX
Charles Rice Learning Center, Dallas TX
Washington
Midway Elementary, Des Moines, WA
More Information
To learn more about Adopt-a-School, review our Frequently Asked Questions. To receive the latest updates, join our mailing list.
Last updated: Monday, September 18, 2023