ADS-B Traffic Advisory System (ATAS)
What it does
ATAS uses ADS-B to detect and alert pilots to potential traffic conflicts.
Benefits
This low-cost alerting capability for general aviation should significantly reduce the number of aircraft collisions.
Availability
ATAS standards are complete and ready for manufacturers to produce the necessary avionics (FAA Technical Standard Order - C195b). At least one avionics company currently offers a product which includes ATAS.
How it works
ATAS monitors potential traffic conflicts by combining ADS-B tracking data with proximity-prediction algorithms. When it detects a conflict, ATAS sounds an audio alert (traffic callout). Conflicting aircraft are also highlighted on cockpit displays, when such displays are available in an aircraft.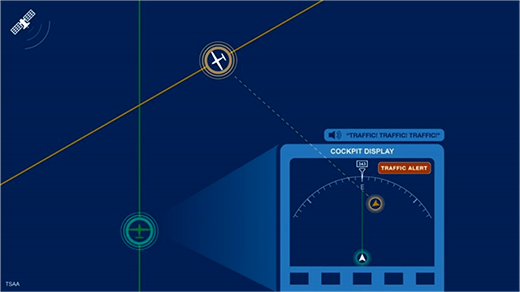 After receiving an ATAS alert, the pilot takes action appropriate to the operational rules in effect at the time. Unlike TCAS II systems, ATAS does not provide resolution advisories.
ATAS was designed to operate without excessive nuisance alerts in the VFR traffic pattern at small general aviation airports, which is also where most general aviation collisions occur.
Last updated: Tuesday, February 7, 2023