Communications, Information, and Network Programs (CINP)
Approximately 44,000 flights and 2.7 million airline passengers travel across more than 29 million square miles of airspace each day. The process of an aircraft preparing to leave the runway, taking off, traveling through the sky, and landing at its destination requires various people, technologies, and services to ensure a safe and efficient flight operation. The Federal Aviation Administration's Communications, Information, and Network Programs (CINP) team works together to provide engineering, telecommunication, information management, radio and voice communication, and cloud services to the nation's air traffic control system, also referred to as the National Airspace System (NAS).
The (CINP) organization supports the U.S. Airspace Management and National Airspace System (NAS), as well as other non-NAS telecommunications networks and systems through the engineering, acquisition, and management of telecommunications services, networks, and equipment. CINP's mission is to provide communications infrastructure and services for air traffic control in the NAS realm, as well as to support FAA business operations.
All of the services provided by CINP will assist you in flying to your next destination smoothly. For example, CINP helps manage telecommunication with ARTCCs, TRACONS, and Airport Traffic Control Towers (ATCT), and other remote FAA facilities that help you travel through the sky.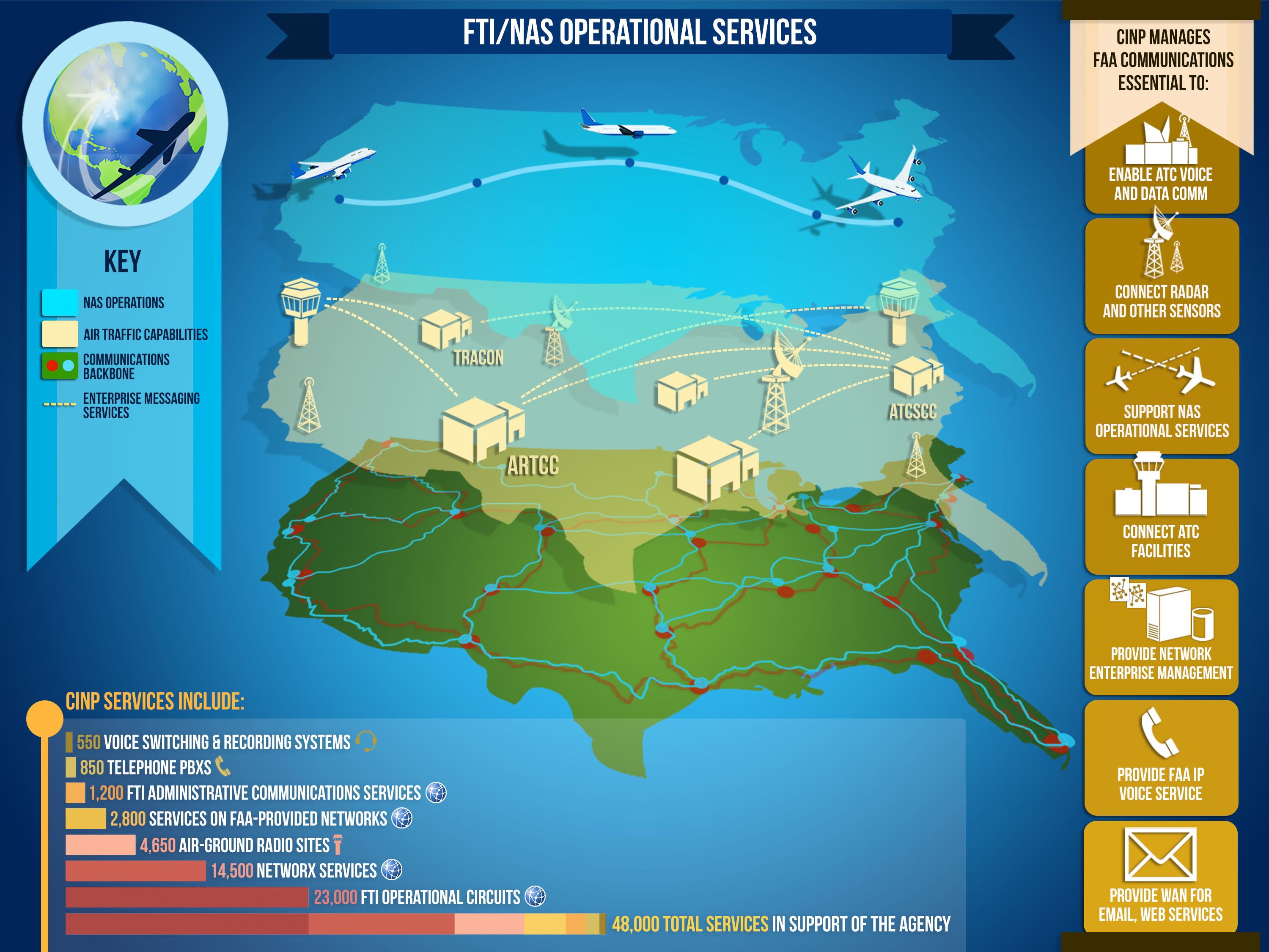 Click for more details
Overall, CINP support includes:
Telecommunication Infrastructure Management:
CINP helps Telecommunication Infrastructure by managing over 28,000 mission critical enterprise communications and infrastructure services at over 4,000 national and international locations that support air traffic management and connectivity to the NAS. Management of the Infrastructure includes consolidating telecommunication services, improving bandwidth and security, and ensuring Mission Support applications such as email and Internet are functioning to their maximum capabilities
Air/Ground Voice Communications:
Due to the criticality of direct voice communication between controller and pilot, CINP is replacing and modernizing the aging NAS air-to-ground analog radios that provide that function. This will result in increased availability, as well as reduced outages and maintenance costs
FAA Voice Switches and Recorders:
CINP's portfolio includes voice switches and recorders, which encompass the range of equipment necessary for air traffic control voice communication system
Information Management:
CINP's System Wide Information Management (SWIM) program is the information sharing platform that allows members of the aviation community to access the specific information they need, in the way they need it, to facilitate an innovative and efficiently-run NAS
Cloud Integration Services:
CINP's National Cloud Integration Service partners with FAA programs to form-fit cloud and other enterprise solutions to enable modernization requirements, accelerate innovation to key strategic initiatives, streamline modernization development and acquisition, and improve efficiency in development cost and deployment.
With all of the above technical and program management support to air travel combined, CINP's portfolio extends aid that impacts 10 million international flights plans annually. However, CINP doesn't only impact your national or international flight operation. It also provides services to airlines, International Civil Aviation Organization (ICAO) member nations, and other organizations with a common mission.
If you would like to learn more about the specific programs, with associated systems and networks, that are encompassed within CINP, please visit the webpages associated with the programs below:
Telecommunication Infrastructure Management:

Alaskan Satellite Telecommunications Infrastructure (ASTI)
Enterprise Infrastructure Services (EIS)
Mission Support
Time Division Multiplexing to Internet Protocol (TDM-IP)

 

Air/Ground Voice Communications:

NEXCOM
Airport Cable Loop (ACL)
Communications Facilities Sustainment (CF-S)
Remote Communications Equipment (RCE)

 

 

FAA Voice Switches and Recorders:

Voice Communications Enterprise (VoiCE)
Air-to- Ground Media Gateway (AGMG)

 

 

Information Management:

 

 

Cloud Integration Services
Last updated: Friday, August 28, 2020