Rocky Mountain Metropolitan Airport (BJC)
Rocky Mountain Metropolitan Airport (BJC) is a medium sized, multi-use airport located 20 miles west of the Denver International Airport. Situated on the northwest edge of the metropolitan area, it provides a convenient alternative to Business and General Aviation pilots visiting the Denver area. A complex airport layout coupled with the wide diversity of pilot experience and aircraft performance makes Rocky Mountain Metropolitan a challenge to both pilots and controllers. View a printable document of the BJC information found on this Web page.
Know Before You Go
The diverse traffic mix at BJC includes basic flight school instruction (both fixed and rotor-wing), high-end corporate, air taxi, transient, military, and forest-service firefighting aircraft.
There are two parallel, staggered RWYs 12R/30L and 12L/30R with intersecting RWY 03/21.
All parking and businesses are located on the north side of the parallel RWYS.
First-time pilots have reported difficulty in finding the airport due to surrounding terrain.
A helpful landmark is a set of two large and one small water tanks located on the south side of the airport.  They are painted white and orange and are generally easily seen.
Wrong Runway Landing risk exists due to closely spaced, staggered, parallel RWYs.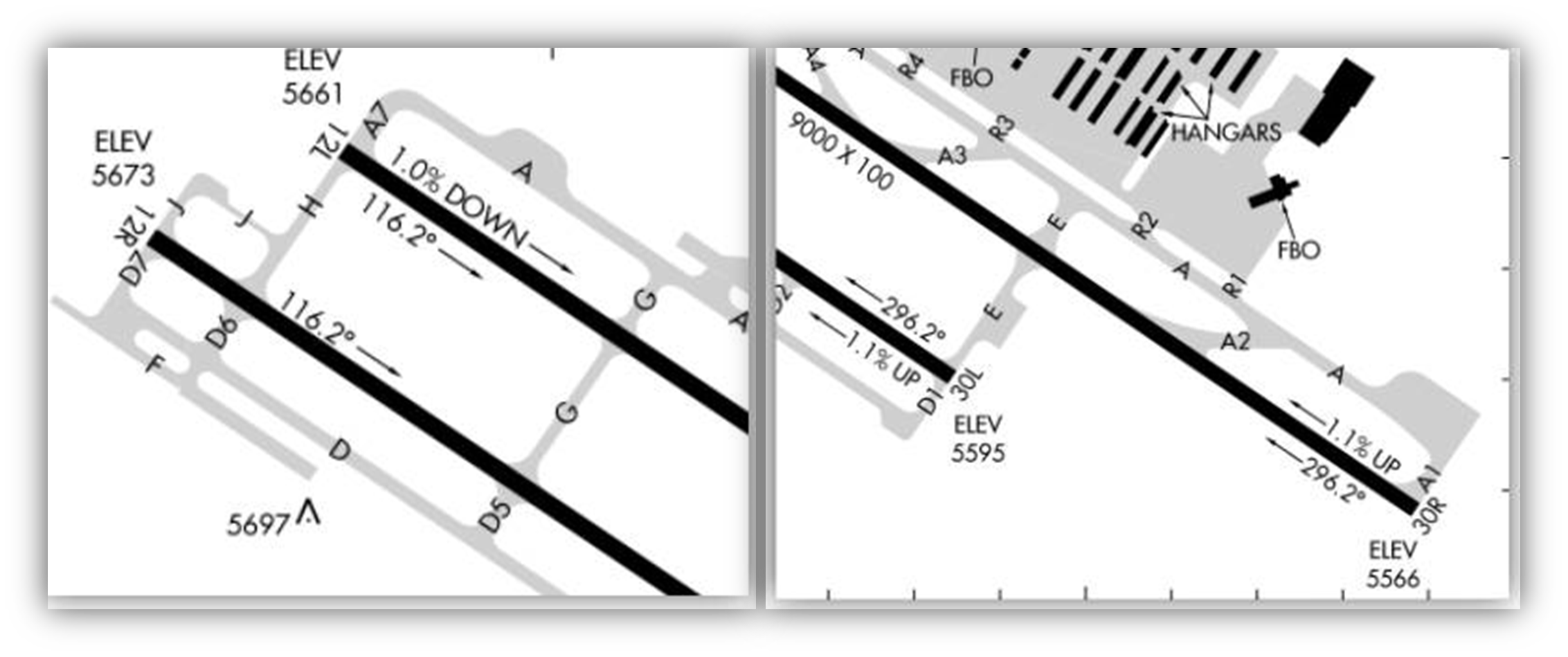 Pilots may receive complex taxi instructions after landing partly due to intense helicopter operations at Hot Spot 1 and TWY D.
Remain on TWR frequency while on TWY D until advised to change.
RWY 03 is often utilized as a taxi route while helicopter training may be in progress at the approach end of RWY 21.
Several frequency changes due to the division of ground and tower controller responsibility adds to the ground operations complexity at BJC.
At Hot Spot 2, numerous Hold Short Lines occur in quick succession.

Aircraft cleared to taxi via D, B, hold short of RWY 12R, will cross two (two) sets of Hold Short Lines for RWY 03/21 before reaching RWY 12R/30L.  This has been a source of confusion. If in doubt, hold short and ask.

Some Hold Short Lines occur further back from the RWYs they protect and pilots may not be aware of this.
Aircraft landing on the RWY 12R/30L and told to hold short of RWY 12L/30R must completely clear the RWY 12R/30L Hold Short Line before holding short of RWY 12L/30R.
Departing aircraft stopped in the run-up area on TWY A on the way to RWY 12L do not need to call contact TWR to continue taxiing to RWY 12L for departure.  

Aircraft should continue to monitor TWR frequency while in the run-up are before moving to the RWY 12L Hold Short Line. 
Call TWR when Holding Short either at the Hold Line or in sequence behind another aircraft.

Aircraft holding short of RWY 12L for departure, are sometimes instructed to cross RWY 12L and depart RWY 12R due to traffic. If this happens, it is critical that pilots cross RWY 12L without delay.   
At Hot Spot 3, pilots taxiing south on TWY D, and instructed to cross RWY 03, mistakenly make the turn onto RWY 03.   
Also at Hot Spot 3, pilots already taxiing on RWY 03, and instructed to hold short of RWY 12R/30L fail to hold short. 
This hold line is immediately after the turn onto RWY 03.
Below find various BJC-specific information and things to be aware of, as well as general information to inform your preflight planning. This will be reviewed quarterly and updated as needed. This information is to supplement the From the Flight Deck Videos that are produced by the FAA Runway Safety Group. Here you will also find information provided by the local air traffic controllers at the airport where you intend to fly. The information is subject to change. Not for navigation or legal* pre-flight action. Always refer to official pre-flight materials such as, but not limited to, NOTAMs, airport diagrams, VFR charts and airport construction notices for the latest airport-specific details.
BJC Tower Administrative Office
Business Phone 720-633-8600
Open 0700L to 1530L – Monday through Friday 
 
General Links
Here are some links to current FAA information.
Some Advisory Circulars for Reference 
Last updated: Friday, August 25, 2023