Zero Tolerance for Unruly and Dangerous Behavior Toolkit
The FAA has seen a disturbing increase in incidents where airline passengers have disrupted flights with threatening or violent behavior.
On January 13, 2021, FAA Administrator Steve Dickson signed an order directing a stricter legal enforcement policy against unruly airline passengers in the wake of recent, troubling incidents.
Historically, the agency has addressed unruly-passenger incidents using a variety of methods ranging from warnings and counseling to civil penalties. Under the new zero tolerance policy, FAA will not address these cases with warnings or counseling. The agency will pursue legal enforcement action against any passenger who assaults, threatens, intimidates, or interferes with airline crew members.
In an effort to promote safe and responsible passenger behavior and bring awareness to the zero tolerance policy, FAA encourages the widest dissemination of the following digital products.
FAA messages regarding unruly passengers and social media memes have been formatted in variety of sizes and orientations for use in airport digital signage and other displays.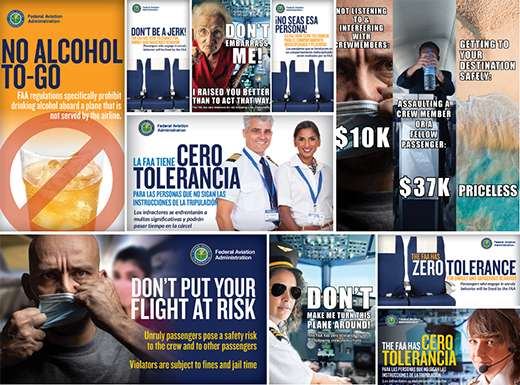 Read Administrator Dickson's letter to airport leaders on the Zero Tolerance Policy (PDF).
FAA Administrator Message on Zero Tolerance Policy
The FAA Administrator discusses the Zero Tolerance Policy and the dangers posed by passengers who cause disturbances on flights or fail to follow flight crew instructions. Violators are subject to fines and jail time.
Public Service Announcements
In a new video, the FAA highlights real consequences for disruptive behavior. If you disrupt a flight, you risk not just fines from the FAA, but federal criminal prosecution as well. The FAA has Zero Tolerance for unruly behavior.
Unruly passengers can distract pilots. It is not safe to disrupt a flight. The FAA has ZERO TOLERANCE for not following crew instructions.
As part of FAA's Zero Tolerance campaign, this video features children explaining how to behave on a plane and expressing their disgust about increased unruly passenger behavior. The FAA also released several memes on social media. We are offering these free outreach materials to federal, state, and other partners to educate passengers on FAA's zero tolerance policy against unruly behavior.
View and share the FAA's public service announcements about unruly passengers to raise awareness for the Zero Tolerance campaign.
Social Media Memes
After opening an image, right click on the image and select "Save image as…"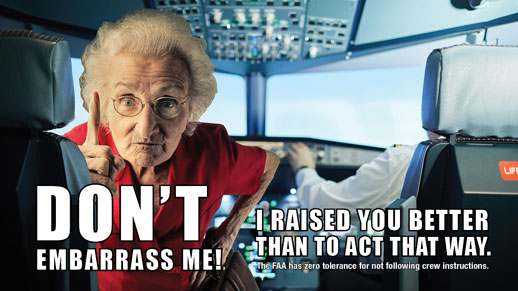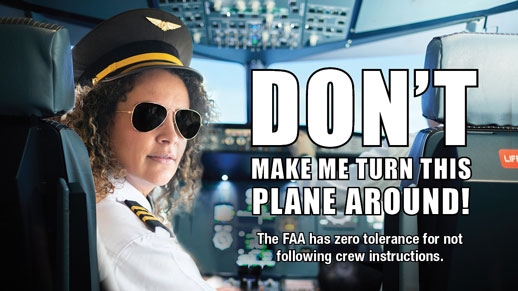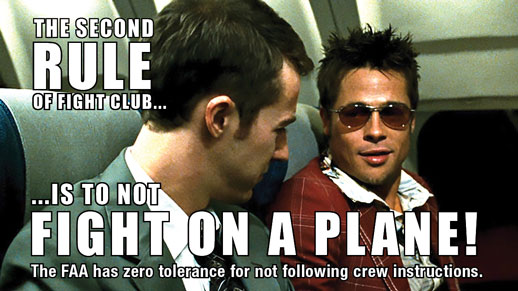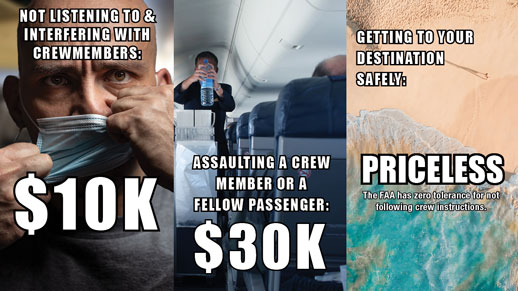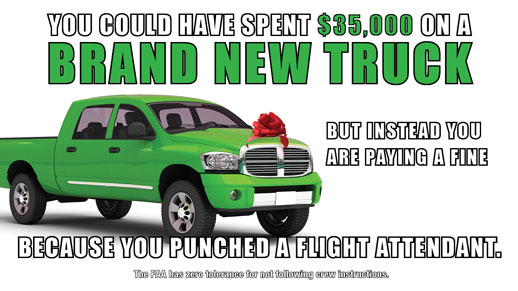 Last updated: Thursday, November 4, 2021