Phoenix Mesa Gateway Airport (IWA)

Know Before You Go
Phoenix-Mesa Gateway Airport (IWA) is a medium to large multi-use airport, located approximately 20 miles southeast of Phoenix Sky Harbor International Airport (PHX). IWA serves air carriers, business and general aviation, and transient military aircraft. It is home to extensive flight training operations here, you find a diverse mix of aircraft capability, pilot experience and skill levels. 
The airspace at IWA is Class D with a 3900' MSL ceiling.  It underlies Phoenix Class B airspace which begins at various altitudes over IWA Class D airspace. (Refer to Sectional Chart). View a printable document of the IWA information found on this Web page.

Below find various IWA-specific information and things to be aware of, as well as general information to inform your preflight planning. This will be reviewed quarterly and updated as needed. This information is to supplement the From the Flight Deck Videos that are produced by the FAA Runway Safety Group. Here you will also find information provided by the local air traffic controllers at the airport where you intend to fly. The information is subject to change. Not for navigation or legal* pre-flight action. Always refer to official pre-flight materials such as, but not limited to, NOTAMs, airport diagrams, VFR charts and airport construction notices for the latest airport-specific details.
IWA Tower Hours of Operation 0500L to 0000L 
Administrative Office Open 0730L to 1530L – M through F
Business Phone 480-988-7678
 
Hot Spots – There are no Hot Spots at IWA
In the past 5 years there have been multiple Wrong Surface Events (two Wrong Surface Intersection Takeoffs, a Wrong Surface Taxiway Takeoff, and several Wrong Surface Landings)
 
Wrong Surface Intersection Takeoff 


Wrong Surface Taxiway Takeoff        
An aircraft, cleared for takeoff on RWY 30L, actually crossed that RWY and departed on TWY B.


Wrong Surface Landing
A Wrong Surface Landing risk exists due to three parallel RWYs with staggered thresholds and full-length parallel taxiways (TWY A and TWY C). (See Illustration below)

Runway Markings are White
Surfaces not used for Takeoff/Landing like Taxiway Markings, Chevrons, Runway Shoulder and Runway Turn-on Markings, etc., are Yellow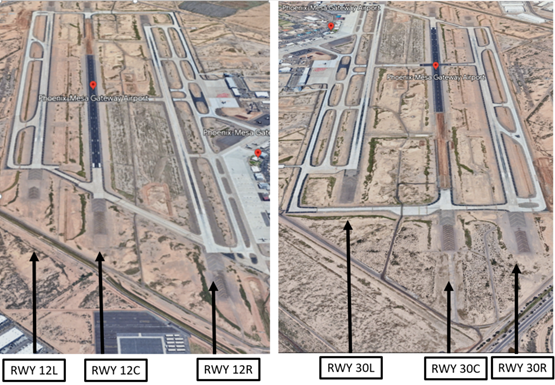 Surface Risk – Movement Area Cautions
When exiting Holding Bay at RWY 12R use the short (feeder) TWY at the east end.

Do not taxi onto TWY B without clearance.

Aircraft fail to hold short of the RWY 12R Holding Position Markings on TWY G.
When taxiing on TWY A, be aware that the Approach Hold Markings for RWY 30L appear immediately after turning onto TWY P.  

If instructed to hold short of TWY P do not make the turn.

On TWY P, when cleared to cross RWY 30L Approach Hold area, cross without delay and do not stop until completely clear of the Approach Hold marking on the other side. 

Additional Cautions
Be alert for crop dusting activity at or below 2000' MSL between 2 and 3 miles on approach for RWYs 30R, 30C and 30L.
North, middle, and south ramps do not have movement/non-movement Area markings.
There is a 7' chain link fence on southern portion of middle ramp.
The following is local airport specific Information that your TWR Controllers want to pass along.
General
IWA is a dynamic environment due to fleet mix – listen for runway changes.
Use either your full call-sign or the correct form of your abbreviated call-sign.
When ATC issues an instruction that requires a read-back, allow a moment for that aircraft to respond.
Check the frequency prior to broadcasting to avoid stepping on another aviator.
There are numerous construction projects at IWA, check NOTAMs.
Even though Parking is located on the west side of the airport, do not automatically expect RWY 12R/30L. Listen up for your actual RWY clearance.
If you are not familiar, do not hesitate to ask ATC for clarification.
Heavy flight training within the Phoenix Metropolitan area.
Clearance Delivery-expect filed altitude 3 minutes after departure due to mountainous terrain.
Traffic Patterns
Pattern altitudes - Helicopter/2100', Fixed Wing/2600', and Jet/3100'.  Typically, pattern direction is left for the Left RWY, right for the Right RWY, and as assigned by ATC for the Center RWY.
Helicopter pattern conducted on parallel TWY C, NE of the airport, inside of the fixed wing traffic pattern
Weather
Monsoon Season – June 15 to September 30.

Storms and flooding can strike quickly and lead to rapidly changing conditions and may include severe Dust Storms (Haboob).  
Runway Crossings
TWR conducts all aircraft RWY crossings, not Ground Control.
When RWY 12 is in use, TWR may instruct you to cross RWY 12R to depart RWY 12C.
TWR will not clear you to cross multiple RWYS so expect a RWY crossing clearance and a hold short instruction, unless instructed to contact Ground Control inbound.
Takeoff/Departure 
Standard crosswind within 300' of pattern altitude beyond departure end of RWY.
IFR departure procedures typically:

RWY 12:  Fly Runway Heading, maintain 4,000'.
RWY 30: Turn Right Heading 120, maintain 4,000" (Yes this is a 180-degree turn, and this is not a Left turn.)  Check traffic pattern prior to initiating the Right turn.

Obstacle Departure Procedure (ODP) conflicts with PHX traffic  and is seldom used. 
Arrival/Landing
After exiting the RWY, remain on TWR until instructed to contact Ground Control.
Landing RWY 30L, do not exit at TWY L because this is used as an intersection departure point.
Landing RWY 12L/30R may require an exit to the NE (TWY C) for runway separation.  
Landing RWY 30C, the first available exit is TWY K. Consider exiting the RWY expeditiously. 
Avoidance Areas
Avoid crossing the Arrival/Departure corridor southeast of the airport between 5 – 10 miles at 4,000'.
Avoid R2310A/B/C southeast of the airport when active.
Special Traffic (Military / Commercial / Helicopter, etc.)  
Military aircraft often communicate on UHF.
Be aware that TWR communicates on multiple frequencies that you may not hear.
Heavy commercial aircraft traffic departing and arriving IWA. 
This graphic gives you an idea of actual radar tracks:

Departures are in blue – Arrivals are in red.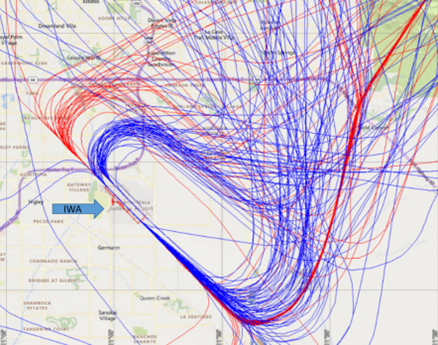 Be aware of congested airspace, especially to the W through N with CHD, PHX, Class B, Class B transition and FFZ.
Last updated: Wednesday, September 13, 2023