Section 1. General
FSS air traffic managers must identify requirements for new and replacement equipment and facilities by budget submission.
NOTE-
Not applicable to contract facilities.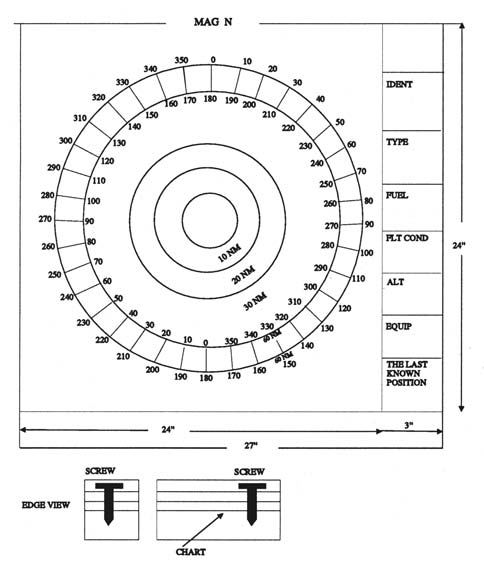 Maintain an aircraft orientation plotting board (see FIG 16-1-1), parallel rulers, plotters, and fine-line china marking pencils for use in aircraft orientation. Record pertinent information directly on the board using the marking pencils. After the orientation is completed, transfer the information from the plotting board to official forms for record purposes.
Compass Rose Clear Plastic Overlays. When ordering the overlays, use the following National Stock Numbers (NSN):
VOR 3-inch compass rose: NSN 5220-01-062-8231.
Requests for aircraft orientation plotting board and compass rose overlays should be forwarded to:
FAA Mike Monroney Aeronautical Center
P.O. Box 25082
Oklahoma City, Oklahoma 73125
Items must be ordered by using one of the following three methods:
LIS System: NSELITE System through Service Area office; must have NSN, user ID and password, supply support code (SSC), facility type (equipment application), and facility location identifier.
IMPART:

www.impart.faa.gov

; must have NSN, user ID and password, facility location identifier.
FAA Logistics Center, Customer Care Center- (405) 954-3793 or 1-888-322-9824: must have NSN or part number, supply support code (SSC), equipment application, facility location identifier.
OASIS. The vendor provides a basic quantity of consumable supplies on a yearly basis. The FAA must provide anything beyond this basic allotment.