TFDM Implementation Map and Timeline
TFDM Implementation
TFDM capabilities will be implemented incrementally in a phased approach throughout the life of the program beginning in 2022. The TFDM System will be deployed to a subset of National Airspace System (NAS) Air Traffic Control Towers (ATCTs). ATCTs will receive TFDM capabilities based on operational needs and the impact of installation and deployment on the NAS. Other FAA facilities will also have access to the TFDM Surface Situational Awareness (SSA) data, including Terminal Radar Approach Control Facilities (TRACONS), Air Route Traffic Control Centers (ARTCCs), and the Air Traffic Control System Command Center (ATCSCC).
TFDM provides two configurations that consist of different levels of TFDM capabilities which can be achieved by turning functions on and off through adaptation.
Configuration A: Full Functionality (27 Sites: Large, high density airports)
Improved Electronic Flight Data (EFD) exchange and electronic flight strips in towers
Surface surveillance data integration
Full Decision Support Tools (DSTs), including surface scheduling/metering
Traffic Flow Management (TFM) data exchange and integration
SSA on TFMS Traffic Management Unit (TMU) displays in the TRACON, ARTCC, and ATCSCC
Configuration B: Improved EFD and Electronic Flight Strips (22 Sites)
Improved EFD exchange and electronic flight strips in towers
Limited SSA capability on TFMS TMU displays (only airports with surface surveillance)
Scheduling Capability
The below map shows which configuration will be installed at the 49 sites and the below table shows when each airport will be receiving TFDM.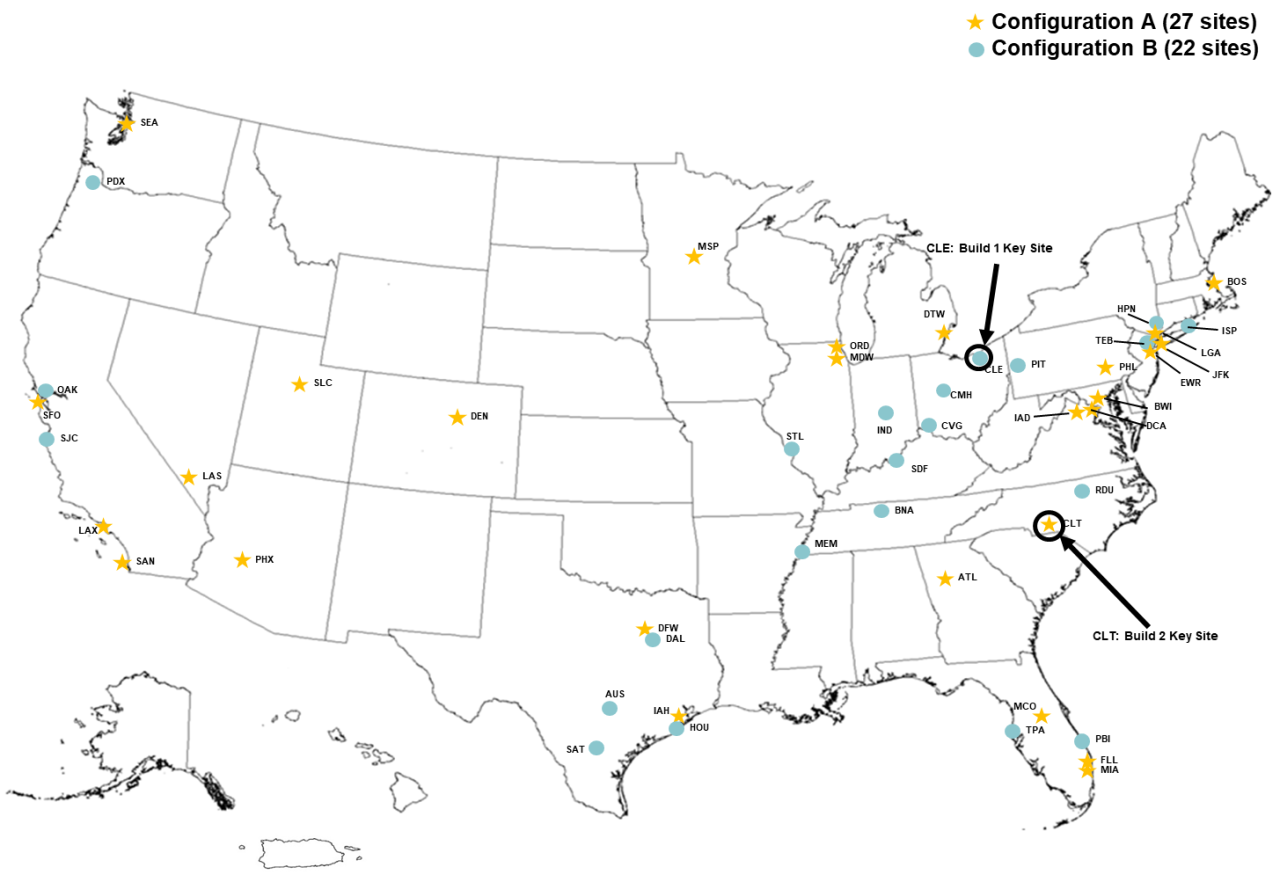 These dates are as of October 2022 and include COVID-19 impacts to the program deployment schedule. 

TFDM Deployment Waterfall
Airport

Airport ID

City, State

Configuration

Initial Operating Capability

Cleveland Hopkins International Airport (EFS Key Site)

CLE

Cleveland, Ohio

 B

Operational as of October 24, 2022

Indianapolis International Airport

IND

Indianapolis, Indiana

 B

Operational as of April 24, 2023

Phoenix Sky Harbor International Airport

PHX

Phoenix, Arizona

 A

EFS operational as of June 5, 2023
Surface Management: December 2024

Raleigh–Durham International Airport

RDU

Raleigh Durham, North Carolina

 B

Operational as of July 24, 2023

John Glenn Columbus International Airport

CMH

Columbus, Ohio

B

Operational as of September 11, 2023

McCarren International Airport

LAS

Las Vegas, Nevada

A

EFS operational as of October 30, 2023
Surface Management: February 2025

Norman Y. Mineta San Jose International Airport

SJC

San Jose, California

 B

February 2024

Charlotte Douglas
International Airport
(Surface Metering Key Site)

CLT

Charlotte, North Carolina

 A

March 2024

Los Angeles International Airport

LAX

Los Angeles, California

 A

EFS: April 2024
Surface Management: April 2025

Tampa International Airport

TPA

Tampa, Florida

 B

July 2024

Seattle–Tacoma International Airport

SEA

Seattle, Washington

 A

March 2025

San Francisco International Airport

SFO

San Francisco, California

 A

April 2025

George Bush Intercontinental Airport

IAH

Houston, Texas

 A

June 2025

Chicago Midway International Airport

MDW

Chicago, Illinois

 A

July 2025

Oakland International Airport

OAK

Oakland, California

 B

August 2025

Miami International Airport

MIA

Miami, Florida

 A

October 2025

Logan International Airport

BOS

Boston, Massachusetts

 A

March 2026

Austin-Bergstrom International Airport

AUS

Austin, Texas

 B

March 2026

Hartsfield Jackson Atlanta International Airport

ATL

Atlanta, Georgia

 A

April 2026

William P. Hobby Airport

HOU

Houston, Texas

 B

June 2026

Salt Lake City International Airport

SLC

Salt Lake City, Utah

 A

July 2026

San Diego International Airport

SAN

San Diego, California

 A

August 2026

Cincinnati/Northern Kentucky International Airport

CVG

Cincinnati, Ohio

 B

September 2026

Denver International Airport

DEN

Denver, Colorado

 A

September 2026

Dallas/Fort Worth International Airport

DFW

Fort Worth, Texas

 A

October 2026

Dallas Love Field

DAL

Dallas, Texas

 B

March 2027

Minneapolis-Saint Paul International Airport

MSP

Minneapolis, Minnesota

 A

March 2027

Louisville International Airport

SDF

Louisville, Kentucky

 B

April 2027

Chicago O'Hare International Airport

ORD

Chicago, Illinois

 A

June 2027

Nashville International Airport

BNA

Nashville, Tennessee

 B

July 2027

Washington Dulles International Airport

IAD

Washington, D.C

 A

August 2027

Memphis International Airport

MEM

Memphis, Tennessee

 B

August 2027

Fort Lauderdale–Hollywood International Airport

FLL

Fort Lauderdale, Florida

 A

September 2027

Orlando International Airport

MCO

Orlando, Florida

 A

October 2027

San Antonio International Airport

SAT

San Antonio, Texas

 B

February 2028

Detroit Metropolitan Airport

DTW

Detroit, Michigan

 A

March 2028

Long Island MacArthur Airport

ISP

Ronkonkoma, New York

 B

April 2028

Baltimore/Washington International Thurgood Marshall Airport

BWI

Baltimore, Maryland

 A

May 2028

Palm Beach International Airport

PBI

Palm Beach, Florida

 B

June 2028

Ronald Reagan Washington National Airport

DCA

Washington, D.C.

 A

July 2028

Portland International Airport

PDX

Portland, Oregon

 B

August 2028

Philadelphia International Airport

PHL

Philadelphia, Pennsylvania

 A

September 2028
 

Newark Liberty International Airport

EWR

Newark, New Jersey

 A

October 2028

LaGuardia Airport

LGA

New York, New York

 A

February 2029

Teterboro Airport

TEB

Teterboro, New Jersey

 B

March 2029

John F. Kennedy International Airport

JFK

New York, New York

 A

April 2029

Westchester County Airport

HPN

White Plains, New York

 B

May 2029

Pittsburgh International Airport

PIT

Pittsburgh, Pennsylvania

 B

June 2029

St. Louis Lambert International Airport

STL

St. Louis, Missouri

 B

July 2029
Last updated: Wednesday, November 1, 2023