Wildlife Hazard Mitigation
During the past century, wildlife-aircraft strikes have resulted in the loss of hundreds of lives worldwide, as well as billions of dollars in aircraft damage. The FAA maintains a comprehensive program to address wildlife hazards. Through policy and guidance, research and outreach, we strive to stay ahead of the issue.
Hot Items
May 12, 2023: Draft AC 150/5200-32C, Reporting Wildlife Aircraft Strikes, available for comments
This AC explains the importance of reporting collisions between aircraft and wildlife, how to report a wildlife strike, what happens to the wildlife strike report data, how to access the FAA National Wildlife Strike Database (NWSD), and the FAA's Feather Identification program. Comments will be accepted through June 12, 2023.
October 19, 2022: FAA Releases New Wildlife Hazards Video
The video is part of the FAA Airport Safety Information Video Series. It discusses how successful wildlife strike reporting and the National Wildlife Strike Database (jointly administered by USDA and FAA) is reducing the impact of wildlife strikes on both commercial and general aviation. Warning: This video contains graphic images of wildlife struck by aircraft. Viewer discretion is advised.
October 6, 2022, Bird Strike Committee (BSC) Website Currently Unavailable
The BSC website is unavailable while a new website is being constructed. An announcement will be made here when the new website is released. The BSC Executive Committee apologizes for any inconvenience this may cause.
Wildlife Strike Reporting
Report a Strike
Strike Data
Wildlife Contacts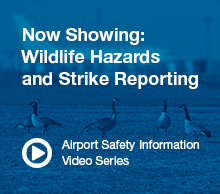 Last updated: Monday, May 15, 2023