FAA Safety Call to Action

Safety is our North star. 
 
We are experiencing the safest period in aviation history, but we cannot take this for granted. Recent events remind us that we must not become complacent. Now is the time to stare into the data and ask hard questions. - Billy Nolen, former Acting FAA Administrator

Aviation Safety guides everything we do, which is why reducing surface safety risk remains a top priority. As a result of recent incidents, we are taking a critical look at the U.S. aerospace system's structure, culture, processes, systems, and integration of safety efforts. 
In February 2023 former FAA Acting Administrator Billy Nolen issued a Safety Call to Action with the goal of ensuring that our structure is fit for purpose for the U.S. aerospace system both today and the future.
 
FAA Aviation Safety Summit
The initial focus was to hold a Safety Summit in March 2023 during which more than 200 safety leaders from across the aviation industry met to discuss ways to enhance flight safety. Former Acting Administrator Nolen addressed commercial and general aviation leaders, labor partners, and others urging them look at all aspects of their operations with fresh eyes and to "question conventional wisdom" while brainstorming concrete actions to further enhance aviation safety.
During the Summit, breakout sessions centered on commercial operations, the air traffic system, airport and ground operations, and general aviation operations. The industry groups focused on the recent string of incidents for ways to address areas where the existing safety system could be tightened to prevent future occurrences.
The FAA provided a full readout of the Safety Summit breakout panel discussions.
 
Actions the FAA Has Taken
What the Data Tells Us
One of our safety goals is to eliminate all dangerous runway incidents.  We use data as a tool to monitor and measure our performance towards that goal. This data visualization shows the latest data and a positive, downward trend in the most severe type of incursions (Category A and Category B.)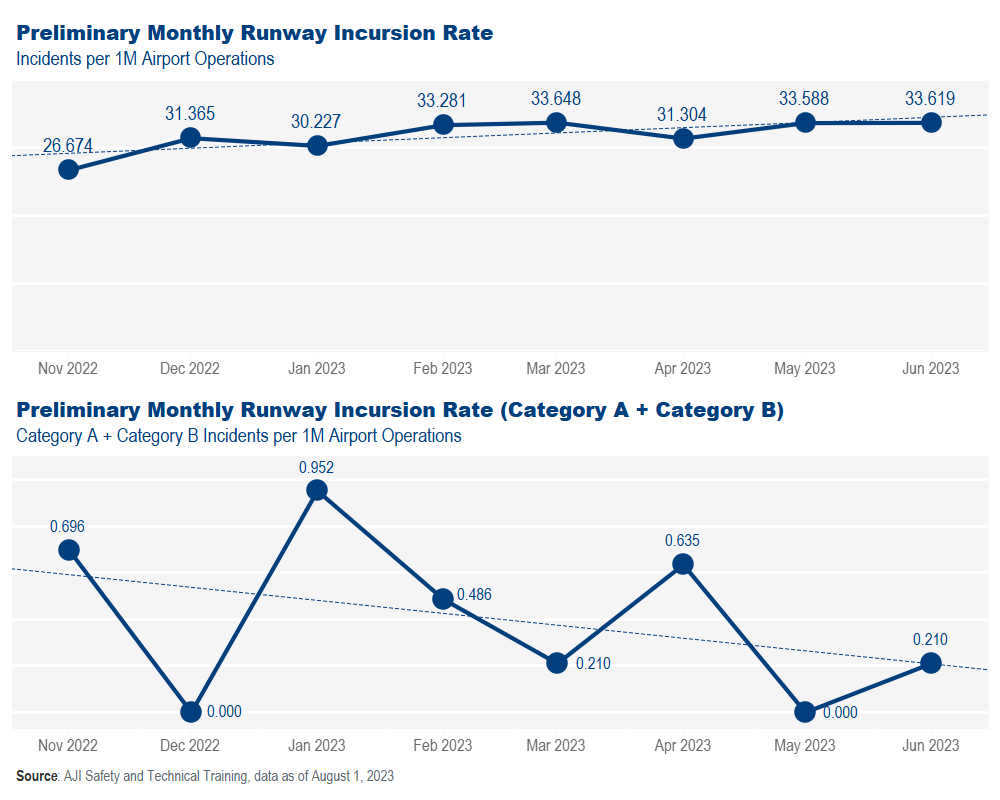 While the data shows we are making progress, one runway incursion is one too many. Efforts from the Safety Summit continue, and we remain committed to achieving our long-term goal of zero close calls. We will continue to share more types of data on all our safety initiatives.
Last updated: Wednesday, November 15, 2023