The Air Up There Podcast

How to Become an Air Traffic Controller
Season 3, Episode 1
Published:
Welcome to the first installment of our summer career series! We're answering your questions and doing a deep dive into careers in aerospace and the steps you can take to get started in the field. Today's episode is one of our most requested topics — how to become an air traffic controller as an entry-level applicant. FAA experts will walk you through everything from the application process to training at the FAA Academy and certification.
For more information about air traffic control jobs at FAA, visit our careers page. Or, if you're curious about other types of careers at FAA, visit our jobs page.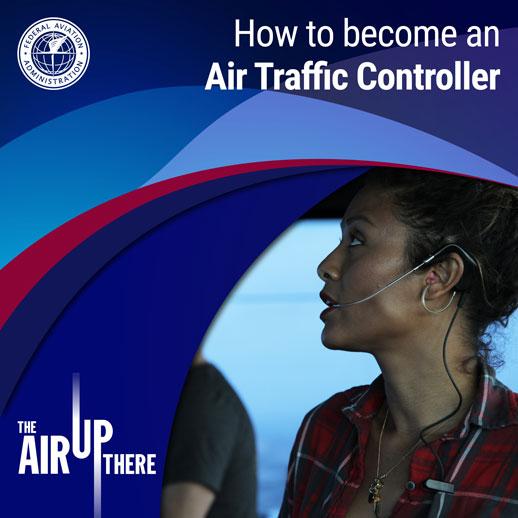 How to Become an Air Traffic Controller
Transcript:
Kenya Williams:
Welcome to The Air Up There, a podcast about the wide world of aviation and aerospace. I'm Kenya Williams.
Chris Troxell:
And I'm Chris Troxell. Today's episode is a special one.
Kenya Williams:
It's the start of a new mini-series. Over the next few weeks, we're going to dive into a few different aerospace careers and how exactly a person would get a job in that field. And today, we're starting off strong with our most requested topic, how to become an air traffic controller.
Chris Troxell:
Air traffic controllers are the guardians of our skies, and the FAA has more than 14,000 of them across the country, working on the front lines to ensure the flying public and pilots reach their destination safely. FAA controllers work for more than 680 locations, including airport towers and radar facilities. At peak times, they monitor and manage about 45,000 flights a day from the runway to cruising altitude and back down, all for safety and flight efficiency.
Kenya Williams:
Controllers are absolutely critical to the FAA's mission to maintain the safest and most efficient aerospace in the world.
Chris Troxell:
You're going to hear from some of our experts or know exactly what an aspiring controller goes through, from the time they apply for the job to work in actual flights from the control room. Let's dive right in. Our colleague, Liz Cory, interviewed FAA human resources director of Aviation Careers, Nicole Gage, about how to get started on your journey to becoming an air traffic controller.
Liz Cory:
Thanks so much for joining us today, Nicole. Air traffic control is the first question I know I'm asked when I'm telling people what I do for a living. People want to know how they can become an air traffic controller. It's an exciting job. And can you tell us, what's the first step? How do they apply?
Nicole Gage:
It is a very exciting occupation and I'm excited to share with you. So usually in the summer time, we will have an announcement, and all of those are posted on USAJobs, which is at www.usajobs.gov. And that is the centralized website for all government hiring for civil service job opportunities across all government agencies. Due to the large interest in this particular occupation, these announcements are only open for a few days, so it's important to be ready when that announcement opens. So we always recommend that you have your resume ready and any other documents that are going to be pertinent to you applying for the position, as well as sign up for a job search through USAJobs, and they will actually email you when that job is posted, so that way you don't miss that opportunity.
Nicole Gage:
The application process will take you through step by step and tell you exactly what you need to do. And through reading the announcement, it will outline all the documents appropriate for your particular application and your experience. So whether it be transcripts or your DD214 if you have prior military service, or if you attended a collegiate training institute, then you would have that endorsement letter as well. Those are all documents that you should be aware of and have on hand and ready to upload into the system.
Liz Cory:
So everybody gets these forms together, they have their application in, now what's the next step? What happens after they apply?
Nicole Gage:
Each application is reviewed by one of the team members in Aviation Careers. And they determine if you meet the initial qualifications. If you do meet those initial qualifications, you will be invited to take the air traffic skills assessment, which is commonly referred to as the ATSA. And if you do well on the ATSA, you will be referred to the selecting official for hiring consideration. We always encourage anyone to apply for any position they deemed that they may be qualified for. Our announcements are very specific as to what type of knowledge, skills and abilities each position requires.
Liz Cory:
How does your team work with air traffic in selecting the candidates?
Nicole Gage:
Aviation Careers provides the listing of qualified candidates to the selecting official. The selecting official at that point will make their selections and return the information back to my team for further processing.
Liz Cory:
So now, now we're talking about the exciting point. The candidate is going to transition from those hopes and dreams of getting into the program, an academy placement. And I think we should also explain what the academy placement means, but how does the candidate make those transitions? How does that work?
Nicole Gage:
So once a candidate has been selected for hire, which is a very exciting time, they'll receive a tentative offer from one of my team members, along with the instructions of the next steps for the pre-employment requirements. Once the candidate has successfully completed all the pre-employment requirements and they are fully cleared, they will be provided a firm offer of employment and be placed in the next available class to begin training.
Liz Cory:
And that's the exciting part. That's when the career begins. Can you tell us what the latest is on the FAA's selection and hiring efforts?
Nicole Gage:
Like I said earlier, air traffic controller positions are typically announced each summer, and we're projecting to have another announcement this summer, probably towards the end of July, early August.
Liz Cory:
Great. Is there anything else you'd like to add today?
Nicole Gage:
Well, I would like to state that this is predominantly focused at our entry level air traffic controller positions, those that really don't have any air traffic experience. We do have what we call track two announcements that happen in the spring and/or the fall, depending on the agency's hiring needs, that are focused towards individuals that do have prior experience in air traffic control. So those have a different set of criteria, qualifications and entry age levels.
Liz Cory:
Fantastic. Nicole Gage, we really appreciate your time. And thank you so much for joining us today.
Nicole Gage:
Absolutely. I've enjoyed it. Thank you so much, Elizabeth.
Chris Troxell:
Okay. So what happens next? That would be an initial qualification at the FAA Academy, Oklahoma City.
Kenya Williams:
Chris, you got the scoop from academy director, Jim Doskow, on everything applicants have to learn before they can become an FAA air traffic controller. Let's hear the interview.
Chris Troxell:
Jim, thanks for being here.
Jim Doskow:
Thanks, Chris. Nice to be with you again.
Chris Troxell:
I know you say you don't enjoy talking about yourself. Just kind of a quick summary about how you worked your way into becoming the director of the academy.
Jim Doskow:
So don't start from birth?
Chris Troxell:
Yeah, yeah.
Jim Doskow:
I'll do my best to keep this short. I got into air traffic control somewhat by chance. As soon as I was introduced to air traffic control, I fell in love with the job. I came to the academy, studied and worked real hard and got through the academy program with a good grade, and went to the facility that was near my house, which was in Miami, Florida, and got to work at Miami Center. I was there for about 15 years and I certified as a FPL at the time. It was a full performance level controller, and now we call them certified professional controller, CPCs.
Jim Doskow:
Then moved into a traffic management unit. We manage the capacity and demand of our sectors and had a lot of fun doing that. And then, I went into being a frontline manager and enjoyed, had a lot of fun doing that. And then, I just wanted something, a little different my career, and I came to Oklahoma City. Was an instructor over the training program that I went through 15 to 20 years ago, and that was very nostalgic for me. And then, I just progressed through the academy leadership team to where I sit today, and I have the honor to lead the FAA academy as the director. So it's been a lot of fun.
Chris Troxell:
And can you tell us, in a nutshell, how does the academy prepare trainees for working flights on the actual air traffic control operation at a FAA facility?
Jim Doskow:
When new aspiring controllers begin their training here, one of the first things the academy does is really indoctrinate these new employees into the safety culture of the FAA. And it's really a systematic process to teach them the basics and fundamentals of air traffic control. Sometimes it's a three months to five month process.
Chris Troxell:
Would you like to start from the beginning and tell us a little bit about step-by-step from the beginning what a controller goes through during that three to five month process?
Jim Doskow:
Most of the first couple of weeks of all of our courses are book work, academics. Our instructors will walk the students through the different types of separation we use in air traffic, lateral, longitudinal, and vertical, and what situations are most effective to use, which type of separation standard. We do this in a classroom environment. We also do a lot on simulation or lab demonstration. So we'll have the students reach out in the middle of class and they'll describe what they learned and give them an opportunity to practice those skills to ensure that individuals are learning it, understand the concepts because these concepts are very complex in nature. And especially when we're dealing with the safety of the fine public, it's important that they understand it and know how to do it right.
Jim Doskow:
One of the hard parts as well as in air traffic is the language, the lexicon that we use. We call it phraseology. We must speak a certain way because the aircraft and the pilots are expecting to hear certain things in a certain order. And that's what facilitates the expeditious movement of traffic. So it's real important to do it that way. And that all is taught in the classrooms, and our students will learn that and get the chance to practice that.
Jim Doskow:
And then, once we do the academic work for usually two or three or four weeks, then we'll progress into a laboratory environment. And they'll actually do simulations in a lab. The aspiring controllers will be assigned to a certain track in air traffic. You'll be assigned to a tower, a terminal radar or an end route environment. And depending on which environment you're in, you're going to apply those rules of separation a little bit differently and the environment's a little different.
Jim Doskow:
And then, in those labs, we will start students out in a very slow and methodical way to see a scenario and identify how do I keep these airplanes safe? What's the best process to do that? What's the best rule to apply for each given situation? And air traffic control is really kind of like an art. Everybody, there's lots of ways to do things. And so, we want to provide them all the techniques, and ultimately it will be upon the students or the trainee to apply those rules in a lab environment.
Jim Doskow:
Depending on where you work, the rules are a little different. If you are working in a tower environment, there are different rules apply. You still have to meet certain standards. And generally, the standard's about a thousand foot vertical separation. Lateral separation can be five miles or three miles, depending on which radar system you're using. But those are all the nuances of the rules. If you're a new controller and you're coming into the system, we're going to teach you all you need to know about how to use each one of those rules and when best to use them and how to use them appropriately in the environment.
Chris Troxell:
Are there other kinds of skills that a trainee must demonstrate in this process to be successful? Are there any that come to mind?
Jim Doskow:
Oh, definitely. One of the toughest things is phraseology. I remember when I was learning to be an air traffic controller and as a trainee, and I think everybody does this because I did it. It just seemed natural, but you have to practice your phraseology. And a lot of times I would practice in my car on the way to and the way home from work, just to make sure I had it down. And as a controller, you practice that phraseology so much that it's just natural and the words flow off your tongue.
Chris Troxell:
Well, you might've answered my next question because I was going to ask you if a trainee can do homework.
Jim Doskow:
Yes, they can. And they should. That's one thing we highly encourage. We don't always give a lot of homework. We kind of leave it up to the student to practice on their own. And it's real important, like I said, practicing your phraseology, practicing, how you're going to apply your rules of separation, be it any one of those rules. And one of the most effective ways we've seen in the past with previous classes in the 15 years I've been out here in Oklahoma City has been working in study groups, they form bonds and bonds of teamwork. And that teamwork is a lot like the teamwork you're going to get in a facility when you report to your facility. And that studying is real important. So as much studying they can do as we would highly recommend that.
Chris Troxell:
So what comes at the end? What do they have to do to graduate?
Jim Doskow:
This is the most exciting part, when we have graduates. And we have graduates every day or nearly every day, but at the end of the courses, the students will have to apply all of that academic learning that we've taught them and everything they've studied, and all the simulation practice they've done. They've got to apply that all in a real life environment. So they'll go through a simulation and they will have to demonstrate their ability to apply a lot of the rules that we've taught them. Not all of them, but a majority of those rules. When folks do that correctly, and they're great stories that they come.
Chris Troxell:
And then I understand next is facility placement after graduation. Can you tell us a little bit about how that works?
Jim Doskow:
Oh, and obviously that's a real exciting part. At the end of the course, or when the folks have graduated, they'll come back the next day, they will go through the placement process. Students will pick their slots where they want to go based on their score in the academy course. And if you study harder and you do better, the highest score will pick first, and then so on and so on. So if you've got the lowest score in past, congratulations, but you may not have a lot of facilities to choose from. You may just have one last slot, or depending on the agency's needs, there may be multiple slots available. It just depends on the luck of the draw, what we have available at that time.
Chris Troxell:
Ah, that sounds like a major incentive to do a good job. Score high.
Jim Doskow:
Exactly. That's exactly what it's designed to do, is to incentivize our new aspiring controllers to do the best it possibly can.
Kenya Williams:
As you heard, the controller qualification program at the academy is rigorous, but if you stay motivated and collaborate with your peers, you have a great chance of succeeding.
Chris Troxell:
Of course, anyone looking into the profession wants to know what training is like. So I spoke with a couple of air traffic professionals have gone from training the trainer and are now supervising controllers. First, I interviewed Dawne Barrett, a 21 year air traffic professional based in Minneapolis who spearheads the National Operation Supervisors Workshop.
Chris Troxell:
Dawne, thank you so much for being here.
Dawne Barrett:
Absolutely.
Chris Troxell:
Can you start by sharing with us a little bit about your background? I heard you spent some of your childhood days in Florida watching the space shuttle launch.
Dawne Barrett:
I did. I did. We moved to central Florida when I was about four years old, and you could see the space shuttle from our front yard. And I was always waiting for something to be going in the sky. When we moved from central Florida to Georgia when I was about seven, I continued to look for things in the sky, whether it was the space shuttle, which we couldn't see, but I could see the finals for Hartsfield. And I remember dreaming of, where's that one coming from? Or wondering what adventures that people have been in. But yeah, always chasing fireflies, whether it was a rocket ship or a jet aircraft, chasing fireflies.
Chris Troxell:
And so, in this episode, we'd like to shed some light on the training and certification process that a new hire goes through once the FAA places them at a control facility. Can you take us back and tell us what this was like for you?
Dawne Barrett:
So when I hired in with FAA back in 2000, it was a call I had gotten. I was actually at an air traffic tower in Atlanta and got the call and they said, "We got a job for you at Memphis Center." And I'm like, "Okay, let's do it." And so, I knew I was going to be starting at Memphis Center before I ever headed out to the academy. I spent about three and a half months out at the academy, got to Memphis Center in December of 2000. Training lasted about two years for me there until I reached my CPC level. And it was challenging. It was fun. I guess, every emotion that you could possibly go to happen during that time. But absolutely, May 12th 2002 was a very rewarding day when I got that CPC certification. I still remember it to this day.
Chris Troxell:
From your perspective, what do you think a controller in training needs to do to be successful in training to get certified? And what are your greatest lessons learned from that process?
Dawne Barrett:
The biggest thing for trainees as they go through the certification process is having support, and that's both at work and at home. It takes a lot of hard work. It takes a lot of dedication. My biggest piece of advice for a trainee coming in is to have humble confidence, humble that you there's a lot to learn and no matter what your background is, things are different where you're at now, and confidence that you'll get through.
Chris Troxell:
I understand that up until December of last year, you led some training efforts at your facility. Can you tell us what that was like?
Dawne Barrett:
As an operation supervisor, one of the most important tasks that we have is being that training team lead if you have trainees on your team. And as part of that, it's making sure that not only the trainees have all the tools that they need, but also making sure that the trainers have all the tools. It can be stressful on both sides as a trainer, especially if you've got a trainee that's having challenges to think outside the box, and giving them every episode or every opportunity to be successful. And as the supervisor, it's my job to make sure that that environment is fostered and improved on a day-to-day basis, and we can continually strive for excellence in training.
Chris Troxell:
And what would you say is your best advice for an aspiring controller?
Dawne Barrett:
Chase your dreams. If it's somebody who's not hired in on the agency yet, don't give up. It can take a while. And I think when I graduated Embry-Riddle, it took almost 19 months to get hired. And so, don't give up and keep chasing the dreams. And that when you get in, humble confidence.
Kenya Williams:
What an inspiring story. Dawne has convinced me that this is an amazing job.
Chris Troxell:
Yeah. Really, same here. Dawne has a lot of great advice for people pursuing profession. She is also a general aviation pilot. We'll hear more from her in our upcoming episode about how to become a pilot.
Kenya Williams:
Definitely. And Chris, didn't you talk to somebody else important?
Chris Troxell:
Yeah. After speaking with Dawne, I interviewed Garrison Field, another operations supervisor who works at Northern California Terminal Radar Approach Facility. Garrison shed a lot of good tips from his experience in the profession in the last 11 years.
Chris Troxell:
Well, Garrison, thanks so much for being here.
Garrison Field:
Yeah, of course. Thanks for having me.
Chris Troxell:
Absolutely. Can you start by telling us a little bit about yourself and how you got into the aviation field and air traffic control?
Garrison Field:
Yeah, absolutely. So I started flying when I was about 16 years old, but like a typical teenager, after I did my first solo, I didn't do any of my homework. So ran out of money to keep flying. And they had a pretty good CTI, a college program for traffic control up in Alaska where I'm from. So I went to college for that and graduated and then got hired on. My dad worked for the FAA doing maintenance, and he kind of pushed me in that direction to pursue air traffic control.
Chris Troxell:
How interesting.
Garrison Field:
Yeah.
Chris Troxell:
What do you love so much about air traffic control profession?
Garrison Field:
It's fun. That's probably the number one thing. It's a really fun job. So it appeals to my sense of play. And then, you get a really good sense of purpose too because you go to work every day and you kind of get sucked into the day-to-day activities, but at the end of the day, we're keeping people safe in airplanes and it's something you can be proud of.
Chris Troxell:
And so, in this segment, we want to talk a little bit about training. We would like to help aspiring controllers understand what it's like to go through training as a controller. And I understand you're involved in the training process at Northern California Trade Con. Can you talk about that a little bit?
Garrison Field:
Yeah, absolutely. So for what I do now as a supervisor is, it's a multifaceted role. So we will do the initial onboarding with somebody who comes into training. A big part of that is meeting their training team, so who their trainers are going to be throughout the process. And then, as well as letting them know kind of how they're going to be reviewed. And that's once a month we do a formal review of their performance, and then we'll have a formal sit down and document kind of where they're at and what they need to improve upon.
Chris Troxell:
I understand that you trained some new hires at facilities you worked at prior to Northern California.
Garrison Field:
Yeah. It's fun. I hesitate to say that it's more fun, but it's a little bit more engaging because when somebody comes in as a new hire, they don't really understand the FAA culture. And so, as a supervisor, we get to establish good working habits, good work ethic. And it's kind of cool to see how they go from having whatever their preconceived notions of what the FAA was going to be like, to be able to guide them successfully to be a certified controller.
Chris Troxell:
So what was training like for you when you were coming up?
Garrison Field:
You can ask that to any controller and they're going to say stressful. Training is not, I wouldn't say fun, but it is very rewarding. Basically once you get through your classroom instruction, and then you do a little bit of simulation training in a controlled environment, you're essentially training with somebody plugged in directly next to you the entire time you're working traffic. And so, to put that in perspective, imagine if you were doing your job with somebody monitoring every action that you're taking, and then providing feedback at the end of that. So it's a growing process for sure, but it forces you to kind of be able to take feedback well, and to be able to act upon that feedback.
Chris Troxell:
Do you have any tips or advice for aspiring controllers?
Garrison Field:
Yeah, absolutely. So the big thing that I'll say is come in with a positive attitude. That goes a long way. We kind of focus on the individual throughout the training process, but once you're certified, you're a member of a team. So I would encourage people to remember that it is your obligation to be a good team member, to those that you work around with, to think about how you need to act and behave and perform in order to make the team better. And then, the other thing I would say is because it is a stressful process going through training, is communicate what your needs are, how you think that you're progressing throughout the training process, and just open communication.
Chris Troxell:
From your perspective, why do you think training is important?
Garrison Field:
Well, I think it sets the tone for your career. The example that I'll use is I was a supervisor at a facility in Alaska and it was located in the terminal. And so, every day on the way to work, you'd have to walk through the terminal and you'd see families flying out. You'd see people flying out for business trips. And I had to train there as well. And so, I remembered walking through the facility and seeing all the people flying out. And then, when you plug it to train it, you have to take it seriously to remember we are in a public service to keep people safe. And so, training is our practice for when you're certified and you're actually in the game doing it by yourself. So if you don't take it seriously, it's going to carry over and you're not going to enjoy your career.
Chris Troxell:
Well, thanks so much, Garrison. I really, really appreciate you taking the time.
Garrison Field:
Yeah, absolutely. Thanks for having me.
Kenya Williams:
Honestly, Chris, I don't know about you, but I'm really happy that they have this very rigorous training to keep our airways safe, and me.
Chris Troxell:
Same here. And it's amazing, the training really never stops. Controllers, they just get better and better and better from their experience, training and teamwork with other controllers, other air traffic professionals.
Kenya Williams:
I would hope so. Could you imagine what would happen if they didn't?
Chris Troxell:
It is one important job and that's an understatement. The work that they do day in and day out around the clock is just absolutely critical to keeping thousands and thousands of people safe.
Kenya Williams:
Exactly. And that's our show for today. The FAA is always looking for new air traffic controllers. Keep an eye out for job announcements coming out later this summer. Also, be sure to tune into our next episode. Duh. The Air Up There is a podcast from the Federal Aviation Administration. If you liked today's episode, remember to subscribe and share it with someone else. You can find the FAA on social media. We're @FAA on Facebook, Instagram and LinkedIn, and @FAAnews on Twitter and YouTube.
Chris Troxell:
Thanks for listening.