August 20, 2020 marks the 100th anniversary of Flight Service and the creation of what has become the modern FAA, providing safety and the efficient flow of air traffic in the National Airspace System.
History
Flight Service began on August 20, 1920. It was 17 years after the Wright brothers' first flight, and three years before the first nonstop transcontinental flight.
Flight Service Stations — originally called air mail radio stations — were strategically located across the country along transcontinental air mail routes that pilots flew to deliver mail. It was possible to reach Flight Service Stations either by radio inflight, or by telephone on the ground.
Flight Service Specialists were responsible for ingesting and interpreting weather and aeronautical information — and then transmitting that data to aircraft pilots before, during, and after flights.
During World War II, approximately 4,000 men and women trained and staffed the airway communication stations deemed essential for the war effort.
Interactive Timeline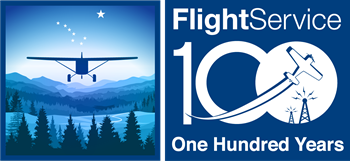 Flight Service Today
Through new technologies and advances in automation, Flight Service continues to provide pilots and aviation stakeholders with the tools needed to operate safely in the National Airspace System.
Pilots have access to weather and aeronautical information in the cockpit, often presented in a graphical format, making it easier to visualize what is going on along the route of flight. Automatic notifications and alerts inform pilots when new or adverse conditions arise, such as a severe weather forecast or observation, an airport closure, or a Temporary Flight Restriction.
The Flight Service website 1800wxbrief.com now has a mobile-friendly version that supports flight planning, access to weather, and more. The recently deployed Mobile Website provides many of the same capabilities as the website but optimized for mobile devices, such as an iPhone, iPad, or Android.
Flight Service provides core services to the aviation community in Alaska by Federal Certified Professional Controllers (CPCs) with 17 facilities, and a contract service provider in the contiguous United States (CONUS), Puerto Rico, and Hawaii with two large hub facilities.
The Aviation Weather Camera Program is increasingly popular in Alaska as a primary source for pilots to obtain preflight weather information. Visit the FAA Aviation Weather Camera websites at avcams.faa.gov and avcamsplus.faa.gov to learn more.
Today's CPCs continue the inspiring legacy of those air mail radio station specialists from a century ago, by providing key aviation assistance in the complex environment and airspace of Alaska — 'America's last frontier.'
Get To Know Alaska's Flight Service Specialists
Interested in becoming a Flight Service Specialist? A career in Flight Service is extraordinarily rewarding, and we are looking for the best people to take on the responsibility of managing Alaska's airspace!
The Future Ahead
Flight Service continues to evolve and adapt as the needs of the aviation community change. From the first facilities transmitting flight plans over radiotelegraph — using Morse code and Navy spark transmitters — to today's online systems and automated technologies, our history paves the way for future Flight Service initiatives.
The Alaska Flight Service Initiative (AFSI) is underway and is the next phase of continuous improvement that will look at ways to modernize and enhance the effectiveness of Flight Service in Alaska for future generations.
Agency collaboration will bring a transition to the first Voice Over Internet Protocol (VOIP) radios under a new contract with the service provider in CONUS.
The Future Flight Service Program (FFSP) seeks to establish relationships with service providers, industry, and user groups to better position the agency to take advantage of user behavior changes and improved technology.
New technologies and the next generation of users and services will drive changes in the delivery of future flight services.
Last updated: Tuesday, November 16, 2021