Deputy Associate Administrator for Security and Hazardous Materials Safety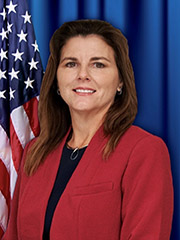 Tonya D. Coultas is the Deputy Associate Administrator for Security and Hazardous Materials Safety. Ms. Coultas is responsible for implementing and maintaining the Federal Aviation Administration's (FAA) programs that support national security, aviation safety, and the National Airspace System (NAS). Ms. Coultas provides executive oversight and direction for the overall planning, coordination, and implementation of national security policies, plans, and national programs involving internal security, hazardous materials safety, investigations manned and unmanned systems, intelligence operations, emergency planning and operations, and workforce services.
Ms. Coultas has over 30 years of combined federal executive, local, state, military, and international experience transforming national level programs providing authoritative executive level guidance in support of national and international-level security, defense, intelligence, safety, disaster response, and crisis management. Before joining the FAA, Ms. Coultas served as the Deputy Executive Assistant Administrator for Security Operations at the Transportation Security Administration (TSA). There she led a workforce of over 53,000 employees worldwide. She was responsible for mitigating the dynamic threat against the global supply chain and domestic transportation systems through the implementation of an array of countermeasures, including the latest technology, passenger and cargo screening canines, explosives experts, and other specialized programs such as C-UAS, Insider Threat and cyber security. She oversaw the safety of an average 2.5 million passengers a day at over 440 federalized airports. Ms. Coultas also led surface security operations and implementation of new technology to improve security effectiveness across a surface network that encompasses freight railroads, passenger rail, mass transit, maritime, and pipelines.
Ms. Coultas previously served as a Senior Executive for the DHS National Protection and Programs Directorate (now CISA), Office of Infrastructure Protection and for FEMA where she led the homeland security suite of grants managing over 25,000 multiyear open grants equating to $20 billion annually. She also served as the Executive Director for the Pipeline and Hazardous Materials Safety Administration at the U.S. Department of Transportation (DOT). Before joining DOT, Ms. Coultas worked for the Department of Defense as an Industrial Hygienist.
Ms. Coultas is a retired Chief Master Sergeant from the Maryland Air National Guard where she served for 24 years. During her service she participated in Operation Desert Shield/Storm, Operations Noble Eagle and Enduring Freedom. She served with Headquarters United States European Command, the Joint Chiefs of Staff J-4, and the National Security Agency. Ms. Coultas holds a Masters in Business Administration and a Bachelor of Science in Environmental Toxicology.
Last updated: Wednesday, November 17, 2021