Executive Director, Office of National Engagement and Regional Administration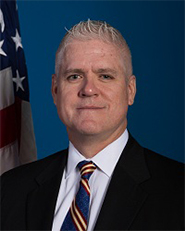 Sean S. Torpey assumed the role of Executive Director, National Engagement and Regional Administration (ARA-001). Mr. Torpey leads a nationwide organization through a headquarters office in Washington, D.C. and nine regional offices strategically located across the country. Mr. Torpey oversees the ARA Executive Leadership Team made up of 9 Regional Administrators (RA) throughout the country. The ARA organization through the Regional Administrator's leadership, are the senior FAA official representing the FAA Administrator in the field. As the eyes and ears for the Administrator, the RA and their staff, conduct outreach to congressional officials, military bases, the aviation industry, stakeholders, federal, state, and local government, law enforcement, educational institutions, civic and private groups. Through collaboration, and horizontal integration ARA monitor emerging issues and provide real time advocacy, strategic coordination and communication ensuring critical FAA goals, programs, services and events are optimally met. With those established relationships and contacts, the ARA organization plays a significant role for the Administrator in conveying agency plans and goals while also providing a platform to address known stakeholder concerns.
Mr. Torpey served as the Federal Aviation Administration's (FAA) Acting Deputy Assistant Administrator and Chief Information Officer (CIO) in the Office of Finance and Management for Information and Technology Services (AIT). In this role, he was responsible for ensuring that the agency's IT assets were effectively and efficiently aligned with FAA's strategic mission needs. Mr. Torpey also served as Executive Director of Information and Technology and Deputy Chief Information Officer (CIO) and assisted the CIO in overseeing and managing the FAA IT services. Mr. Torpey was the Director of Infrastructure and Operations (I&O) in the Office of Finance and Management for AIT. His responsibilities included leading the FAA's leading-edge Cloud Program, which provides software and services delivered over the internet to both National Airspace System (NAS) and non-NAS systems. As the Director for Infrastructure and Operations, Mr. Torpey oversaw the Mission Support IT Infrastructure for the FAA to include networks, data centers, and device management for the 62,000+ FAA employees and contractors.
Prior to joining AIT Services, Mr. Torpey was the Deputy CIO of the Aviation Safety (AVS) IT organization, managing nearly 200 employees and 300 programs supporting the AVS Safety Mission.