Certification Branches (formerly Aircraft Certification Offices/ACOs)
As a result of 2023 AIR Reorganization, Aircraft Certification Offices (ACOs) are now Certification Branches
Certification Branches assist with:
Design approval and certificate management
Support to Certificate Management Sections for US production approvals.
Type certification & continued operational safety questions
Investigating and reporting aircraft accidents, incidents, and service difficulties
Designated Engineering Representatives (DER) oversight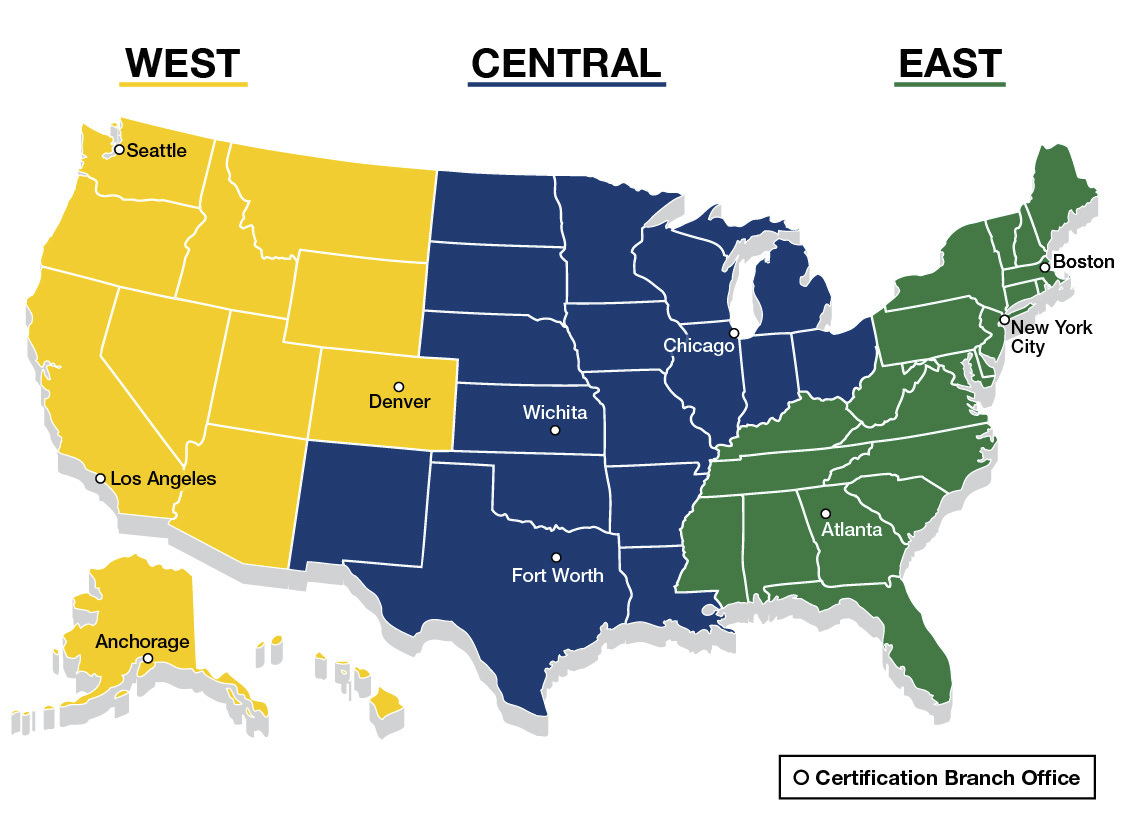 Contact details for the Certification Branches and their offices are listed below. You should contact the office nearest to you within the Certification Branch for your geographic region.
West Certification Branch
3960 Paramount Boulevard
Suite 100
Lakewood, CA 90712-4137
Email: LAACO-Certification@faa.gov
Phone: 562-627-5200
Fax: 562-627-5210
Branch Offices
Geographic Service Area:
The West Certification Branch serves the western states, encompassing Alaska, Arizona, California, Colorado, Hawaii, Idaho, Montana, Nevada, Oregon, Utah, Washington, and Wyoming.
Central Certification Branch
1801 Airport Road, Room 100
Mid-Continent Airport
Wichita, KS 67209
Email: 9-avs-air-ictacob@faa.gov
Phone: 316-946-4100
Fax: 316-946-4107
Branch Offices
Office
Address
Phone & Email
Chicago
2300 East Devon Avenue, Room 107
Des Plaines, IL 60018
847-294-7358
 
Fort Worth
10101 Hillwood Parkway
Fort Worth, TX 76177
817-222-5140
fwaco@faa.gov
Wichita
1801 Airport Road, Room 100
Mid-Continent Airport
316-946-4100
9-avs-air-ictacob@faa.gov
Geographic Service Area:
The Central Certification Branch serves those states located in the central United States, encompassing midwestern states (Illinois, Indiana, Iowa, Kansas, Michigan, Minnesota, Missouri,  Nebraska, North Dakota, Ohio, South Dakota, Wisconsin), and south central states (Arkansas, Louisiana, New Mexico, Oklahoma and Texas).
East Certification Branch
107 Charles W. Grant Parkway, Suite 201
Hapeville, GA 30354

Mailing Address:
1701 Columbia Ave.
College Park, GA 30337
Email: 9-ASO-ATLACO-CORR@faa.gov
Phone: 404-474-5500
Fax: 404-474-5606
Branch Offices
Geographic Service Area:
The East Certification Branch serves those states located in the eastern United States, encompassing New England (Connecticut, Maine, Massachusetts, New Hampshire, Rhode Island, Vermont) the mid-Atlantic states (Delaware, District of Columbia, Maryland, New York, New Jersey, Pennsylvania, Virginia, West Virginia) and the southern states (Alabama, Florida, Georgia, Kentucky, Mississippi, North Carolina, South Carolina, Tennessee).
Depending on your specific needs, you may want to contact one of the following offices involved in certification and oversight activities:
Integrated Certificate Management Division
Issues design approvals, performs system oversight and evaluates continued operational safety for commercial airplanes and engines.
International Validation Branch
Responsible for all inbound and outbound validation activity for aviation products and appliances.
Military Certification Office (MCO) Branch
Supports military commercial derivative aircraft (MCDA) activities on behalf of the U.S. Armed Services.
Last updated: Monday, September 18, 2023