---
Please Note
The FAA is no longer accepting requests to debrief submissions from the 2021 funding opportunities.
The deadline for Aviation Workforce Development Grants for Aircraft Pilots and Aviation Maintenance Technical Workers was June 17, 2022, and applications are no longer being accepted.
---
Overview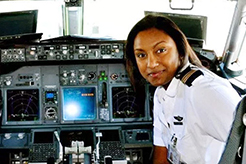 On October 5, 2018, the President signed the FAA Reauthorization Act of 2018. In section 625 of the act, Congress addressed the projected shortages of aircraft pilots in the aviation industry by giving the FAA the authority to establish an Aviation Workforce Development Grant Program to expand the aircraft pilots workforce and provide meaningful aviation education designed to prepare students to become aircraft pilots, aerospace engineers, or unmanned aircraft systems operators, and support the related professional development of teachers. Congress approved the program through the end of fiscal year 2023.
Objectives
The aviation workforce development grants for aircraft pilots support proposals that generate interest and prepare students to become aircraft pilots, aerospace engineers, or unmanned aircraft systems operators. These grants can also be used to support the professional development of teachers delivering eligible aviation curriculum.
Eligible Projects
Only projects that fall into one or both of the following categories will be eligible for award:
* Note: The proposed project may utilize an applicant's existing training curriculum as well, provided that such curriculum is consistent with the eligibility requirements listed here.
Congress also directed the FAA to ensure that the applications selected for projects established under this program allow for participation from a diverse collection of public and private schools in rural, suburban, and urban areas.
Statutory References
The Aviation Workforce Development Grant Programs appear as a note to 49 U.S.C. 40101. The note material entitled "Aviation Workforce Development Programs" incorporates section 625 of the FAA Reauthorization Act of 2018 (Public Law 115-254), as amended by section 1743 of the National Defense Authorization Act for Fiscal Year 2020 (Public Law 116-92).
Funding
Since 2020, Congress has appropriated $5 million annually for this program. The FAA may award between $25,000 and $500,000 (the ceiling established by legislation) for any one grant in any one fiscal year.
This grant program is competitive. The FAA reserves the right to award grants based on the quantity and quality of proposals received in response to the Notice of Funding Opportunity. The expectation is to fund a minimum of 10 proposals. A list of grant recipients will be available on this site following selection.
Subscribe
To receive notifications when we update webpages about aviation workforce development grants, please subscribe.
Questions
Those interested in direct scholarship opportunities are encouraged to visit the FAA Grants and Scholarships page.
If you have further questions, please email: AWD-Grants@faa.gov