Please Note
The application period is closed for the Round 3 – 2023 Aviation Workforce Development Grants for  Aircraft Pilots and Aviation Maintenance Technical Workers.
Overview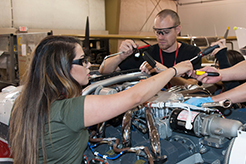 On October 5, 2018, the President signed the FAA Reauthorization Act of 2018. In section 625 of the act, Congress addressed the projected shortages of aviation maintenance technical workers in the aviation industry by giving the FAA the authority to establish an Aviation Workforce Development Grant Program for aviation maintenance technical workers. Congress approved the program through the end of fiscal year 2023.
Objectives
The aviation workforce development grants for aviation maintenance technical workers support proposals that generate and increase interest and prepare students to pursue aviation maintenance careers.
Statutory References
The Aviation Workforce Development Grant Programs appear as a note to 49 U.S.C. 40101. The note material entitled "Aviation Workforce Development Programs" incorporates section 625 of the FAA Reauthorization Act of 2018 (Public Law 115-254).
Funding
Since 2020, Congress has appropriated $5 million annually for this program. The FAA may award between $25,000 and $500,000 (the ceiling established by legislation) for any one grant in any one fiscal year.
This grant program is competitive. The FAA reserves the right to award grants based on the quantity and quality of proposals received in response to the Notice of Funding Opportunity. The expectation is to fund a minimum of 10 proposals. A list of grant recipients will be available on this site following selection.
The FAA will not reimburse any pre-award or application preparation costs, or for facility construction or research activities.
Subscribe
To receive notifications when we update webpages about aviation workforce development grants, please subscribe.
Questions
Those interested in direct scholarship opportunities are encouraged to visit the FAA Grants and Scholarships page.
If you have further questions, please email: AWD-Grants@faa.gov
Last updated: Tuesday, November 21, 2023