---
About Us
The Alaskan Office of the Regional Administrator is one of nine offices that comprise National Engagement and Regional Administration. The Regional Administrator, as the Senior FAA Official in the geographic area, provides leadership on key agency priorities, such as horizontal integration across the FAA Lines of Business and Staff Offices to ensure the Agency is providing consistent stakeholder support and engagement.
The office partners with Federal, state and local governments and others to promote aviation safety and education across the region. The office addresses airspace and procedure modernization, runway safety, aviation workforce development, finance, information technology, policy, human resources, and civil rights.
Areas Served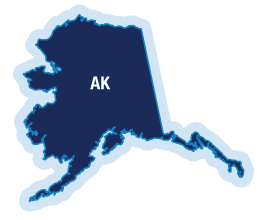 Background
The Alaskan Region is a single-state region with 586,412 square miles of land area and 33,904 miles of mainland and island coastline. Aircraft are among the main modes of transportation since 82 percent of communities in the Alaskan Region are not connected via roads. The mountainous terrain and long distances between communities require flexibility in implementation of operational and safety requirements.
The FAA Alaska Safety Initiative focuses on preventing and reducing aviation accidents by evaluating needs for additional infrastructure, such as weather, communication, and surveillance systems; enhancements to airports and runways; and regulatory flexibility and modernization. The Regional Office also participates in professional councils and academic partnerships established to develop the Alaskan aerospace system. The state's aviation history is published in "Civil (PDF) Aviation Policy in Alaska: 1913-2018" and "Aircraft Navigation in the Aleutian Air War: World War II Civil Aeronautics Authority Radio Navigation Ranges in the Aleutian Islands, Alaska." (PDF)
STEM Aviation and Space Education
Within the region, FAA's Science, Technology, Engineering, and Math (STEM) Aviation and Space Education (AVSED) Program is an integral part of agency outreach and the national education system. The program was established to expose students to aviation and aerospace careers and to promote STEM education.
FAA Regional Administrators
FAA's nine Regional Administrator offices are strategically located across the country, each serving the public by supporting and coordinating operation of a national airspace system that ensures airports are safe, efficient, environmentally responsible, and meet the needs of travelers.
Aviation Safety
As part of the FAA Alaska Aviation Safety Initiative, the FAA has teamed with the flying community in a yearlong, sweeping examination of safety issues specific to the challenges of flying in Alaska. The team has developed a comprehensive blueprint for increasing aviation safety in Alaska through the management, improvement, and implementation of new and current initiatives.
Noise Complaints & Inquiries
File a noise complaint or inquiry in the Alaskan Region.
FAA Community Engagement
The FAA is committed to inform and involve the public, engage with communities and consider community concerns and views as we make aviation decisions that affect them.
Last updated: Wednesday, July 12, 2023