Maintaining Non-Federal Systems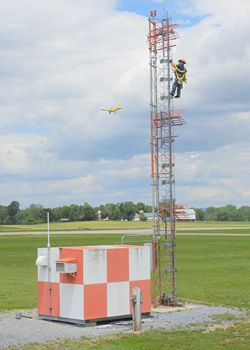 Technicians of Record
Always contact your Non-Federal Program Liaison before seeking the qualifications and credentials necessary to maintain a non-Federal system.
You must receive verification authority from the Non-Federal Program before maintaining any non-Federal system
Verification authority is system and site specific. You must receive verification authority for each type/make/model that you maintain.
After a system is installed, you must maintain specific records on the system's operations and maintenance.
Non-Federal Program personnel will regularly inspect the system(s) that you maintain.
For more details, refer to the Non-Federal Program's Process for Becoming a Non-Federal Technician (PDF).
You may also find useful information in our FAQ section.
If you do not have adequate credentials for the system you are maintaining, the FAA will shut it down.
Maintenance Documents
Suspending/Restoring System Service, and Issuing NOTAMs
Events and anomalies involving most public or private-use NavAids and AWOS must be coordinated with the FAA:
AWOS with three-character identifiers:

(Alaska) - (907) 269-1102
This is the number for Alaska Center.
(Non-Alaska) - (855) FAA-NEMC
This is the number for the NEMC SOC: FAA's Network Enterprise Management Center - System Operations Center.

AWOS with four character identifiers need not be coordinated.
NavAids:

OCC - (866) 4-FAA-OCC
The automated telephone system will automatically route you to the appropriate Operations Control Center (OCC).
Last updated: Tuesday, April 4, 2023