Marking & Labeling Your Shipment
Marking and labeling are important steps when preparing a dangerous good package for transportation. Labels often communicate the hazards associated with the package, and markings ensure the shipment is handled so that spills, accidents and exposure are prevented. As such, they must be applied appropriately, reflect correct information, and comply with the regulations.
Marking
Marking means a descriptive name, identification number, instructions, cautions, weight, specification, or UN marks, or combinations thereof, required on outer packagings of hazardous materials or dangerous goods.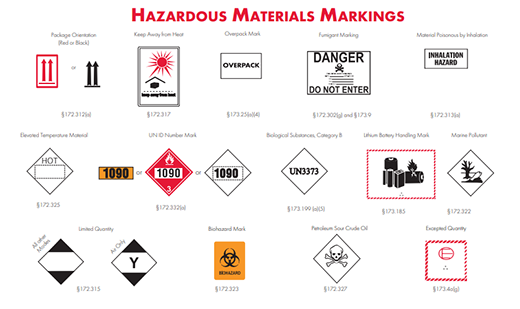 The marking required:
Must be durable, in English, and printed on or affixed to the surface of a package or on a label, tag, or sign.
Must be displayed on a background of sharply contrasting color;
Must be unobscured by labels or attachments; and
Must be located away from any other marking (such as advertising) that could substantially reduce its effectiveness.
Specialized markings:
There are specialized markings that you should be aware of as well. Among them are:
For liquid hazardous materials or dangerous goods: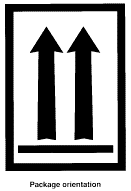 There are also specific marking requirements for radioactive materials, poisonous dangerous goods, and dangerous goods in limited quantities. Refer to the specific sections found in 49CFR, Part 172, Subpart D.
Labeling
Labels identify the specific primary and subsidiary hazards posed by the materials in a dangerous goods package. These methods of communication rely on specific colors, codes, and pictograms to clearly and immediately identify the type of materials in the package.
49 CFR 172.406 states labels must be printed on or affixed to a surface (other than the bottom) of the package or containment device containing the hazardous material and be located on the same surface of the package and near the proper shipping name marking, if the package dimensions are adequate.
For more information on marking and labeling, see DOT Chart 17 (PDF).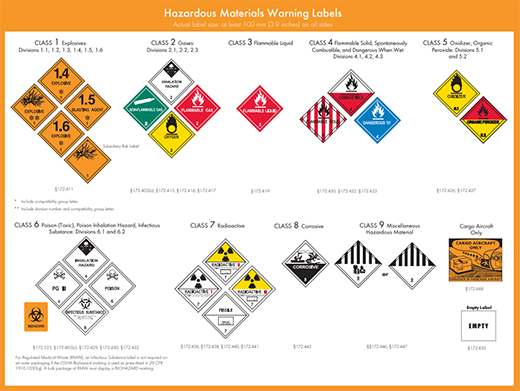 (click to enlarge)
Last updated: Friday, February 10, 2023