Frequently Asked Questions (FAQs)
Commercial Launches
Launch Vehicles
Launch Licenses
Launch Sites and Spaceports
Satellites
Policy
---
Commercial Launches
What is the Streamlined Launch and Reentry Licensing Requirements Final Rule?
The FAA will soon issue a final rule that modernizes the way FAA regulates and licenses commercial space operations and allows the burgeoning aerospace industry to continue to innovate and grow, while maintaining public safety. The Streamlined Launch and Reentry Licensing Requirements Final Rule (PDF) (SLR2) consolidates and revises four separate regulations and applies a single set of performance-based licensing and safety regulations for all types of vehicle operations. It also supports greater innovation, flexibility and efficiency. The rule lays the foundation for FAA to keep pace with the dramatic increase in the cadence and complexity of commercial space transportation operations. Under the new rule, launch vehicle operators can use a single license for multiple launches from multiple launch sites. The new rule also states safety objectives applicants must achieve for the launch and reentry vehicles allowing the applicant to create designs or operational solutions that meets those standards. Several advisory circulars will accompany SLR2 upon publication.
What is a commercial launch?
The Federal Aviation Administration (FAA) Office of Commercial Space Transportation (AST) defines a commercial launch as having one or more of the following characteristics:
The launch is licensed by FAA.
The primary payload's launch contract was open to international competition.
The launch was privately financed without government support. Commercial launch vehicles are manufactured and marketed by private companies.
When did the first licensed U.S. commercial launch take place?
The first such launch occurred in 1989, when a Starfire sub-orbital vehicle carried aloft the Consort-1 payload from White Sands Missile Range in New Mexico.
How big is the commercial space launch industry?
At nearly $469B in revenues in 2021 an increase of 9% from 2020.  This spending is made up of $224.2B (up 2.4%) Commercial Space Products and Services; $137.8B (up .5%) Commercial Infrastructure and Support Industry; $59.8B (up 13.5%) U.S. Government Space Budgets; and $38.40B (up 29%) Non-U.S. Government Space Budgets. Top 3 governments: U.S. (59.9%) China (16.1%), European Space Agency-ESA (6.3%) making up more than 82% of government space spending in 2021. 

Many countries are also establishing and/or expanding their commercial space capabilities (e.g. UK, New Zealand, UAE, Luxembourg). 
The Space Industry
"The Space Report 2021 Q2" found that in 2021, the global space economy rose to $469 billion, an increase of 9% from a revised 2020 total of $447 billion. This $469 billion space economy is 70% higher than a decade ago and part of a five-year trend of uninterrupted growth. Commercial space activity grew 1.5% to nearly $362 billion in 2021, still representing close to 77% of the total space economy. Global government space spending rose 19% in 2021 to $107.3 billion from a revised 2021 peak of $90.2 billion. Nearly 60% of this total was allocated to space activities by the U.S. - The Space Report 
How many commercial launches take place each year?
Review our latest launch numbers.
Does FAA regulate commercial human spaceflight?
The U.S. Congress in 2004 imposed a regulations moratorium on commercial human spaceflight that has been extended several times, and now continues through 2023.
Currently, commercial spaceflight crew and participants engage in spaceflight operations through "informed consent."
Informed consent regulations require crew and spaceflight participants to be informed, in writing, of mission hazards and risks, vehicle safety record, and the overall safety record of all launch and reentry vehicles.
Prior to flight, crew and spaceflight participants must provide their written consent to participate.
When will my family and I be able to fly into space?
Several companies are currently funding development of new orbital and suborbital vehicles to be used for a variety of tasks, including space tourism. To allow for the testing of suborbital vehicles, AST created a new experimental launch permit for the test, development, and re-entry of reusable suborbital launch vehicles.
Companies are hoping to launch people on short suborbital trips within the next year or two, with many people having already signed up for their short space ride. The establishment of a space tourism industry depends on the development of vehicles capable of launching people into space and returning them to Earth. Any such vehicle will have to be designed with reliability, safety, and comfort in mind.
What is the difference between orbital and suborbital spaceflights?
Orbital spaceflight occurs when a spacecraft is placed on a trajectory with sufficient velocity to place it into orbit around the Earth.
Suborbital spaceflight occurs when a spacecraft reaches space but its velocity is such that it cannot achieve orbit. Many people believe that in order to achieve spaceflight, a spacecraft must reach an altitude higher than 100 kilometers (62 miles) above sea level.
Launch Vehicles
What is the largest commercial launch vehicle available?
"Largest" can refer to any of a number of characteristics, including mass, height, or the mass the vehicle can carry to orbit, which is referred to as performance capability. For most commercial customers, a vehicle's performance capability is the most significant.
The U.S. vehicle with the current greatest performance capability is Boeing's Delta IV Heavy, which is capable of delivering 22,560 kg to LEO and 12,980 kg to GTO. Additional vehicles with large performance capabilities include:
Europe's Ariane 5 (17,250 kg to LEO and 10,500 kg to GTO)
Japan's H-IIA 212 (11,730 kg to LEO and 5,800 kg to GTO)
Russia's Proton M/Breeze M (21,000 kg to LEO and 5,500 kg to GTO)
These vehicles represent the most capable models in their respective vehicle families. A new launch vehicle, SpaceX's Falcon 9 Heavy, is currently being developed which would be able to launch an estimated capacity of 53,000 kg to LEO.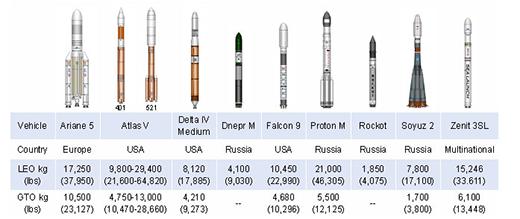 Since the Space Shuttle has now retired, what other space vehicles can carry people into space?
There are currently two vehicles that carry people into orbit: Russia's Soyuz rocket and China's Long March 2F, both of which are expendable launch vehicles that can be outfitted with a capsule designed for human flight in space and return to Earth.
The Russian Soyuz rocket has been sending people into space for decades, while the first Chinese launch to carry a person was in 2003. A number of private companies are working with NASA, through the Commercial Crew Development program, to develop reusable and expendable launch vehicles and spacecraft that could be used to carry people to the International Space Station and possibly other destinations.
How can I get my company logo put onto the side of a commercial launch vehicle?
This matter needs to be discussed directly with launch companies. The U.S. government has no responsibility in this area.
Launch Licenses
To whom do FAA's launch regulations and licensing procedures apply?
FAA's launch regulations require a license or a permit for all commercial launches taking place within U.S. borders as well as for launches being conducted abroad by U.S. entities. In general, FAA does not license launches by U.S. government organizations. In addition, certain classes of small rockets are exempt from licensing requirements. Please see Amateur Rocket Activities (PDF).
How do I get a launch license?
Learn more about FAA's launch licensing and permitting processes.
Launch Sites and Spaceports
What was the first licensed non-federal spaceport? How many exist now?
California Spaceport received the first-ever license for the operation of a non-federal spaceport in 1996. Today there are 14 non-federal launch/reentry sites, or "spaceports" (PDF).
What determines the location of a launch site?
The location of a launch site is determined by access to useful orbits and public safety. In order to protect the public's safety, launch sites are normally built as far away as possible from major cities in case of a catastrophic failure. Most launch sites are built close to bodies of water to ensure that should a failure occur, no components fall over populated areas.
Where do commercial vehicles launch from?
There are several launch sites available for commercial launches in the United States. The two sites used most frequently are Cape Canaveral Air Force Station in Florida (located on the same piece of land as NASA's Kennedy Space Center, from where the Space Shuttle launched) and Vandenberg Air Force Base in California.
Both of these are government-owned launch facilities and are used for launches of government-owned satellites. Commercial and government launches can also take place from any one of the 14 non-federal launch/reentry sites, or "spaceports" (PDF).
U.S. Spaceports
Commercial, Government, and Active Private Spaceports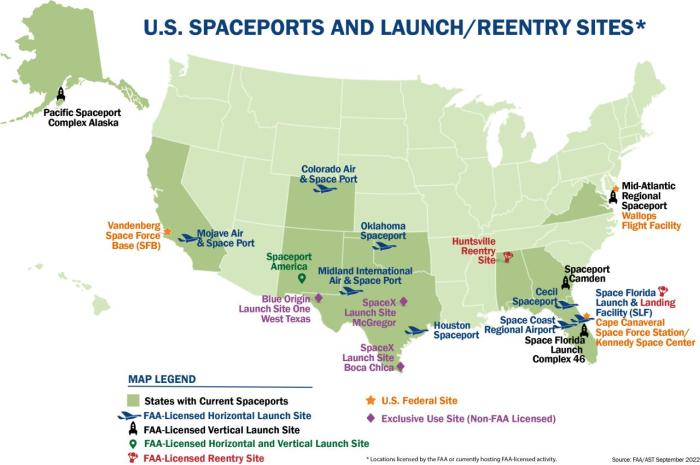 Click to enlarge Spaceport Map
When and where was the first FAA licensed spaceport?
The first spaceport was licensed in 1996 to Harris Corp at Vandenberg AFB.
How many FAA licensed spaceports do we have and where are they located?
Today, we have 14 licensed spaceports. There are nine that accommodate horizontal launches.
Cecil Field
Colorado Air & Space Port (Front Range)
Houston Spaceport
Midland International Air & Space Port
Mojave Air & Space Port
Oklahoma Spaceport
Space Coast Regional Airport
Space Florida Launch & Landing Facility (SLF)
Spaceport America*
There are four vertical launch spaceports. *Spaceport America can accommodate vertical and horizontal launches.
Mid-Atlantic Regional Spaceport (Wallops)
Pacific Spaceport Complex Alaska
Space Florida Launch Complex 46
Spaceport Camden
Spaceport America*
There is one reentry site.
Who Needs a License or Permit?
U.S. citizens or entities (non-USG) seeking to conduct a vehicle launch/reentry or operate a launch/reentry site anywhere in the world.
Any non-U.S. entity seeking to conduct a vehicle launch/reentry or operate a launch/reentry site in the U.S.
An entity may obtain an experimental permit to launch a reusable suborbital vehicle from the United States for research and development; not for compensation or hire.
FAA does not license launches or reentries "by and for" the United States Government.
NASA and the Department of Defense typically carry out their own launches.
Summary
If it's U.S. owned (even in part) or operated on U.S. territory, it needs authorization.
Satellites
What are LEO, GEO, GSO, and GTO?
These acronyms stand for "low-Earth orbit," "geosynchronous orbit," "geostationary orbit," and "geosynchronous transfer orbit," respectively. These are various orbits around the Earth into which satellites are often placed.
LEO refers to orbits that are typically less than 2,400 km (1,491 mi) in altitude.
GEO is an orbit around the equator roughly 36,000 km (22,369 mi) above the Earth and appear to observers on the ground as stationary in the sky.
GSO refers to geosynchronous orbits where satellites are synchronized with the Earth's rotation, orbiting once every 24 hours.
GTO is an elliptical orbit into which satellites are often first launched in order to reach GEO.
Satellites also use other orbits, including medium-Earth orbit and sun-synchronous orbit, but LEO, GEO, and GTO are among the most common.
Can U.S. satellite owners fly their satellites on foreign-owned rockets? Likewise, can non-U.S. satellite owners fly their satellites on U.S.-made vehicles?
The answer to both questions is yes.
Many U.S. commercial satellite owners launch their satellites on non-U.S. rockets, primarily European or Russian rockets; while U.S. owned and operated vehicles launch satellites owned by non-U.S. companies. However, U.S. policy mandates that U.S. government satellites use U.S. manufactured vehicles. All U.S. vehicles launch within U.S. borders. No foreign-made vehicles launch inside the U.S. Sea Launch, an international partnership whose launches are licensed by FAA, launches from the Pacific Ocean.
Can satellites be recovered from space for repairs or be repaired on orbit?
The Space Shuttle was the only vehicle that could and did return satellites for repair, but since it has retired, there is currently no other launch vehicle capable of this. However, this does not mean that repairs will not occur or that satellites remain in their operating orbits forever. Certain repairs to satellite systems can be made with clever re-programming or other procedures done on Earth and uploaded to the satellite. When satellites are worn out or no longer needed, they are often either boosted into storage orbits or moved into orbits that will cause them to eventually fall back to Earth and burn up in the atmosphere.
Both of these maneuvers are important because they help ensure that the older satellites won't interfere with operational satellites or take up valuable orbital slots that newer satellites could use. NASA and several commercial companies currently have plans for developing robotic spacecraft servicing technologies for the repair and refueling of satellites.
I thought NASA conducted all space launches. Why didn't commercial satellites fly on the Space Shuttle?
When the Space Shuttle was first developed, NASA had hoped that private companies would launch their satellites on the Shuttle. Between 1981, the year of the Space Shuttle's inaugural flight, and 1985, the vehicle was used on occasion to place commercial satellites into orbit. But after the 1986 explosion of the Space Shuttle Challenger, U.S. policy placed a general ban on flying non-government payloads on the Shuttle.
Until 2011, when it was retired from service, the Space Shuttle was used almost exclusively to support human spaceflight and the International Space Station. Today, commercial space launch vehicles are the only means of transportation to space in the U.S. for privately owned satellites. NASA helps to support the launch industry by flying many of its satellites on launch vehicles that it purchases from private companies.
Policy
Why isn't NASA responsible for the safety and success of commercial space transportation?
NASA is a civil research and development agency of the federal government, and as such it neither operates nor regulates the commercial space transportation industry. The regulatory responsibility for the industry falls to FAA, which is a regulatory agency. Both DOD and NASA, however, often launch satellites and spacecraft on vehicles developed by private companies and have programs to help develop commercial space transportation capabilities.
Does the commercial space transportation industry receive U.S. government support?
The U.S. government does not directly subsidize the industry. However, the government recognizes the importance of space launch capability to science, military defense, communications, and the U.S. economy. As a result, the government supports the development of new vehicles and vehicle technologies, as well as launch infrastructure.
How can I get a job in the commercial space transportation industry?
The future success of the space launch industry depends on the talents of aerospace and other types of engineers and scientists as well as business people. Strong academic performance and a degree in an engineering, scientific, or business discipline from an accredited college or university are essential.
Inquiries about positions in the industry should be directed to aerospace companies. AST does have limited job openings, which can be found on the AST website or at USAjobs.gov.
Last updated: Wednesday, September 7, 2022