Commercial Space Transportation Advisory Committee (COMSTAC)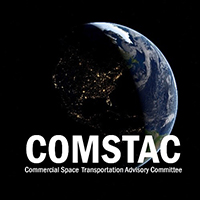 COMSTAC was established in 1984 to provide information, advice, and recommendations to the FAA Administrator on critical matters concerning the U.S. commercial space transportation industry.
Charter and Bylaws
Summer 2023 Meeting (July 11, 2023)
Watch on YouTube
Agenda
Slides
COMSTAC Response to FAA Human Spaceflight Report to Congress
COMSTAC Regulatory Working Group, Part 450 Challenges and Recommendations
Spring 2023 Meeting (May 15, 2023)
Watch on YouTube:
Morning Session
Afternoon Session
COMSTAC Membership
COMSTAC membership consists of senior executives from the commercial space transportation industry; representatives from the satellite industry, both manufacturers and users; state and local government officials; representatives from firms providing insurance, financial investment and legal services for commercial space activities; and representatives from academia, space advocacy organizations, and industry associations.
If you have questions or comments, please contact: James Hatt, COMSTAC Executive Director at james.a.hatt@faa.gov.
Last updated: Wednesday, July 26, 2023