FAA Academy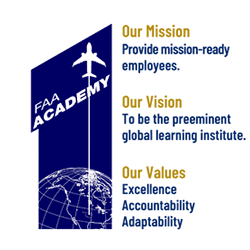 The FAA Academy provides technical and managerial training and development for our workforce and the aviation community. Since courses have different admissions criteria, prospective participants are admitted on a course-by-course basis. Certain courses may not be open to the general public, but many courses are available to other government agencies, industry, and international civil aviation authorities.
Services we provide:
develop and conduct training courses,
plan, maintain and manage FAA's distance learning systems, and
provide training program management and consultation services.
In addition to training FAA and non-FAA personnel in the U.S., the Academy has trained international participants from more than 172 countries. Many of the world's leaders in civil aviation are alumni of the FAA Academy. The continued educational and professional interactions have led to mutual understanding and respect.
The FAA Academy has been continually accredited since March 19, 1991 by meeting or exceeding rigorous accreditation standards. We are accredited through the American Council on Education (ACE). Additionally, we received accreditation from the Council on Occupational Education (COE) in September 2022.
Last updated: Tuesday, November 1, 2022