May 24, 2016, the FAA and DOT published portable oxygen concentrator amendments to 14 CFR 1.1, 1.2, 121.574, 125.219, and 135.91. Additionally, the amendments resulted in the removal of Special Federal Aviation Regulation No. 106 effective August 22, 2016.
The final rule replaces the existing process by which the Federal Aviation Administration (Agency or FAA) approves portable oxygen concentrators (POC) for use on board aircraft in air carrier operations, and certain other operations using large aircraft. Prior to the rulemaking project FAA assessed each POC make and model on a case-by-case basis and if FAA determined that a particular POC was safe for use on board an aircraft, FAA conducted rulemaking to identify the specific POC model in an FAA regulation (SFAR 106).
The final rule titled, Oxygen and portable oxygen concentrators for medical use by passengers replaces the previous process and allows passengers to use a POC on board an aircraft if the POC satisfies certain acceptance criteria and bears a label indicating conformance with the acceptance criteria. The labeling requirement only affects POCs intended for use on board aircraft that were not previously approved in SFAR 106. Additionally, the rulemaking eliminated redundant operational requirements and paperwork requirements related to the physician's statement.
As a result, the rulemaking reduced burdens for POC manufacturers, passengers who use POCs while traveling, and affected aircraft operators. This final rule also makes conforming amendments to the Department of Transportation's (Department or DOT) rule implementing the Air Carrier Access Act (ACAA) to require carriers to accept all POC models that meet FAA acceptance criteria as detailed in the rule.
Additional Information
Note: Effective August 16, 2016 all POC accepted for use onboard must be labeled or listed in the regulation.
Advisory Circular 120-95A explains Federal Aviation Administration (FAA) requirements for the use of portable oxygen concentrators (POC) on board aircraft. This AC is used as a resource during the development, implementation, and revision of standard operating procedures (SOP) and training programs regarding the use of POCs on board aircraft to increase the accessibility of air travel by passengers with disabilities.
POC Acceptance Criteria. Rather than continuing to approve POCs on a case-by-case basis, FAA established acceptance criteria for POCs used on aircraft. The criteria are:
The POC is legally marketed in the United States in accordance with U.S. Food and Drug Administration (FDA) requirements as stated in Title 21 of the Code of Federal Regulations (21 CFR).
The POC does not radiate radio frequency emissions that interfere with aircraft systems.
The POC does not generate a compressed gas.
The POC does not contain any hazardous materials (hazmat), except as provided for in 49 CFR part 175, § 175.10 for batteries used to power PEDs, and that do not require aircraft operator approval for carriage as is the case for certain larger batteries.
Required POC Labeling. All POCs that satisfy the acceptance criteria and are not previously identified in SFAR 106 must also bear a label with the following statement in red lettering: "The manufacturer of this POC has determined this device conforms to all applicable FAA acceptance criteria for POC carriage and use on board aircraft."
Figure 2. Example of Required POC Labeling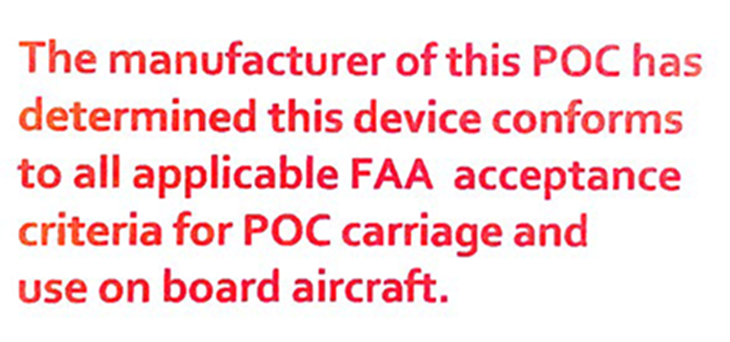 Note: POCs identified in §§§ 121.574, 125.219, and 135.91 (see paragraph 9.2) may be used on aircraft without bearing a label. To help air carriers obtain positive testing results for SFAR accepted POCs, FAA has contacted the manufacturers of FAA approved POCs and requested positive testing results regarding section 21, Category M of RTCA Document (DO) -160 testing. The FAA is making these documents available on this website.
Positive Testing Results